Three Razorbacks suspended from Liberty Bowl
Two Hogs end careers as seniors because of suspension
Published: December 31, 2009 at 2:15 p.m. - Updated: December 31, 2009 at 6:19 p.m.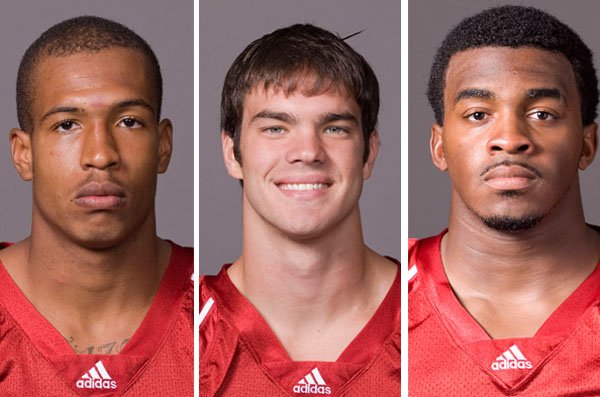 Junior receiver Marques Wade, senior safety Matt Harris and senior linebacker Wendel Davis.
MEMPHIS — Three Arkansas players, including two consistent starters on defense, will not play in the Liberty Bowl after violating team rules.
The suspensions also end the collegiate careers of two of the players involved.
Senior linebacker Wendel Davis, senior safety Matt Harris and junior receiver Marques Wade were the players suspended. The players arrived on time for curfew Wednesday at The Peadbody hotel in Memphis, but left after rooms were checked at some point later in the night, according to a source close to the situation. An official explanation for the suspensions was not released by University of Arkansas officials.
Davis' career at Arkansas ends after starting in 11 games this season. He was second on the team in tackles (79). Harris led the secondary with 71 tackles. The Dallas native started in 10 games.
Wade was slowed by injury in the pre-season, played in five games but did not record any statistics.
That leaves three Razorback defensive players out of action for the Liberty Bowl. Freshman defensive tackle D.D. Jones, who played in all 12 games in the regular season, is sidelined with a high-ankle sprain he suffered during a scrimmage in Fayetteville on Dec. 19.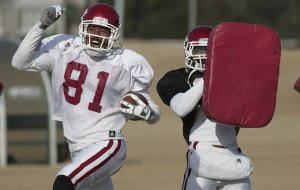 Photo by Benjamin Krain
Arkansas reciever Marques Wade warms up at practice Tuesday at Rhodes College in preparation for the Liberty Bowl.
Discipline was also a problem with Arkansas' Liberty Bowl opponent, East Carolina, on Thursday. Two East Carolina reserves got in a fight during a team banquet, according to the Memphis Commercial-Appeal. Disciplinary action had not been taken as of Thursday afternoon, according to the report. ECU running back Jonathan Williams and defensive back Leonard Paulk were involved in the altercation that was, reportedly, over a dessert at a banquet table during the Liberty Bowl's annual awards luncheon. Williams did not practice with the team Thursday.
Arkansas faces East Carolina in the Liberty Bowl on Saturday. Kickoff is set for 4:30 p.m. on ESPN.
Stay with WholeHogSports.com and the Arkansas Democrat-Gazette as this story develops.
Discussion
Have a comment on this story? Join the discussion or start a new one on the Forums.