2 Hogs arrested on drug charge
Published: Tuesday, April 27, 2010
FAYETTEVILLE — Arkansas defensive backs David Gordon and Hunter Miller were arrested on a charge of possession of a controlled substance by University of Arkansas police Monday night.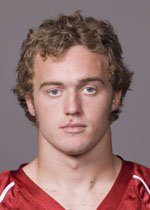 Miller and Gordon were observed by a police officer in a university parking lot lying in the back seat of a vehicle Monday evening. The police officer approached the vehicle and could spell a strong odor of burnt marijuana, according to a preliminary arrest report. A cloud of smoke rolled out of the vehicle when Miller opened the door and a plastic bag containing a "green leafy substance" was found inside the driver's side door panel, according to the report.
Gordon was identified as David D. Lopez in the police report and later in booking by the Washington County sheriff's office.
Arkansas Coach Bobby Petrino was aware of the arrests and was handling the situation, but did not have a comment when reached through the Arkansas media relations department Tuesday afternoon.
Miller, a walk-on for the Razorbacks, was booked at the Washington County Detention Center at 8:05 p.m. and was released at 9:35 p.m. on $660 bond, according to the Washington County sheriff's office website. Gordon was released at 10:33 p.m.
Gordon and Miller are scheduled to appear May 24 in Fayetteville District Court.
Gordon battled injuries in the spring and did not participate in the Red-White game Saturday. He started in three games last season, playing in a total of 10 games, and had 11 tackles and 1 tackle for a loss.
Miller walked on at Arkansas in 2008 after he learned he would not be awarded an athletic scholarship at his school of choice, Ole Miss. He worked scout team for the Hogs in 2008, was not on the roster in 2009 and returned to the team this spring.
Discussion
Have a comment on this story? Join the discussion or start a new one on the Forums.