Mallett Time: Razorbacks QB impresses, discusses expectations
Published: Thursday, July 22, 2010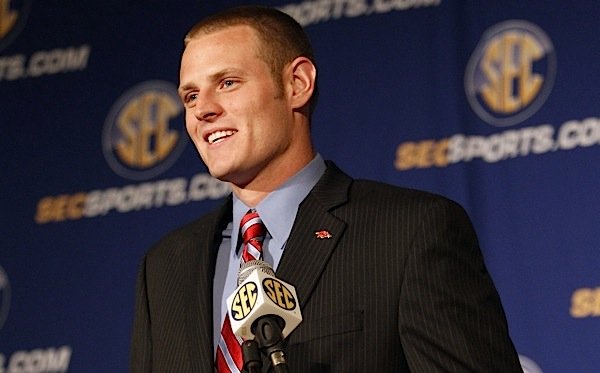 (The Associated Press / Butch Dill )
Arkansas quarterback Ryan Mallett talks to the media during the Southeastern Conference football media days on Thursday in Hoover, Ala.
HOOVER, Ala. — Ryan Mallett, walking without a protective boot on his mending left foot, strolled into every room with various members of the media Thursday at the Wynfrey Hotel practically the same way.
He smiled, offered his own welcome and thankfulness for reporters showing up, and asked for questions.
His personality was contagious: Media members chuckled at his exuberant confidence and playfulness and, most importantly, the scribes came away impressed with Mallett's demeanor and formed the resulting assumption — he's a great leader on the football field.
Mallett, the quarterback who set or tied 16 school records last season, says his rehab is coming along just fine. And he's pulled out an insurance policy to protect his future as he nears a possible NFL career. He expects to be full speed for the start of Arkansas' practices Aug. 5. He's jogging a little bit, but still hasn't started cutting and changing direction. The 6-foot-7 quarterback, with close-cropped hair, is doing most of his conditioning work on a stationary bicycle and swimming pool four to five days a week.
But Mallett's almost back to full speed, even if there may be some struggles to overcome on the horizon.
"I feel like, you know, my conditioning is going to be fine," Mallett said. "I guess learning how to run again, it's going to be new."
At least he doesn't have to learn how to lead again. Mallett was doing a fine job with the boot on his left foot earlier this summer during voluntary workouts, tight end D.J. Williams said.
"If he's practicing or not practicing, if someone is messing up, he's going to let him know," Williams said.
How so? Well, here comes the impressive part.
"For example," Williams began, drawing reporters closer as he began to tell a story, "we got out running routes with no coaches or anything like that, but Ryan was out there. He wasn't participating because he was hurt, the receiver caught the ball and made a nice one-handed catch. It was a freshman, (Julian Horton. And he caught it and started walking up the field. Well, that's not how we do things. You catch the ball, run 20 yards (more) and that's just the discipline our team has got."

Raw Video: Mallett at SEC Media Days
Watch Video
None of the players at the workout said anything. Not even Williams. Then comes Mallett, rolling along with the support of a scooter on one leg shortly after his second surgery this summer.
"Ryan was on his little roller-thingy (scooter), scooting as fast as he could with one foot, and was in this guy's ear, telling him to go back, do it again and run full speed," Williams continued. And the kid went back, did it again and ran full speed. Ever since then, he hasn't had the same mistake."
Mallett's fingerprints are all over this team — on and off the field. From media guide covers, to national television appearances and leading 7-on-7 drills.
"The leadership out there that he brings is a coach's dream," Williams said.
But there is a difference between an injured leader and an uninjured leader. For the first time in five months, Mallett can almost be classified as "uninjured."
"He's finally looking 100 percent," defensive end Jake Bequette said. "He's got that boot off, he's been doing all the drills with the 7-on-7 stuff.
Get the latest Razorback news and views from Brandon Marcello on The Slophouse blog
.
"Mallett, he's one of those guys who, even though he may be injured, he's always going to be in the mix. He's always there picking guys up, running the show as far as the pass skel(eton) goes. He's just a great leader for our team and it's good to have him back full speed."
Mallett has quickly become the face of the Razorbacks, when just two short years ago the only face of hope was that of Coach Bobby Petrino. He was the marketable name within Arkansas' borders. The promise of a high-octane offense with a championship-proven coach would, later down the road, perhaps bring in an influx of talent. One day, Arkansas would be able to talk about the product on the field rather than expectations and the future.
Great expectations are nothing new at Arkansas. After a national championship in 1964, however, the Razorbacks have usually fallen short of fans' hopes and dreams. The most recent, and one Mallett remembers, is Arkansas' 28-24 loss in the final minutes against No. 1 Tennessee in 1998. Clint Stoerner, who Mallett idolized as a kid growing up in Arkansas, fumbled the ball as he attempted to catch himself as he fell to the ground and the Razorbacks' 9-0 start and possible No. 1 ranking was lost.
"I remember watching that," Mallett said. "It was a pretty sickening feeling."
What's different this year? Well, Arkansas has a star-studded quarterback, a vocal leader and a son of Arkansas who owns most of the Razorbacks' passing records.
The buzz at SEC Media Days surrounding Arkansas, Williams said, was definitely different Thursday than last year after the Hogs came off a 5-7 season.
"I think we're to the point where we know we have a chance to be special," said the tight end, a first-team selection on the coaches' all-SEC team. "Nobody is watching TV and thinking, 'Man, those guys are crazy ranking us that high. I don't know who they think they are.' We have the feeling we have a chance to be special, and I think that's as much as we are embracing it."
Confidence is one thing, which is something Arkansas, Coach Bobby Petrino admitted, did not have during a 35-7 loss at the eventual national champions, Alabama. Things changed later at Florida, where Arkansas had the Gators on the ropes until a late field goal broke the Razorbacks' back.
Confidence and expecting to win was the difference the rest of the season, and it's something Petrino and the Razorbacks are carrying into the season. That's one opinion but what does Mallett, the face of the program, believe is the difference between the 2010 Razorbacks and those falling short of expectations in 2007, 2003, 1999, 1998 and beyond?
"I don't know if anything is different, besides that we've got more athletes and more talent than any other Arkansas team has had in the past," Mallett said.
But expectations are at an all-time high. That day arrived when Mallett uttered the words, "get ready," to a contingent of local media asking if he had a message to fans at a January press conference announcing he would return for his junior season.
"Ryan Mallett is his own player. He's the first Ryan Mallett," Williams said. "I think you'll see in this upcoming year some of the first (things) you'll see from a college football player. I can't compare him to (other players and) how bad or how good he's going to do, because I know he's going to do great."
His face is everywhere. In fact, he's the only player on the cover of Arkansas' media guide, a rarity from the Arkansas media relations department.
"The No. 1 thing I wanted to make sure we did with the cover was not have me on it," Petrino joked. "Ryan is much better looking."
Obviously, it's Mallett Time at Arkansas.
"He's going to tell you he hates that," Bequette opined, "but he's loving every second of it."
Brandon Marcello is the online sports editor of the Arkansas Democrat-Gazette and Northwest Arkansas Newspapers. He regularly updates The Slophouse, a blog covering the Razorbacks, and can be followed on Twitter (@bmarcello).
Discussion
Have a comment on this story? Join the discussion or start a new one on the Forums.