Robinson talks past UA, USC matchups
Published: Tuesday, August 28, 2012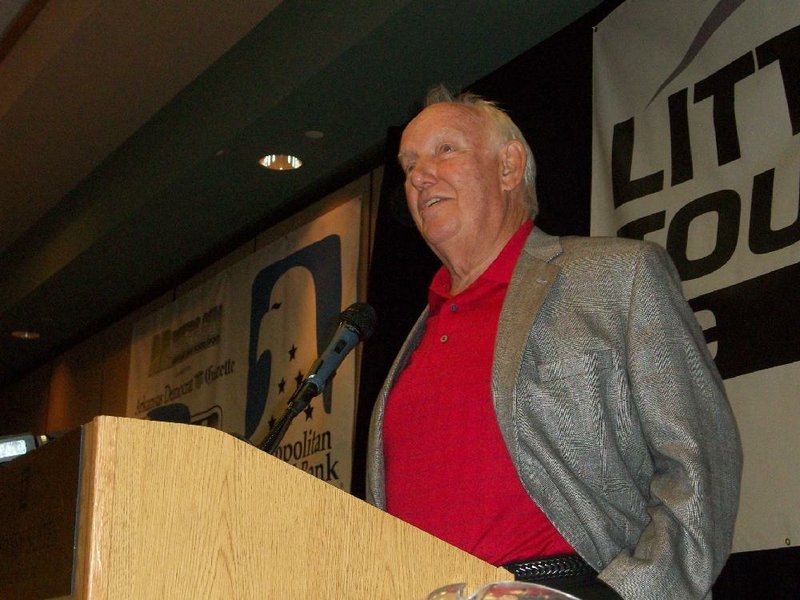 (Arkansas Democrat-Gazette / JEFF HALPERN )
Former football coach John Robinson was 3-2 in his career at Southern California and UNLV against the Arkansas Razorbacks.
LITTLE ROCK — Former Southern California Coach John Robinson faced the Arkansas Razorbacks five times in his coaching career and talked about four of those games Monday.
Robinson, 72, who was 3-2 against the Razorbacks in his career, was the guest speaker at the Little Rock Touchdown Club luncheon. He was an assistant to John McKay when the No. 8-ranked Trojans defeated the No. 4 Razorbacks 31-10 in the 1972 season opener at War Memorial Stadium in Little Rock. A year later, No. 1-ranked USC defeated Arkansas 17-0 in Los Angeles. In 1974, the No. 5-ranked Trojans opened the season with a 22-7 loss to the No. 20 Razorbacks in Little Rock.
In 2000, when Robinson was the head coach at UNLV, his Rebels defeated the Razorbacks 31-14 in the2000 Las Vegas Bowl. A year later in the season opener in Little Rock, Arkansas won 14-10 on a 1-yard touchdown run by Cedric Cobbs with 18 seconds left.
"In 1972, I remember Arkansas had Joe Ferguson at quarterback and we had one of the best teams that USC ever had," Robinson said.
That team averaged 39 points per game, never trailed in the second half and its closest victory was 30-21 over No. 15 Stanford. The 1972 Trojans defeated Ohio State 42-17 in the Rose Bowl.
Two years later, Robinson recalled Arkansas, "beating the hell out of us." He said McKay was not happy and threatened to fire the coaching staff a number of times.
Robinson, who was in his second year at UNLV in 2000, recalls Arkansas "being a lot more focused on"its visit to Las Vegas. He said, "I recall [then-Arkansas Coach] Houston Nutt saying, we're playing U-N-L-V," with an emphasis that his team didn't seem to be focused on the Rebels. That game allowed the Rebels to finish 8-5 while Arkansas, in its third season under Nutt, finished 6-6.
A year later, Robinson and the Rebels suffered heartbreak. UNLV led 10-7 with 1:53 left when Rebels punter Ryan McDonald bobbled a snap and was tackled at the UNLV 49. Arkansas' Ryan Sorahan completed a 13-yard pass to George Wilson on fourth-and-10 and a 23-yard pass to Richard Smith to set up Cobbs' run, on a night in which the Razorbacks used four quarterbacks - Zak Clark, Sorahan, Gerald Howard and Tarvaris Jackson - and totaled 114 yards.
"Our regular punter had an awful night and I put in a freshman and if he gets the ball off, then we win the game," Robinson said. "I put him in and the snap hits him in the helmet."
The Trojans and Razorbacks haven't met since the 2005 and 2006 seasons when USC won 70-17 and 50-14, Robinson hopes the teams meet in the BCS national championship game in Miami.
"I know you guys have a good quarterback, but we feel we have the best one in the country in Matt Barkley," Robinson said. "I know if that happens, then I can continue to wear the red shirt that I have on today and you guys would think I'm pulling for you."
Sports, Pages 15 on 08/28/2012
Discussion
Have a comment on this story? Join the discussion or start a new one on the Forums.