Kincaid Chooses Razorbacks
By:
Rick Fires
Published: Friday, November 16, 2012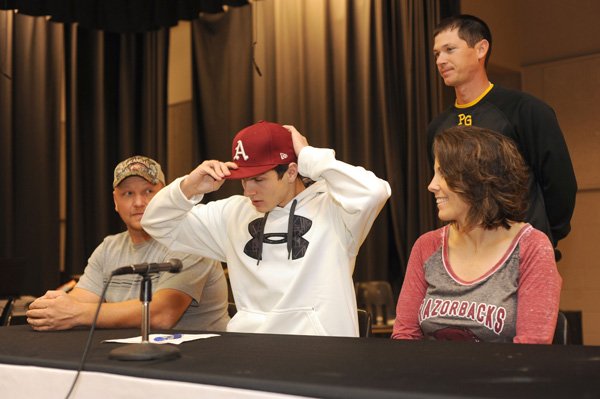 Aaron Kincaid, center, Prairie Grove senior, signs Thursday to play baseball for the University of Arkansas while his father, Chris, left; mother, Bonnie; and Prairie Grove coach Mitch Cameron watch during a ceremony at the school. Kincaid will join fellow Tiger Jalen Beeks on the Razorback roster.
It took a big distraction for Prairie Grove students in the school lunchroom Friday to briefly pause while eating a turkey dinner. That's when Aaron Kincaid took the stage at the east side of the lunchroom and signed a letter-of-intent to play baseball for Arkansas. Kincaid chose the Razorbacks over offers from Missouri, Missouri State, and Central Arkansas.
-
Please Log In
Oops! It looks like you're not logged in. To read this full story, "Kincaid Chooses Razorbacks", subscribers can log in now.
Log in to WholeHogSports
Not a Subscriber?
You can get access to this story and all of our other great content for as little as $0.99. Join our other readers today!
Subscription Options
Discussion
Have a comment on this story? Join the discussion or start a new one on the Forums.