Finebaum: Hogs can right ship with right hire
Published: Tuesday, October 9, 2012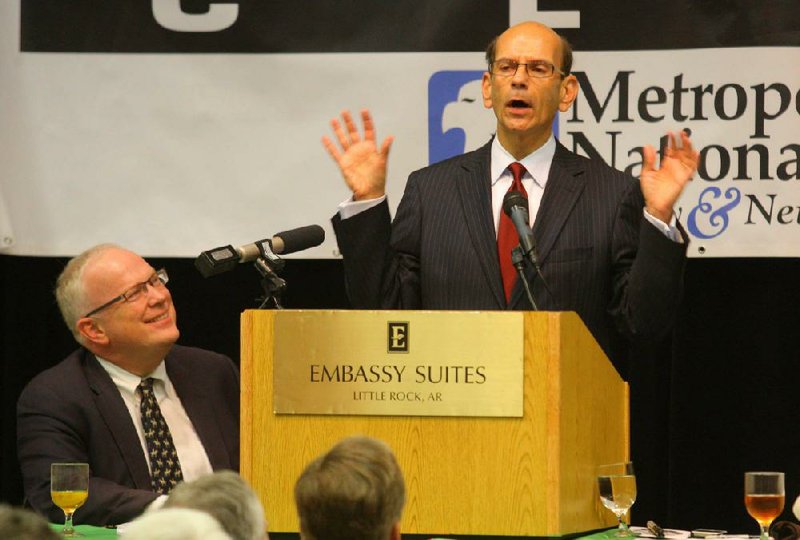 (
Stephen B. Thornton
)
Talk-show host Paul Finebaum of Birmingham, Ala., speaks to the Little Rock Touchdown Club in 2012.
LITTLE ROCK — The 2012 season has been a failure for the Arkansas Razorbacks.
But Birmingham, Ala., talk show host Paul Finebaum, who was the guest speaker at Monday's Little Rock Touchdown Club luncheon at the Embassy Suites hotel in Little Rock, said he doesn't believe the long-term future is bleak for the Razorbacks, if they make the right decision when it comes to finding a new coach.
"As bad as Arkansas looks right now and as much as people are making jokes about them, they can get it turned around," said Finebaum, who can be heard on WJOX-FM, 94.5, Birmingham and is syndicated on 30 stations in Alabama, Mississippi, Tennessee, Florida, Georgia, South Carolina and can heard on Sirius/ XM satellite radio and online at MyFoxFinebaum.com. "Jeff Long is about to make the biggest hire of his career and probably the biggest in the history of the Arkansas program. There's a lot of upside if he makes the right hire. The downside can be cataclysmic, especially when you have Missouri to the north and Texas A&M to the south. A bad hire can cripple the program for a long time."
The Hogs, picked No. 10 in The Associated Press preseason poll, are 2-4 under Coach John L. Smith, who was hired to a 10-month contract in mid-April after Bobby Petrino was fired for a pattern of manipulative and deceptive behavior in trying to cover up details of an April 1 motorcycle accident and his relationship with 25-year old Jessica Dorrell, whom he hired for a job in the football program.
Finebaum mentioned several potential candidates to replace Smith, starting with Louisville's Charlie Strong, a Batesville native, whose Cardinals are 5-0 and ranked 18th in this week's AP poll as the top candidate. Finebaum said former Miami and North Carolina coach Butch Davis is the "most interesting" because of a 79-43 record in 10 seasons at Miami and North Carolina, but Davis was fired in July 2011 during an NCAA investigation that led to the Tar Heels vacating 16 victories from 2008-2009.
"As much as I respect Butch, I don't know if he would be an easy choice," Finebaum said.
Arkansas State Coach Gus Malzahn would be very popular, Finebaum said, because of his ties as the former offensive co-ordinatorat Arkansas in 2006 and his high-school success in Arkansas, where he won three state championships. Long's reasoning for hiring Smith is understandable, Finebaum said, but he wonders to what extent Long knew of Smith's financial problems, causing him to file for bankruptcy, listing $40.7 million in debt.
Still, Finebaum said it wasn't too long ago that Alabama was in a similar situation, when Mike Shula was fired after going 26-23 from 2003-2006, including a 13-19 mark in SEC games with no victories over its rival Auburn. Alabama eventually hired Nick Saban, who is 60-12 overall, 34-8 in the SEC, with two national championships.
"They ... offered the job to Steve Spurrier and Nick Saban, who both turned it down and [West Virginia Coach] Rich Rodriguez backed out, and Alabama Athletic Director Mal Moore was target of a lot of jokes and people wondered if he would last," Finebaum said. "But he went after Saban hard and landed the best coach in the country."
Finebaum said he thinks Petrino will return to coaching in 2013 and will be remorseful after his firing.
"Bobby was someone who was never easy to like, but you respected him," Finebaum said. "From the people I've talked to, I believe he wants to coach again."
When asked about the head coaching job at Auburn, which fell to 1-4 after its 24-7 loss to Arkansas on Saturday, Finebaum said he thinks Auburn Coach Gene Chizik is safe for now, but if the losing persists, he wouldn't be surprised if a change is made.
When asked why Chizik is under fire despite leading the Tigers to the BCS national championship two years ago, Finebaum said, "I think the issue is, 'Was what happened two years ago an abberation because it's obvious that he had a lot of success with Cam Newton at quarterback and has been a below-average coach without him?' He looks like the 5-19 coach at Iowa State before he came to Auburn."
Outside of the 2010 season, Chizik is 17-11 overall and 7-12 in SEC games.
Sports, Pages 15 on 10/09/2012
Discussion
Have a comment on this story? Join the discussion or start a new one on the Forums.