Long outlines Hogs' future at LRTD Club
Published: October 15, 2012 at 3:01 p.m. - Updated: October 15, 2012 at 4:21 p.m.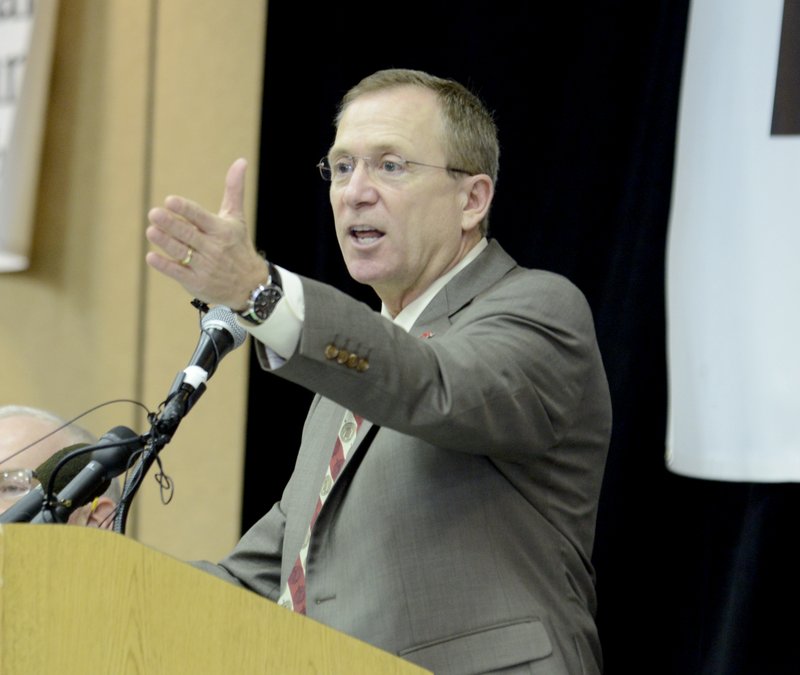 (
Karen E. Segrave
)
Arkansas Athletic Director Jeff Long spoke to members of the Little Rock Tuochdown Club on Monday afternoon.
LITTLE ROCK — University of Arkansas athletics director Jeff Long had several poignant things to say to members of the Little Rock Touchdown Club on Monday afternoon - the largest point of interest being the football coaching search, of which Long said he hopes to attract "the right candidate" to the position, be it a high-level high coach or an assistant.

Long addresses coaching search at LRTD Club
Watch Video
Long made it a point to encourage the fans to have faith in the current players. Long said, "They had no part in the issues from last April", regarding the firing of former head coach Bobby Petrino. Arkansas is 3-4 this season, including 2-2 in the Southeastern Conference.
Petrino was also brought up during a question-and-answer session with fans. Long was asked if Petrino had any contractual obligation to the university that would keep him from taking another job, to which Long said he did not. Petrino's contract was terminated with cause following his firing over the hiring of former university employee Jessica Dorrell to the football program.
As far as Long is concerned, the current Razorback teams' play on the field won't have an effect on the program's ability to attract the right candidate for the job, stating that whoever the new coach is, he will be implementing his own program when he arrives. Thus, the program will be too different to compare to the 2012 season.
Without naming names, Long said the next coach will have a high-character person with a passion for winning, stating those are two of the qualities he and the university will be looking for.
During the meeting, Long took around 15 minutes worth of questions from fans at the luncheon, ranging from the coaching search to whether Arkansas will play Arkansas State — a subject he stayed relatively mum on.
Long was also asked about the university's contract with Little Rock's War Memorial Stadium. Long said he and the UA administration will reevaluate playing games there when the current contract ends in 2016.
Read more about this story in tomorrow's Arkansas Democrat-Gazette.
Discussion
Have a comment on this story? Join the discussion or start a new one on the Forums.