Allen impressive in first fall scrimmage
Published: Saturday, August 10, 2013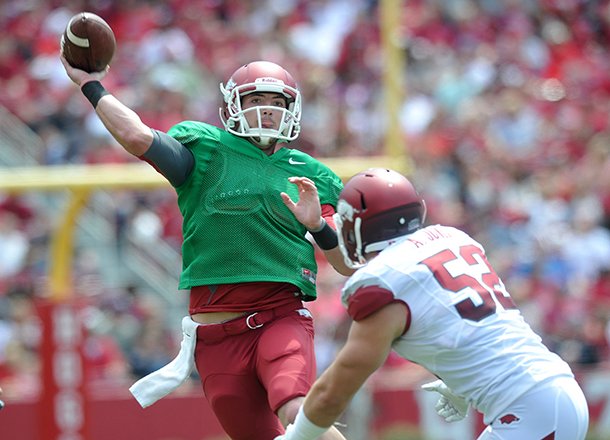 (
Michael Woods
)
Arkansas quarterback Brandon Allen completed 16 of his 17 passes for 204 yards and a touchdown in a scrimmage on Saturday, Aug. 10, 2013 at Donald W. Reynolds Razorback Stadium.
FAYETTEVILLE — Brandon Allen was 16-for-17 passing for 204 yards and one touchdown in the first fall scrimmage Saturday at Donald W. Reynolds Razorback Stadium.
The only incompletion by Allen was a drop. His touchdown pass was a 47-yarder to Javontee Herndon. Allen seemed to have also created chemistry with Julian Horton who recorded six receptions for 63 yards.
While Allen was nearly flawless in the scrimmage, the Arkansas defense prevented the offense from establishing the running game. The entire offense rushed 55 times for 143 yards, averaging just 2.6 yards per carry as a team.
The Arkansas defense made 17 stops for zero or negative yardage. Seven of the Razorbacks' 11 tackles for loss were sacks. Defensive ends Chris Smith and Jamichael Winston each recorded two sacks and senior linebacker Jarrett Lake led the team with nine total tackles.
Freshman running back Alex Collins led the team in rushing, carrying the ball 11 times for 29 yards. Collins converted a third-and-goal with a 1-yard touchdown run. His best play may have been a 17-yard run that was called back because of a penalty.
Two pass-catching freshmen also contributed on offense. Little Rock native Hunter Henry caught three passes for 30 yards and Greenwood native Drew Morgan made three receptions for 44 yards.
The special teams play of the day came when kicker Zach Hocker made a 57-yard field goal.
Senior center Travis Swanson, senior fullback Kiero Small, senior defensive tackle Byran Jones, sophomore safety Rohan Gaines and sophomore wide receiver Keon Hatcher sat out of the scrimmage. Arkansas coach Bret Bielema said the injuries were minor.
Discussion
Have a comment on this story? Join the discussion or start a new one on the Forums.