Arkansas drops Oklahoma from hoops schedule
Published: Saturday, August 10, 2013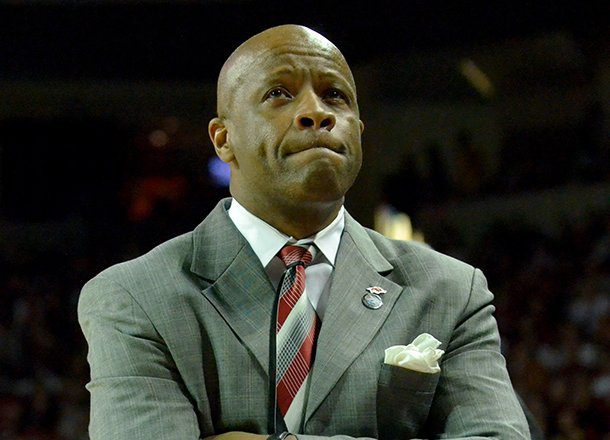 (
Michael Woods
)
Arkansas coach Mike Anderson looks up at the scoreboard during the second half of a 2013 game against the Tennessee Volunteers at Bud Walton Arena in Fayetteville.
FAYETTEVILLE — After playing Oklahoma in each of the past six seasons, the Arkansas men's basketball team has pulled out of the series, NewsOK said Saturday.
The Razorbacks and the Sooners had two years remaining on a four-year contract. According to NewsOK, the series is expected to resume at some point, but it is not known if it will next year.
Arkansas beat Oklahoma 81-78 at Bud Walton Arena last season. The two teams split the last six games against one another, finishing with a 3-3 record against one another.
Few games for the 2013-14 schedule are known, but High Point University announced it will play a road game against Arkansas this year.
The Razorbacks will also host Louisiana-Lafayette on Nov. 15 at Bud Walton Arena before traveling to Hawaii, where the Razorbacks will play California in the Maui Invitational. Arkansas will either play Syracuse or Minnesota in the second round of the Maui Invitational.
Discussion
Have a comment on this story? Join the discussion or start a new one on the Forums.