Bret Bielema Q&A
By: Kurt Voigt, The Associated Press
Published: Wednesday, December 18, 2013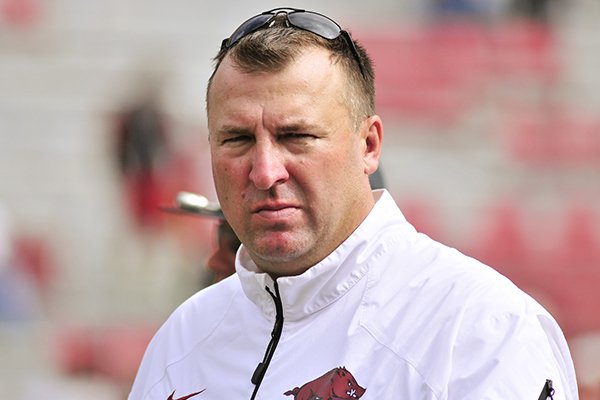 Arkansas coach Bret Bielema leaves the field after an NCAA college football game against South Carolina in Fayetteville, Ark., Saturday, Oct. 12, 2013. South Carolina won 52-7. (AP Photo/April L. Brown)
FAYETTEVILLE — Bret Bielema recently completed his first season at Arkansas, finishing 3-9 and missing a bowl for the first time in his head-coaching career. He sat down with The Associated Press for an interview Tuesday. Excerpts are below:
Question: Arkansas went 3-9, what's the emotional toll of that?
Answer: "It is what it is. I don't have a reaction one way or the other. Obviously (I) didn't want to go 3-9, but it was the reality of what it was. For whatever reason, the good Lord decided us to be that way. There's a certain amount of teaching that can come from a win, but I do think you learn more from losses than you do from wins. Just the inventory that you press, if you're a true competitor, the way that you react. You'll get more out of a defeat ... Now, obviously, it's not great for recruiting, it's not great for anybody involved, fans, coaches, players, staff, whatever it is. But it is what it is."
---
Q: Going back to last spring, you talked about fans coming up to you and saying, 'We're sorry for what you've gotten yourself into.' Were they right?
A: "I don't think a fan has any idea of what you have schematically, Xs and Os. ... (T)hey don't even have an understanding of what we're trying to necessarily do. I know that the part that as coaches we can't accept the 3-9. We can't just say, 'That's what it is, and that's what we're going to be.' We tried to win every game for what it was. Unfortunately, we weren't able to do it, but as a head coach, we learned a lot about we never want to go back to that point."
---
Q: Professional criticism is one thing. When it turns and flips onto personal level, as it did this season with (wife) Jen, how tough is that to handle?
A: "The only thing I was concerned about her was just her safety. I mean, some people, when they claim they're going to kill you and your dogs and, you know, hope you die in a car crash and make malicious comments, that's ... People are today a little off. I spend a lot of time away from home. One of the things that we did is talk to the people that we need to talk to to make sure that there wasn't any potential threat to her safety and well-being. That's my only priority, is the safety of my family, which right now is my wife and two little dogs that I do like."
---
Q: Is the SEC West more or less daunting now that you've been through it? Any different take or perception now that you've seen it up close?
A: "I think the part that really jumps out to me is you've got a team that's playing for a national championship (Auburn), and we're a play or two away from being able to capitalize on that game. It shows kids how close you literally are. There isn't anything more self-evident than to see two teams playing in the SEC championship game that had one win in the SEC total last year. The cards couldn't line up any better for where we're at and where we want to be."
---
Q: What specifically on the field can we anticipate seeing that will be different next season?
A: "More of big offensive linemen that know how to play. Guys that will be similar to Dan Skipper and Denver Kirkland. On the defensive side of the ball, you'll see guys that want to be aggressive in the way that they play, the way they tackle, the way that they take the fight to them. And hopefully, overall, offense, defense, special teams, smarter players. Guys that understand the leverage of the football so that a five-yard play doesn't turn into a 58-yard scoring play. Those kinds of things are things we'll stress and definitely be better at in a short amount of time."
Discussion
Have a comment on this story? Join the discussion or start a new one on the Forums.