Bielema seeks safety with proposed rule change
Published: Friday, June 21, 2013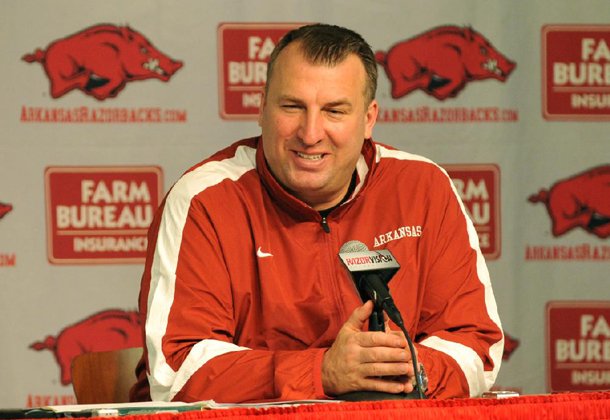 (
Michael Woods
)
Arkansas coach Bret Bielema said he is looking out for players' safety by proposing a rule change that would allow 15 seconds for substitutions after first downs by a no-huddle offense.
FAYETTEVILLE — Arkansas coach Bret Bielema first discussed a potential rule change at the Southeastern Conference meetings in Destin, Fla. about a month ago and claimed it must be "a slow news day" for it to be brought up again.
He addressed it on two different occasions Friday, however. Bielema spoke to the media at the NWA Razorback Celebrity Scramble in Bella Vista and also appeared on College Football Live on ESPNU on Friday and was asked about his stance on the possible rule changes pertaining to the no-huddle offense.
"I'm not a fan of the spread offense or the hurry-up offense, but I mean, if they want to run it, they want to run it," Bielema said on College Football Live. "But what I was making reference to was that in the world of college football, we've had some rules that have stayed alive for a long time and have made college football great and what it is, but as the game evolves sometimes, the rules have to evolve."
Bielema is a member of the Playing Rules Oversight Panel and proposed a rule change that would allow a 15-second substitution period after every first down to allow defenses to make substitutions.
"Not to get on the coattails of some of the other coaches, there is a lot of truth that the way offensive philosophies are driven now, there's times where you can't get a defensive substitution in for 8, 10, 12 play drives," Bielema said at the SEC meetings. "That has an effect on safety of that student-athlete, especially the bigger defensive linemen, that is really real."
Arizona football coach Rich Rodriguez, who coached against Bielema in the Big Ten when the two were head coaches at Michigan and Wisconsin, said he disagreed with Bielema's stance on the style of play on College Football Live the day before Bielema appeared on the program.
"Well, Bret is a terrific coach and a great friend. I don't know if those comments are maybe self-serving a little bit from a standpoint that those guys don't want to face that, but he's had success against it," Rodriguez said.
"It's still eleven on eleven. I mean, certainly the rules favor the offense as far as substitution goes. But fair? It's still eleven on eleven. I didn't hear people talking about it being fair or unfair when the Buffalo Bills were using (tempo) with the old K-Gun offense and going to a Super Bowl."
Bielema answered Rodriguez' comments by saying his stance remains focused on safety for the players Friday at the Razorback Celebrity Scramble.
"It's kind of been an evolving topic that has come up over the last couple years," he said. "I know I wasn't the first SEC coach to comment on it. All that was brought up at the rules committee was if there is a point and time when you have to look at the safety of the players that could be on the field for a projected longer amount of time. For instance us depth-wise, we like to rotate our defensive linemen, especially our defensive tackles, so that we have a four or five-man rotation so that we don't put the heaviest players that would be the most stressed physically out on the field.
"I don't have any problem with the time and pace. I love Rich-Rod and I know you saw those comments yesterday and he prefaced his by saying 'Bret's a good ball coach' and I preface that as well. The last time we met, we ran the ball 32 straight times and we held it as long as we could.
"It's just one of those things that is a difference in philosophy, but the only thing that I'm concerned about and I will always maintain to be true is the safety of our student-athletes."
Discussion
Have a comment on this story? Join the discussion or start a new one on the Forums.