Mustain: UA stay just 'bad situation'
Published: Tuesday, October 15, 2013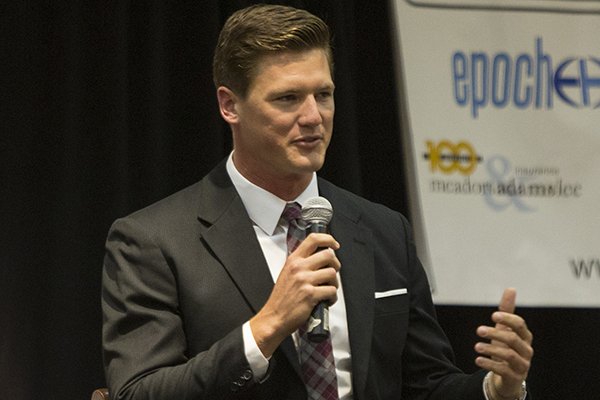 ( Melissa Sue Gerrits )
Former Arkansas Razorbacks QB Mitch Mustain talks to the touchdown club October 14, 2013 at the Embassy Suites in Little Rock.
There's no love lost between former Arkansas quarterback Mitch Mustain and former Razorbacks coach Houston Nutt.
When asked if he had talked to Nutt since transferring from Arkansas in January 2007, Mustain said he hadn't.
"It was a bad situation from the beginning," Mustain said. "There were a lot of promises made that shouldn't have been made. A lot of expectations created that looking back now couldn't have been fulfilled. It was the nature of it. You're not going to be able to change somebody like that."
Mustain, originally from Springdale, spoke tothe Little Rock Touchdown Club on Monday afternoon at the Embassy Suites in Little Rock, in part to promote Matthew Wolfe's documentary, The Identity Theft of Mitch Mustain, and received a standing ovation from the crowd of more than 150 people.
The film will be shown at 8 p.m. Friday and 2:30 p.m. Sunday at the Hot Springs Documentary Film Festival.
Mustain, who was the Gatorade, Parade Magazine and USA Today Player of the Year in 2005 as a senior at Springdale High School under Coach Gus Malzahn, was the nation's top quarterback prospect in 2006 and signed with Arkansas.
Mustain was part of the Springdale Five, college recruits on the Bulldogs state championship team that also included receivers Andrew Norman and Damian Williams, tight end Ben Cleveland and offensive lineman Bartley Webb. Mustain, Norman, Williams and Cleveland signed with Arkansas and Webb went to Notre Dame, which also recruited Mustain.
Mustain took over as the starting quarterback in his second game at Arkansas, which had hired Malzahn to be Nutt's offensive coordinator. Mustain started the next eight games, and Arkansas won them all, though he played a minor role in the eighth victory, 26-20 at South Carolina.
Mustain was benched after throwing an interception on Arkansas' first series against South Carolina in favor of Casey Dick, who quarterbacked Arkansas to two more victories - over Tennessee and Mississippi State - to clinch the SEC West title.
But Arkansas lost its final three games - to LSU (31-26) in the regular-season finale at War Memorial Stadium in Little Rock, to Florida (38-28 in the SEC Championship Game) and to Wisconsin (17-14) in the Capital One Bowl to finish 10-4.
Mustain didn't start another game for the Razorbacks after being pulled from the South Carolina game.
"It was destined from the beginning not to work, but that's the way it worked out," Mustain said. "They hired Gus and they persuaded all of us [to sign with Arkansas]."
Malzahn left Arkansas after one season to go to Tulsa to be the offensive coordinator. Mustain transferred to Southern California in 2007 and was mainly a backup behind Mark Sanchez and Matt Barkley in his careerwith the Trojans.
Mustain said he still has a close relationship with his former high school coach, Malzahn, who went from Tulsa to Auburn as offensive coordinator before taking over as head coach at Arkansas State last season.
Malzahn, now head coach at Auburn, offered Mustain a job on his staff with the Tigers, but Mustain turned it down.
That's because Mustain, 25, is still playing football, now as a quarterback for the Arena Football League's San Jose Sabercats. Mustain completed 50 of 93 passes for 632 yards, 11 touchdowns and 3 interceptions in 11 games for the Sabercats, who finished 13-5 this past season.
Playing indoor football, something he had not previously experienced, has been an adjustment, Mustain said.
"You have the same speed," he said. "The guys have been there for a while. It's a quarter of the area of a big field, so it moves very quick. You can't do a lot of things you can do on a big field, but you can do some things a little different."
Before getting back into football, Mustain pitched in the Chicago White Sox organization in 2012 before leaving baseball because of elbow pain.
"At my age, it was tough anyway," he said. "I was a 24-year-old rookie free agent. It's a tough sport. I told them I have a whole new respect for it. It was too much wear and tear.
"I needed to make a decision if I wanted to press on and risk having a career-ending injury or getting back into football, which is what I love and what I want to do."
Mustain, who also works at a firefighting training facility in Mesa, Ariz., mentioned the Naval Academy as a place where he would have liked to have attended school. And he did express regret about going to Arkansas, to some degree.
"Part of me wonders sometimes, 'Hey, I shouldn't have taken it,' " Mustain said. "At the end of the day, you can't second-guess yourself that way.
"I made the decision based on what was best for me at that time, what I wanted to do at that time. It didn't work out. That's just the way it goes.
"I've had good opportunities since that have come from that. I don't complain too much about it."
Sports, Pages 17 on 10/15/2013
Discussion
Have a comment on this story? Join the discussion or start a new one on the Forums.