Bielema optimistic as Razorbacks lead up to Auburn opener
Published: Wednesday, August 20, 2014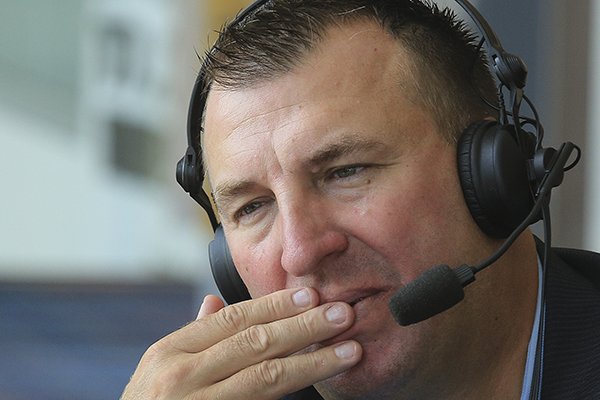 (
Staton Breidenthal
)
Arkansas football coach Bret Bielema does a radio interview Tuesday, Aug. 19, 2014 before speaking at the opening week of the little Rock Touchdown Club.
Bret Bielema appreciates the compliments he receives from reporters, fans and even his own bosses, but Arkansas' football coach takes more stock in the well wishes from former coaches.
Bielema made his annual visit to the Little Rock Touchdown Club on Tuesday at the Statehouse Convention Center, where he spent approximately 30 minutes in front of a record crowd of about 750 talking about his optimism going into his second season as the Razorbacks' coach.
The coach told reporters before speaking to the crowd that despite the team's 3-9 record last season, he has reasons for optimism based on Arkansas' final four games of the 2013 season and the fact the Razorbacks are relatively healthy leading up to their season opener Aug. 30 at No. 6 Auburn.
Further proof of the team's progress, Bielema said, comes from former coaches who have shuttled in and out of Fayetteville during spring and fall camp as observers. Pat Jones, the former Oklahoma State coach, was the most recent to visit campus.
"When administrators come over and say, 'We look different, we sound different,' all that is very encouraging. I love that," Bielema said. "But when there is someone that I know that is in this profession, and knows the difference between a well-played and executed plan versus one that is not, that gets encouraging.
---
Seriously? You're following all those Twitter accounts but not @wholehogsports?
Go ahead and root for LSU while you're at it.
---
"If we weren't getting better in the last four weeks of [last season], I would be concerned ... but that's not the case."
When Arkansas visits defending SEC champion Auburn, it'll be trying to break a 12-game SEC losing streak dating to a 2012 victory over Kentucky. But Bielema maintains that a 52-7 loss to South Carolina on Oct. 12 and a 52-0 loss at Alabama a week later were the only 2013 games that "got out of hand."

VIDEO: Bret Bielema speaks to LR Touchdown Club
Watch Video
In the weeks that followed, Arkansas lost to Auburn (35-17), at Ole Miss (34-24), to Mississippi State (24-17 OT) in Little Rock and at LSU (31-27).
"I know everybody else is going to continue to make growth," he said. "But in those other 10 games, the growth that we made gets me very excited."
That excitement is the reason Bielema isn't abandoning the plan he set forth when he arrived 20 months ago.
Bielema retold a story Tuesday about when he was growing up on a pig farm in northwestern Illinois. He was about 10 when he and his brother were taught by their father how to build a fence for a hog pen. After their father left, he and his brothers skimped on some duties. When they returned the next day, the pigs had gotten out.

Bielema speaks before LR Touchdown Club speech
Watch Video
The lesson?
"If we had just listened to his directions and built it the way he said to build it, we wouldn't have had to do it again," Bielema said. "We had to do it all over again because we didn't do it the right way. I think about that.
"If you build it the right way you're never going to have to go back and do it again. It should last a long time."
That, Bielema said, can serve as a lesson for building a football program too.
This season Bielema's team has the benefit of a healthy Brandon Allen at quarterback, the return of running backs Alex Collins and Jonathan Williams, who combined for 1,926 rushing yards, and six returning starters on defense.
It also has a schedule that includes 10 bowl teams from last year and six teams ranked The Associated Press preseason poll.
Not that Bielema cares too much about the polls. He remembers his first season as Wisconsin's coach in 2006, when the Badgers were unranked in the preseason but went 12-1 -- including a Capitol One Bowl victory over Arkansas -- and finished the season ranked No. 7.
"I know that rankings truly do not matter," Bielema said. "I know where we're at as far as our team. ... I don't think we're No. 76, and I don't think we're No. 1. I think we're somewhere in between."
Sports on 08/20/2014
Discussion
Have a comment on this story? Join the discussion or start a new one on the Forums.