Qualls declares for NBA Draft
Published: April 15, 2015 at 3 p.m. - Updated: April 15, 2015 at 3:29 p.m.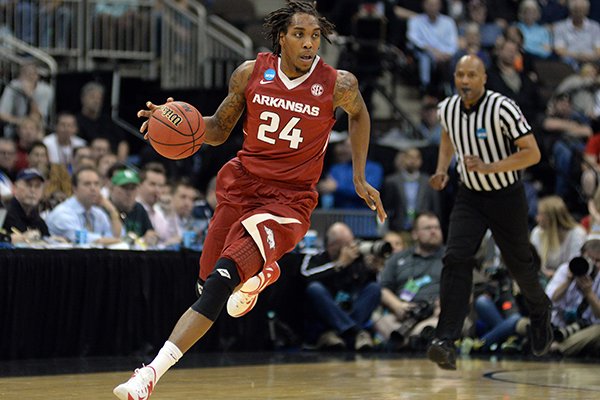 Arkansas guard Michael Qualls (24) drives up the court against North Carolina during the first half of an NCAA tournament third round basketball game Saturday, March 21, 2015, in Jacksonville, Fla. (AP Photo/Rick Wilson)
FAYETTEVILLE — Arkansas junior Michael Qualls will forgo his final year of eligibility and enter the NBA Draft.
Qualls announced the decision Wednesday on his Twitter page. He averaged 15.9 points and 5.3 rebounds as a junior, earning second-team All-SEC honors.
"My time at the University of Arkansas has not only helped me grow as a basketball player, but also as a man and I'm very thankful for the guidance the coaching staff and everyone at the university has given me over my three years," Qualls wrote on Twitter.
"After sitting down with my family I felt the best decision for is to continue my basketball career as a professional. I'm ready to provide for my family and my son."
His decision comes the day after Bobby Portis announced he would enter the NBA Draft. If both are selected during the June 25 draft, they will be the first Arkansas teammates taken in the same draft since Todd Day, Lee Mayberry, Oliver Miller and Isaiah Morris went in the 1992 draft.
After playing sparingly as a freshman from Shreveport, Louisiana, Qualls had a breakout sophomore season in 2014, averaging 11.6 points and 4.5 rebounds.
During his three seasons at Arkansas, he established himself as a fan-favorite for his dunks, which earned him 13 appearances on SportsCenter's Top 10 Plays.
"I can't say thank you enough to the Razorback fans," Qualls wrote. "Coming in as a kid from Louisiana they embraced me from the start like I was one of their own and have always shown me an amazing amount of support. That means a lot to me and I'll forever be a Razorback."
Portis and Qualls do not have the option to return to school, as the NCAA's deadline for underclassmen to change their mind was Tuesday.
With the departure of Qualls, Arkansas will now have to replace 65.8 percent of its scoring, 60.5 percent of its rebounding and 57.5 percent of its assists from last season, as the Razorbacks will also lose seniors Ky Madden and Alandise Harris and transfer Nick Babb.
The loss of Babb, Portis and Qualls also frees up three scholarships the program could potentially during the spring signing period, which began Wednesday and will last 35 days.
Read Thursday's Arkansas Democrat-Gazette for full details.
Discussion
Have a comment on this story? Join the discussion or start a new one on the Forums.