Gearhart leaves university post after seven years
By: KELLY P. KISSEL, The Associated Press
Published: Monday, August 3, 2015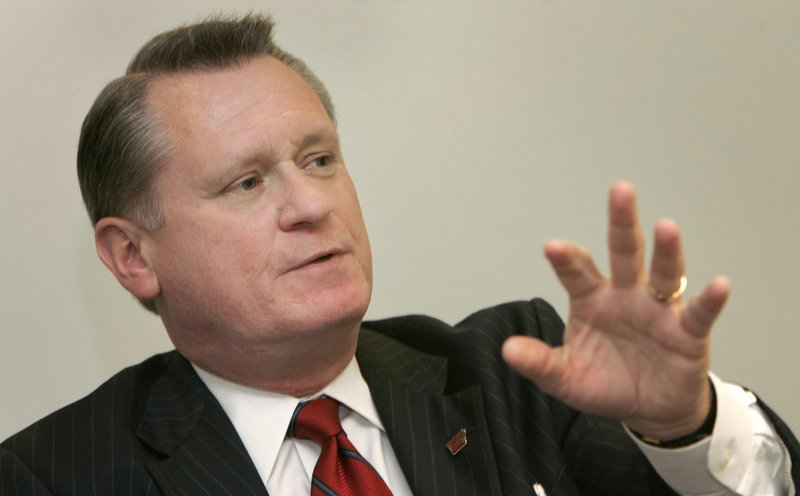 G. David Gearhart, former chancellor of the University of Arkansas, is interviewed Oct. 22, 2008, in Little Rock. Gearhart's last day at the school was Friday.
LITTLE ROCK -- G. David Gearhart wrapped up a seven-year tenure as chancellor of the University of Arkansas hopeful a state with few college graduates will push more of its children into higher education.
"You're healthier, wealthier and happier if you have a degree. I'm not sure that Arkansas values that as much as it should," Gearhart said. His last day was Friday.
Only about 1 in 5 Arkansas residents hold a four-year degree, up from 1 in 8 a generation ago. The Fayetteville campus has boosted enrollment in an effort to match peers in the Southeastern Conference, and it and other schools have benefited from increased attention on the value of higher education and a state lottery that funds college scholarships.
"The governor established a goal of doubling the number of degrees" by 2025, said Shane Broadway, a former legislator and past head of the Arkansas Department of Higher Education. "It's not just getting them into college, but what strategies do we need to employ to get them to graduation?"
At Fayetteville, growth has come while also finding students better equipped for college.
"We've done it without compromising quality. The student class has been better each year," Gearhart said.
Only 12 percent of its incoming freshmen last year had ACT scores at 21 or lower, compared to 28 percent in 1998. The six-year graduation rate is now at 62.3 percent. In the 1990s, fewer than half graduated in six years.
Gearhart said a primary goal was improving the student experience "from cradle to grave" so they'd stay long enough to graduate.
"I guess the thing that I'm probably as proud of as anything is the whole idea of 'Students First' that we tried to make our mantra," Gearhart said. "I felt that perhaps we weren't being as supportive and helpful to our students in terms of helping them through the maze of getting an education."
Gov. Mike Beebe, governor during most of Gearhart's term as chancellor, noted growth at the Fayetteville campus didn't come by lowering the bar.
"I remember him for courageous leadership and for extraordinary growth at the university -- both financially and in terms of the number of students and the quality of the student body," Beebe said. "He took them from (19,000) to 26,000 even with increased admission requirements.
"It's pretty good when you can increase standards and enrollment at the same time," said Beebe, who left office in January.
Still, Arkansas hasn't been an easy university to run. Just since 2008:
• A head football coach was fired after being caught with a woman not his wife after a motorcycle accident.
• The university division Gearhart used to run overspent its budget by nearly a third and the school's chief spokesman said Gearhart and others ordered workers to destroy documents, a claim Gearhart denies and which prosecutors couldn't substantiate.
• State appropriations for the school rarely grew, though the chancellor, who took over at the start of the recession, was grateful they didn't fall as they have in other states.
• Gearhart disagreed with the UA System office's decision to borrow $5 million from campuses to start an online degree program.
Prior to becoming chancellor, Gearhart was a senior vice president at Penn State and advancement director at Fayetteville. He spearheaded a $1.046 billion fundraising campaign that included a $300 million donation from the family behind the Wal-Mart fortune.
He went to Fayetteville High School, has a law degree and Ph.D. from Arkansas and married his high school sweetheart, Jane. They plan to travel for a year before he returns to take a faculty position in the College of Education and Health Professions.
Unresolved as Gearhart exits is whether the university's football team will continue to play any games in Little Rock, where it has played at least one game per year since 1932. A current contract expires in 2018.
"We lose money when we play in Little Rock," Gearhart said. "Personally, I love playing in Little Rock ... but the university is located here. I'm glad it's not going to be my decision."
The university has not named Gearhart's replacement.
NW News on 08/03/2015
Discussion
Have a comment on this story? Join the discussion or start a new one on the Forums.