Hogs 'look stupid' with new punishment
Published: Tuesday, August 18, 2015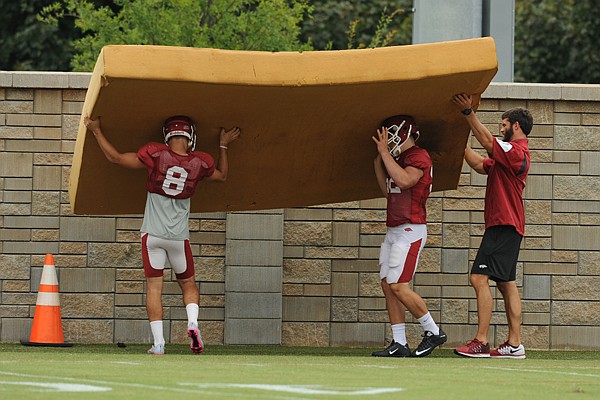 (
Andy Shupe
)
Arkansas punter Blake Johnson (8) and an unidentified player carry a large piece of foam Tuesday, Aug. 18, 2015, during practice at the university's practice field in Fayetteville.
FAYETTEVILLE — Bret Bielema seems to have a new favorite punishment.
Punter Blake Johnson and long snapper George Madden were seen carrying a mattress around the practice field Tuesday.
It was the same penalty running back Alex Collins, wide receiver Jojo Robinson and defensive back Cornelius Floyd received for being 30 seconds late to Thursday's practice.
Bielema said he didn't want to wear out the players by running them, so he opted for the embarrassment route, making them carry a mattress around the practice field during the portion of practice open to the media.
"I thought, 'What can I do to make them look stupid and be kind of a pain?'" Bielema said.
It is unclear what Johnson and Madden did to earn the punishment.
Discussion
Have a comment on this story? Join the discussion or start a new one on the Forums.