Beard far more than 'a black kid from the hood'
Father of the Razorback guard opens up about son's tumultuous semester
By: Evin Demirel
Published: Friday, December 18, 2015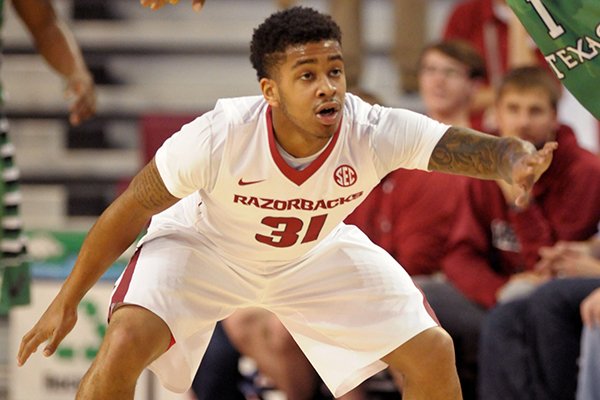 (
Ben Goff
)
Arkansas guard Anton Beard guards Maurice Aniefiok of North Texas during a game Friday, Nov. 28, 2014 at Bud Walton Arena in Fayetteville.
Floyd Beard recalls being in state of "disbelief" when he first found out one of his five children had been arrested July 22 on counterfeit charges.
Nineteen-year-old Anton Beard had never been anything like a problem child growing up in the neighborhood around North Little Rock High School. He and his friends always had plenty of after-school clubs and sports to keep them occupied.
Somehow, someway, though, Beard and two Razorback teammates wound up using counterfeit $20 and $50 bills at three different locations last summer in Fayetteville. Beard would later be charged with three counts of first-degree forgery, a felony in Arkansas that can carry a prison sentence of 5 to 20 years.
When he realized the initial arrest news was true, Floyd Beard engaged in "a lot of hollering" over the phone with his son, he recalls. Anton had gotten into the kind of trouble his father thought he'd raised him to avoid.
Anton insisted he didn't know the bills were counterfeit, and Floyd believes him, but serious damage was already done.
At best, the family name was sullied. At worst, Beard would lose his scholarship and be kicked off the Razorback basketball team on which he had worked so hard to earn a starting role as a freshman.
His 2.95 GPA and dreams of a post-playing career in sports management seemed endangered. Prison could follow. The arrest and jailing "scared the crap" out of Anton. "All this stuff was right there on the ledge," Floyd said. "It was ready to be gone."
No downfall so far, though.
Beard has spent the fall largely in limbo, attending class while his legal fate played out, suspended from playing in the Hogs' games but still hanging around the team. He was allowed to begin practicing in mid-November, but remained suspended from games through the semester.
That suspension lifts Saturday night when Beard makes his season debut at Verizon Arena in North Little Rock.
Floyd believes his son is back with the team for good. He expects Anton will carry out a mandated 9-12 month long drug court program that would ultimately result in the dismissal of the forgery charges.
He certainly expects no more arrests after all the recent heart-to-hearts they've had. He believes his son, now more than ever, clearly understands how the game can become both a blessing and a curse.
As an SEC all-freshman team athlete and student at the state's flagship university, Anton has reached a level of fame and accomplishment some of his childhood friends dreamed about, too, but didn't reach.
Some friends, especially the ones who don't attend college, can no longer depend on basketball as a way to stay off the streets after school. "Our youth today, when they run out of positive things to do, they're going to try negative things," Floyd Beard says.
Some disillusioned friends see Anton on national TV. "Sometimes people get jealous of that … to where they'll put you in positions that will hurt you because, maybe, they didn't get the opportunity," Floyd Beard says.
Going forward, Floyd believes his son will be better at standing up for himself with friends who don't support him. "As a [young] man you have to realize that 'I have to take care of me first.' It's not about my friends first."
Floyd knows his son still faces tough times ahead. He knows some critics assume Anton is just "a black kid from the hood." But he wants the public to know "I don't drink. I don't smoke cigarettes. I don't smoke weed. I don't do any of that. I'm just a regular working guy who loves basketball." He adds the same goes for Beard's mom, who lives in the Indian Hills neighborhood of North Little Rock.
He plans to attend his son's road games this season and help him deal with the inevitable crowd taunts. "I told him, 'These folks are going to be throwing this fake money out there. They're going to have signs saying stuff. Just laugh it off.' I think he's alright with that."
As bad as it could get, though, the Beards know it could be much worse. By allowing him to stick with the team, Arkansas athletic department leaders essentially gave him a second chance at school, at basketball and perhaps even at life.
"I tell everybody that they didn't have to do that. He's a six foot guard, ain't dunking on the regular. He's just a regular kid from the community," Floyd says. "We all know there's business involved, too, but they didn't have to do it."
Floyd expects the central Arkansas community to come out en masse Saturday night to support his son and the Razorbacks. Anton will walk onto the floor dressed out for the first time since he thought he might lose it all. He will see so many former friends, teammates and coaches in the stands and feel their thunderous cheers reverberate through his bones. No doubt emotions will run high.
Anton tells his dad he's not going to cry. Again, dad can't believe it.
Evin Demirel is a contributor to WholeHogSports. For the full interview with Floyd Beard, plus insight from Anton's high school school coach, visit BestOfArkansasSports.com.
Discussion
Have a comment on this story? Join the discussion or start a new one on the Forums.