UA golfer pleads guilty to voyeurism charge
Published: Thursday, July 30, 2015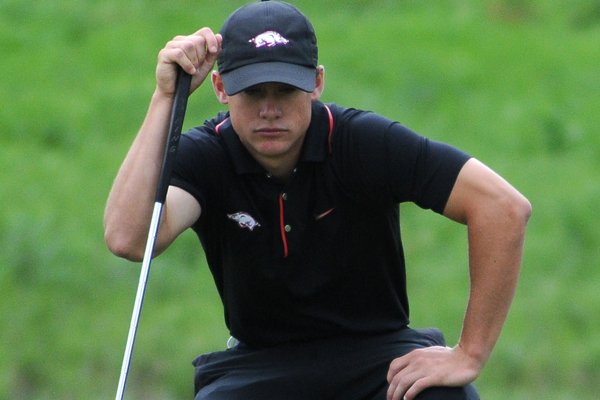 (
Anthony Reyes
)
Arkansas golfer Taylor Moore on the fifth green during the opening round of the NCAA Regional Golf Tournament Thursday, May 16, 2013 at the Blessing Golf Club in Fayetteville.
A University of Arkansas golfer accused of taking pictures of an unconscious woman's genitals pleaded guilty to a misdemeanor charge of voyeurism Wednesday in Washington County Circuit Court.
Taylor Moore, 21, was sentenced to one year probation, fined $1,000 and was ordered to have no contact with the victim in the case. He will not have to register as a sex offender.
Moore initially was charged with video voyeurism, a felony. Prosecutors said they reduced the charge as part of a plea bargain because of problems with the case, including whether the woman was in a place where she had a reasonable expectation of privacy.
Moore and Nicolas Echavarria, 20, were arrested just before the NCAA Yale Regional in New Haven, Conn., in mid-May. Both were suspended indefinitely from the golf team and didn't participate in the tournament. Arkansas didn't advance from the regional.
Charges against Echavarria were dropped in June.
The woman told police on April 11 she consumed multiple alcoholic drinks at various bars on Dickson Street in Fayetteville and then ran into Moore and Echavarria, whom she described in the report as friends.
She said she went to two other places with the pair, then because she was too intoxicated to drive, she and another friend accepted a ride from Moore and Echavarria. According to the women, they dropped off her friend and then took her to Moore's house.
The woman told police she passed out and then awoke in the car several times. She said she was under the impression she would spend the night at Moore's house, then be given a ride home in the morning.
The woman said she kept falling asleep, then waking up on the couch and recalled being carried into Moore's bedroom. The woman said while in the bedroom, she recalled seeing a flash of light and suspected Moore took photos of her.
Discussion
Have a comment on this story? Join the discussion or start a new one on the Forums.