Commentary:
Hogs' defense cause for concern
By: Nate Olson
Published: Monday, November 2, 2015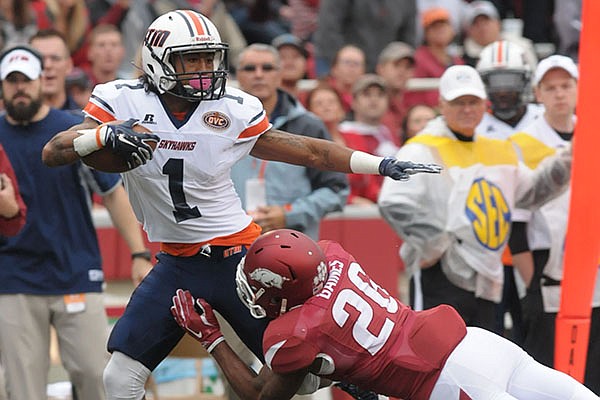 (
Andy Shupe
)
Tennessee-Martin receiver Najee Ray breaks a tackle attempt by Arkansas safety Rohan Gaines during a game Saturday, Oct. 31, 2015, at Razorback Stadium in Fayetteville.
It was easy to tell by the offensive statistics that Arkansas played a Football Championship Subdivision opponent Saturday.
The defense — not so much.
The Hogs torched the Tennessee Martin 63-28, and Arkansas' offense dominated with 591 total yards. Junior running back Alex Collins carved through the Skyhawks for 173 yards and a career-high five touchdowns.
Senior quarterback Brandon Allen was an efficient 14 of 19 for passing for 265 yards and two touchdowns. The Hogs' starters scored on eight of 10 possessions.
So, offensively the Hogs did what you would expect against a nonconference Homecoming sacrifice.
The red flags came on defense. The Ohio Valley Conference member raked up 519 yards with its spread attack.
More from WholeHogSports
Skyhawks senior quarterback Jarod Neal completed 30 of 43 passes for 380 yards and a touchdown with an interception. Again, the Hogs' defense played like a team ranked No. 100 in pass defense, even against a quarterback who is not SEC caliber.
Particularly alarming were a long drive to end the first half and another to start the second half, which pulled the Skyhawks to within 35-21.
Luckily for the Hogs, the offense continued to deliver taking pressure off the defense with 21 more points in the third quarter. The Skyhawks also helped the Hogs with two drive-ending interceptions.
"I give credit to UT Martin. Their quarterback, a senior, I thought really understands the game," Arkansas coach Bret Bielema told reporters after the game. "He's a very accurate passer and understood where they wanted to get the football, so at times it was a little frustrating defensively."
Frustrating and UT Martin aren't supposed to go in the same sentence, and if Bielema was pulling out the remaining hair on his head this week, what's going to happen this week against Ole Miss and its high-octane spread offense?
The No. 19-ranked Rebels are No. 11 in both passing yards and total offense in the NCAA. On paper, they are the second-best offense Arkansas has faced aside from Texas Tech, which is ranked No 3 in total offense and beat UA 35-24.
Arkansas had a tough time slowing the Red Raiders, also a spread team.
The performance against UT Martin did little to erase the doubt that was caused by early losses that included hefty passing yardage totals. It also should be pointed out that the Hogs also gave up six rushing yards per carry against the Skyhawks.
Enter the Rebels who ride the arm of free wheeling junior Chad Kelly, the nephew of Buffalo Bills Hall of Fame quarterback Jim Kelly. Kelly has passed for more than 2,800 yards and 20 touchdowns and has some mobility in the pocket with close to 200 yards rushing and four touchdowns, including a 20-yard run.
His first season as a starter has been made easier with return of junior Laquon Treadwell. Treadwell has returned with a vengeance and has 61 catches for 870 yards and six touchdowns.
The 6-foot-2, 210-pounder didn't lose a step and is a tough matchup for opposing defensive backs.
Ole Miss also has three other receivers with more than 300 yards receiving, so Treadwell isn't the only threat.
However, Kelly has been prone to mistakes. He has thrown 12 interceptions and threw two picks (he also racked up 381 passing yards) in a 27-19 win against Auburn.
Saturday proved that the Hogs are still struggling with pass-first teams. They are going to get a steady dose of it again Saturday as Ole Miss coach Hugh Freeze and Kelly's eyes must be wide after seeing what the Skyhawks did.
Arkansas needs to try to contain Treadwell from making big plays and force Kelly into mistakes. Both can happen as Auburn proved last week.
The Hogs' best defense may be its offense. Ole Miss has some great athletes on its defensive unit, but Arkansas can move the ball on them. If Collins can stay hot and Allen continues his efficiency they will hang on to the ball with time-consuming drives, which will keep the Rebels' offense off the field.
In the end, though, the defense will have to defend the pass well consistently. A paltry performance against UT Martin doesn't make that seem likely.
Nate Olson is a contributor to WholeHogSports.com. He has covered sports in Arkansas since 1998.
Discussion
Have a comment on this story? Join the discussion or start a new one on the Forums.