Commentary:
Putting the Hogs' improbable win in historical perspective
By: Nate Olson
Published: Wednesday, November 11, 2015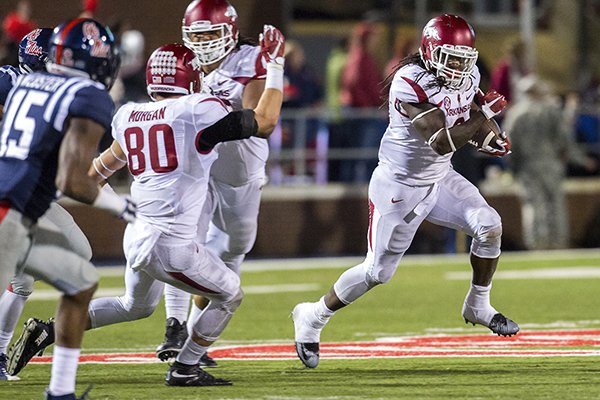 (
Jason Ivester
)
Arkansas running back Alex Collins carries the ball on a fourth-down play on Saturday, Nov. 7, 2015, during overtime against Ole Miss at Vaught-Hemingway Stadium in Oxford, Miss.
Almost as soon as Arkansas quarterback Brandon Allen pinballed across the goal line with the winning two-point conversion, Arkansas fans and pundits hailed the 53-52 overtime win at No. 18 Ole Miss with superlatives.
The best game, the best play, the best finish in Razorbacks history.
In the heat of the moment it was easy to put Hunter Henry's catch and subsequent lateral on a fourth-and-25 play that picked up a first down as the best play Razorbacks history. Or Allen's gutsy game-winning keeper that happened only because the sack on the first try was negated because of a face mask was the greatest ending to a game.
More from WholeHogSports
Now that we've had a chance to catch our collective breath, let's just see how this game and its miraculous plays ranks all-time.
Best game
It happened only eight years ago, but Arkansas's 50-48 triple-overtime upset of then-No. 1 LSU in Baton Rouge has been forgotten a bit but is easily No. 1.
First of all how many times has Arkansas beaten a No. 1-ranked opponent? On the road? Not to mention it was a shootout that went back and forth, and LSU had to score late in regulation to force overtime.
It was exciting and dramatic and knocked LSU out of the National Title hunt and signaled the end of the Houston Nutt Era.
Another road win in Oxford, the seven-overtime thriller against the Rebels is a solid No. 2. Seven overtimes. Really?
And it was the coming-out party for star quarterback Matt Jones. Who can forget the freshman sitting on the bench with his head tilted back in exhaustion as the defense took the field?
Following those two is the UA's 28-24 home win against No. 3 ranked Tennessee which avenged a loss the year before. Quarterback Clint Stoerner fumbled with the Hogs clinging to the lead late and paved the way for the Vols' win and eventual national championship.
Saturday's game falls in the fourth spot ahead of the 1979 Texas game where the No. 10 Hogs beat the No. 2 'Horns 17-14 in Little Rock on a late missed field goal.
Best finish
Easily "The Miracle on Markham" game in which Arkansas drove 81 yards in 25 seconds to beat LSU 21-20.
Jones, who had only completed two passes, hit Richard Smith on a 50-yarder. After an incompletion, Jones found DeCori Birmingham in the end zone from 31 yards out with nine seconds left.
The Hogs were penalized 15 yards for excessive celebration, so David Carlton's PAT was kicked from the 18-yard line, but he managed to knock it through.
With all of the drama considered, Saturday night's finish passes some great ones to land at No. 2. If the improbable fourth-and-25 play wasn't enough, Arkansas got two chances at the gutsy two-point call made by Coach Bret Bielema. Twice in OT, the Hogs seemed to be dead only to shock the Rebels faithful.
Factor in the game was on the road against a ranked team, and it makes it one of the better finishes ever.
The 1999 Tennessee game which included a go-ahead TD pass from Stoerner to Anthony Lucas and a UT drive that stalled in the red zone in the waning moments is definitely considered along with the 2007 LSU game that ended on an unsuccessful LSU two-point try, the 2001 Ole Miss game that ended with an unsuccessful Rebs' two-point try and the 1979 Texas game that ended with a potential game-tying 48-yard field goal that was no good.
Best play
Whenever a play is given a name, it has to be one of the greatest ever.
"Hunter's Heave" was definitely the most bizarre play in Hogs history. Some called it lucky, but it was incredibly heady for Henry to realize he was well short of the first down marker and to get rid of it behind him so another Hog could run with it.
It was also smart for lineman Dan Skipper to not catch the ball but to knock it down so Collins could pick it up and sprint. Then, receiver Drew Morgan threw a key block to spring Collins to the first down and receiver Dominique Reed alertly fell on the ball after Collins tried to lateral it yet again.
Wild, crazy and executed perfectly in the chaos while Ole Miss defenders watched in stunned confusion.
However, it wasn't epic enough to beat "The Miracle on Markham." Jones couldn't complete a pass to save his life that day and then nailed two of the toughest passes a quarterback can throw. Plus, the win clinched an SEC West championship.
I am also partial to Stoerner-to-Lucas in 1999 to help beat No. 3 Tennessee, but it's a distant third. Hog fans also won't forget Jermaine Petty making the tackle in front of the goal line to preserve the seven-overtime win or Carlos Hall's blocked field goal in the final seconds to help UA upset No. 9 South Carolina 10-7 at Little Rock in 2001.
Best fourth down conversion?
Finally, a category Saturday night's game claims. Frankly, there aren't a lot of other conversions that come to mind, but nothing could compare to that desperation.
I'd even say there may not be a better fourth down conversion play in college football history. Of course, there have been a number of miraculous hail Mary heaves or impossible long draw play runs that may have caught a defense off guard, but a play like Henry's that was that heady and led to the upset of a ranked team — I doubt it.
Regardless of where it ranks, Saturday's win will never be forgotten.
Nate Olson is a contributor to WholeHogSports. He has written on Arkansas sports since 1998.
Discussion
Have a comment on this story? Join the discussion or start a new one on the Forums.