Does Marcus Monk owe Arkansas anything?
By: Evin Demirel
Published: Friday, November 20, 2015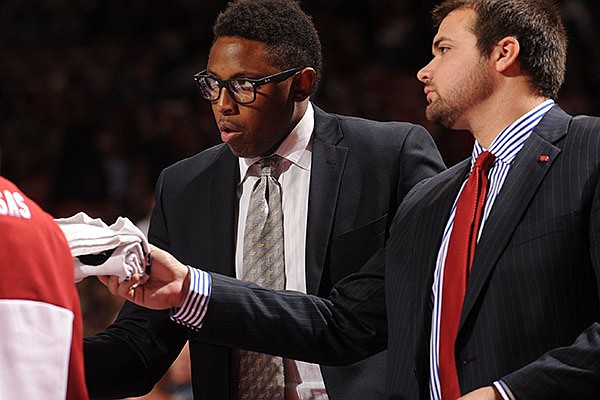 (
Andy Shupe
)
Marcus Monk, pictured here as an Arkansas basketball graduate assistant in 2013, has come under fire this week because of his role in his brother committing to Kentucky.
BENTONVILLE — Malik Monk is going to be a Kentucky Wildcat. That fact, by itself, is not surprising.
Since he was a sophomore at Bentonville High, Monk had told me his goal is to be an NBA superstar. If that is your top objective, then the decision to go a place producing four Final Four appearances, 13 NBA Draft lottery picks and 25 total players selected in the last six years is a logical one.
And, for the last couple months, it's been decision predicted by most of the national recruitniks who follow this kind of thing.
More from WholeHogSports
Every 17-year-old, of course, should have the right to choose where he wants to attend college. That axiom has by now been worn threadbare in the wake of these hometown-star-flees-homestate-program decisions, regardless of state, regardless of blueblood program destination.
But that's not the issue here, in Arkansas, with this particular case. Because much of the venting and anger seen on social media and heard on sports radio isn't being directed so much at Malik Monk as it is toward his older brother.
Marcus Monk, almost 11 years older than Malik, played many seasons for both the Hog football and basketball teams, graduated with two degrees from the school, served for a year as graduate assistant in the basketball program and is tight with so many other former and current Hogs.
Because of all these ties, many impassioned Razorback fans had assumed Marcus Monk was a "through and through" Razorback with similar levels of passion for the program. This assumption, though, was punctured Wednesday morning.
Trey Schapp, co-host of Overtime on 103.7 The Buzz in Little Rock, tweeted that Malik Monk would sign with Kentucky later that day. Many had expected such an announcement not to be made until spring, but, again, the decision itself wasn't too surprising.
What Schapp added was the kicker: Malik had actually wanted to commit to the Razorbacks but that Marcus "wouldn't let him because of distractions."
BREAKING: Malik Monk wanted to commit to Arkansas. His brother Marcus wouldn't let him because of "distractions." He will sign with Kentucky

— Trey Schaap (@trey1037TheBuzz) November 18, 2015
This news, confirmed by a few legitimate sources, begs a few questions.
The first: what are these "distractions" beyond more friends and families attending games? With its regularly nationally televised games, platoons of NBA scouts descending on multiple practices and massive limelight, Kentucky presents its own set of potential distractions, after all.
The second question is even more basic: Did this really happen or was it somehow planted within the media as a smokescreen? If Marcus Monk did keep his younger brother, arguably the most exciting talent in state history, from committing to the Razorbacks, it will be difficult for many fans to ever forgive him. Some fans have already labeled him a traitor -- which perhaps qualifies as the nicest of the words used in Marcus' recently modified Wikipedia bio.
It's also possible Malik wasn't exactly set on Arkansas -- that he had been leaning toward Kentucky for the last few months - and that he just wanted to get the announcement over with to get on with having as normal of a senior season as possible.
Former Razorbacks star Ronnie Brewer is friends with the brothers, and he spoke to both of them on Wednesday, but Brewer said he doesn't know if Marcus actually blocked Malik from being a Hog or not.
"The report saying that Marcus did that -- that's kind of hard to believe -- but I don't think Marcus is going to throw his brother under the bus because he wanted to go to another school," Brewer said. "He'd rather be the guy saying 'All right, that's fine, if that's want y'all want to say, that I forced my brother to go somewhere that he wanted to go, then so be it.'
"The type of person Marcus is, he would rather be the bad guy any day of the week than make his brother out to be a bad guy, who is a 17-year-old kid, if that makes any sense."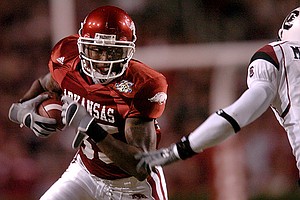 Marcus Monk was a standout receiver and later played basketball at Arkansas. (Photo by Jason Ivester)
Marcus Monk hasn't yet addressed the question of whether he did or did not prevent Malik from going to Arkansas, why he does or does not believe that route would have created more distractions and what those distractions would be. He did not respond to multiple attempts to reach him.
Until those questions are answered, Marcus Monk will remain near the center of Malik's story whether he wants to be there or not. He put himself closer to the middle in the last year or so when he created the Monk Promotional & Management Group, started organizing tournaments and high school basketball showcases involving Malik's teams, got sponsorship from local companies including Razorback boosters and recently resigned from his position as executive director of the Arkansas Wings to pursue becoming a basketball agent.
Brewer, like others close to Marcus, emphasize Marcus' basketball events showcase far more players than just Malik.
"I would think that it'd be very sad in our community if we shunned him to where he wouldn't be able to put on these tournaments and give support to the kids and the community," Brewer said. "I think there is a lot of talent in Arkansas, and I think these kids need exposure. He's trying to do a good job by giving them exposure, and I think it's going to be overlooked because Malik didn't go to Arkansas."
Brewer knows his friend is getting local heat for the role he played in Malik's decision to attend Kentucky. That heat will only rise if Marcus moves to Lexington and starts enlisting UK players as his first NBA clients. Through it all, though, Brewer wants Arkansans to remember all the hard work his friend has contributed to the University of Arkansas.
"People are trying to make it seem like Marcus was not a Razorback," Brewer said. "Where does that come from? My dad played as a Razorback in the '70s. He once was a Hog, he will always be a Hog and you can never take that away from him, regardless of what he has done, good or bad. Marcus is always going to be a Hog, regardless."
Other longtime followers of the program are not so positive.
Mike Irwin, analyst for KNWA-TV's Razorback Nation, said he believes Malik and Marcus had a good idea they were going out of state despite the fact Malik moved to Bentonville before his sophomore year.
"For two to three years [Marcus] played the situation. Don't tell me he didn't play it; he got all kinds of favors done, wheels were greased. I don't think anybody broke NCAA rules, but favors were done," Irwin said on ESPN 99.5's The Forum with John Nabors. "People helped because they wanted this kid to be a Razorback. You're going to tell these people now, "Hey it's okay, it's all right, he just made a business decision. Oh, he couldn't come because there would be too much pressure?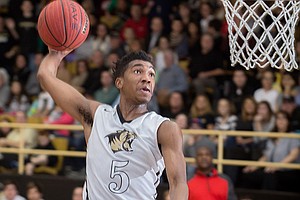 Malik Monk is one of the most highly-recruited players to ever come out of Arkansas. (Photo by Ben Goff)
"He hasn't seen pressure like he's going to see now."
In recent years, there had been a sense of mystery surrounding the fates of the Monk brothers. In the last couple months, that fog has somewhat lifted.
There was considerable debate about where Malik would play college ball, but now that's settled. He's heading to the program with the highest percentage of future NBA draftees.
Likewise, for a while, there were questions about what career paths Marcus would pursue given his varied background in pro sports, personal training, coaching and business. He has recently shared he wants to become an NBA agent.
These futures don't take anything from the fact Marcus Monk already gave Hog fans so much, even if it was wrongly assumed he would help give them another great gift in the form of a prodigiously talented sibling.
Marcus and Malik may well one day rule business empires spreading far beyond the borders of Arkansas, the SEC or even the United States, but no matter how powerful they become this state will always be home.
Even then, as now, expect the same question to arise: Does Marcus Monk owe Hog fans anything more?
Evin Demirel is a contributor to WholeHogSports. For more on his takes into Arkansas basketball, visit BestofArkansasSports.com or follow him @evindemirel.
Discussion
Have a comment on this story? Join the discussion or start a new one on the Forums.