Bear Bryant: The Almost Razorback
By: Evin Demirel
Published: October 9, 2015 at 4:46 p.m. - Updated: October 6, 2016 at 11:57 a.m.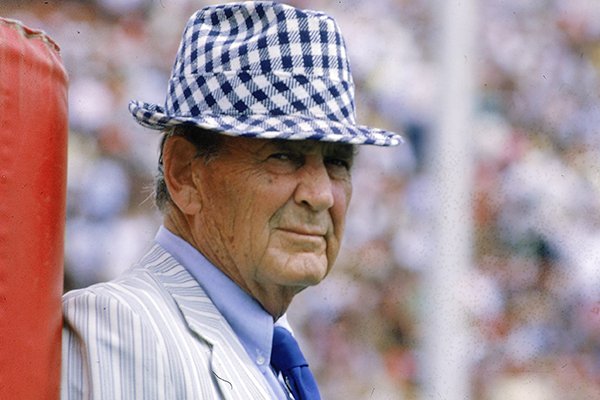 In this Sept. 1980, file photo, Alabama coach Paul "Bear" Bryant wears his usual hat during a football game in Tuscaloosa, Ala. (AP Photo/Joe Holloway Jr., File)
Larry Lacewell had heard plenty about Alabama head football coach Paul "Bear" Bryant growing up. They share the same small Arkansas hometown, Fordyce, after all, and Lacewell's father had been Bryant's close friend. As teenagers Bryant and "Chink" Lacewell had hopped boxcars on wild adventures taking them as far as Cleveland.
Lacewell learned more about his dad's imposing 6-foot-4 friend in 1959 when he took a Crimson Tide graduate assistantship under Bryant. Bryant hooked Lacewell up with a dorm room and made sure he earned his keep. With a chuckle, Lacewell recalls duties that included being Paul Bryant, Jr.'s "babysitter" and a "real good gopher."
So it came as no surprise when Bear Bryant needed someone to drive him home to Fordyce from Tuscaloosa, the 22-year-old Lacewell was the man for the job. On that roughly 280-mile trip they talk about many things, including Lacewell's experience as a football player for the Boll Weevils of what is now the University of Arkansas-Monticello.
It was then, just after they had stopped to put in a call to Lacewell's mother, that Bryant shared a Boll Weevils story that made Lacewell "about fall out of the car."
Lacewell recalls Bryant asking: "'Boy, you didn't know I went to school over there, did you?'
"I said 'What?'"
Lacewell already knew Bryant had left Fordyce High School before graduating and early on had a hard time figuring out how to succeed in life. Ultimately, an Alabama booster in nearby Pine Bluff played a big role in routing him to Tuscaloosa, just as he had with wide receiver Don Hutson, a Pine Bluff native and future NFL superstar.
In his memoir, "Bear," Bryant recalls Crimson Tide rosters were filled with many Arkansans "because of the influence of Jimmy Harland, who ran a poolroom in Pine Bluff where the school kids hung out. He had adopted Alabama. A self-appointed scout. After Huey Long came to power in Louisiana, Harland did some recruiting for LSU, too, but when Long got shot he went back to pushing Alabama full-time. Our 1935 Rose Bowl team was loaded with Harland recruits—Don Hutson, Charlie Marr, Bill Young, Happy Campbell, Leroy Goldberg, Joe Dildy, Dutch King, me."
Before arriving in Alabama in the fall 1931, though, Bryant moved to Monticello to enroll at the Arkansas Agricultural and Mechanical College, which in 1971 became part of the University of Arkansas System.
"He said he went to work for some guy who worked a drug store in Monticello," Lacewell recalls. "He said he didn't get the money he thought he deserved at the end of the week, so he packed up and left to go back home."
Bryant's legacy is now irrevocably tied to the Crimson Tide, but before he became Alabama's head coach in 1958 he twice came close to joining the University of Arkansas.
The first time came when he was a 28-year-old assistant at Vanderbilt, soon after he had befriended Bill Dickey, a star New York Yankees catcher and Little Rock resident. Here's how he explains it in his 1974 memoir:
"I had tried to get the Arkansas job in 1941. It was coming up vacant, and a friend of Bill Dickey's family introduced me to him. Bill had influence in Arkansas, there was no doubt about that. He had just gotten home from the World Series, and I called and we talked, and he offered to see Governor Homer Adkins for me. I went over and we both saw him. Bill suggested we see him again. And we went back a couple times more.
"On my way back to Vanderbilt I knew the job was mine. That was the indication I had. I was 28 years old and couldn't have been more filled with myself. I wanted to be a head coach, and Arkansas was my home. This was Sunday, December 7. The announcement came over the radio while I was driving into Nashville that Japanese warplanes had bombed Pearl Harbor.
"About all I had time to do when I got home was kiss Mary Harmon hello and good-bye. The next day I was in Washington, D.C., and shortly after I was in the U.S. Navy."
In a 1979 Associated Press article, Bryant's recollection of the event slightly differs. In that account, he and Dickey were driving together to Little Rock when they first heard news of Pearl Harbor.
"Bill just threw on the brakes and turned around. I went back to Nashville and went into the Navy," Bryant said.
Bryant came even closer to landing in Fayetteville in late 1952 after Arkansas athletics director John Barnhill fired head coach Otis Douglas. At that point, Bryant was six years into a successful head coaching stint at Kentucky but ready to leave on account of the UK basketball program.
"I had tried to resign in 1952, both because of the basketball scandal at Kentucky and to take the Arkansas job," he recalled in "Bear."
"They had caught some of the boys shaving points for gamblers, fixing games. The trial was coming up and I thought the bad publicity was hurting my program. I was trying to recruit at the time and I thought, "Why the hell do I have to go through this, as tough as it is to recruit in Kentucky."
He recalled fielding a veritable flood of interest and offers from the likes of Alabama, LSU and Minnesota but "the Arkansas job was the one I really wanted then."
Meanwhile, Arkansas boosters like Little Rock businessman Jack Stephens were rounding up their resources to supplement what would be his salary. He was flown to Little Rock that winter.
"I met with the governor and the university president, and they offered me all the goodies they could, he wrote. "Pete Ranay and Jack Stevens [sic] offered me stock in their oil company, Arkansas-Louisiana Gas. A chance to get in on the ground floor. If I had taken it, I'd be worth $40 million now.
"I should have. I should have just said the hell with it and left, which is what I eventually did."
Some people in Arkansas thought I was using them to make a better deal, but that's not true. [UK President] Dr. Donovan wouldn't give me my release and I wanted it to be proper."
In these recollections, Bryant leaves out an important condition: As Arkansas head football coach, he reportedly didn't want to answer to a boss.
"Bryant's terms were said to include the stipulation that he have sole control of the football program and not be subservient to an athletic director," according to a Dec. 15, 1952, United Press article. "This was understood to be a matter of principle and not because of any personal dislike of Barnhill."
Many powerful Arkansans wanted Bryant. The state couldn't match the $16,500 salary Kentucky paid him because of the law and athletic association regulations, but boosters planned to arrange for coaches' radio shows and other well-playing outside activities to provide supplemental income, the Dallas News' Charles Burton wrote in 1952. Moreover, state lawmakers proposed to abolish the office of the athletics director at the University of Arkansas to entice the Bear back to his home state.
Their efforts fizzled within a week, though, and Bryant went on to coach another season at Kentucky before heading to Texas A&M.
Still, what if Arkansas kingmakers had succeeded in making the Bear a Razorback? Would his arrival in 1953 had been in the best long-term interest of the program?
Larry Lacewell has no doubt his former boss would have won "five or six" national championships as Arkansas' coach had he enjoyed a lengthy stint like he did at Alabama from 1958 through 1982. Indeed, since Bryant succeeded everywhere he went, it's difficult to imagine tremendous success eluding him in Fayetteville.
It's unlikely he would have stayed for decades, though, considering he felt a tremendous sense of loyalty to Alabama from his playing days, Lacewell said. When Bryant left Texas A&M after the 1957 season to help resurrect a Crimson Tide program in shambles, he described the urge to help as if "mamma called."
That same urge probably would have pulled him from Fayetteville.
A young coach named Frank Broyles who had been courting the Arkansas job throughout the decade likely still would have stepped in as the Hogs' new coach in 1958. The biggest difference: He would have taken the helm of an emerging national powerhouse instead of what had been a slightly above average program through the 1950s - and been under more pressure to maintain success from the get go.
In the end, of course, Broyles didn't do too bad himself.
His Razorbacks and Bryant's Crimson Tide only played once when both men were coaches. That 10-3 Sugar Bowl win in 1960 was one of 323 Bryant racked up in his career.
He defeated Lou Holtz's Arkansas team in the Sugar Bowl in January 1980.
"Playing Arkansas is like playing my own people," Bryant told the AP. "If I have to lose, I'd rather lose to them."
---
Freelance writer Evin Demirel, a University of Arkansas graduate, delves more into local sports and history at BestOfArkansasSports.com. There, he runs the state's only sports interviews roundup newsletter.
Discussion
Have a comment on this story? Join the discussion or start a new one on the Forums.