Hogs see Gators as chance to get right
By:
Tom Murphy

Published: Thursday, April 14, 2016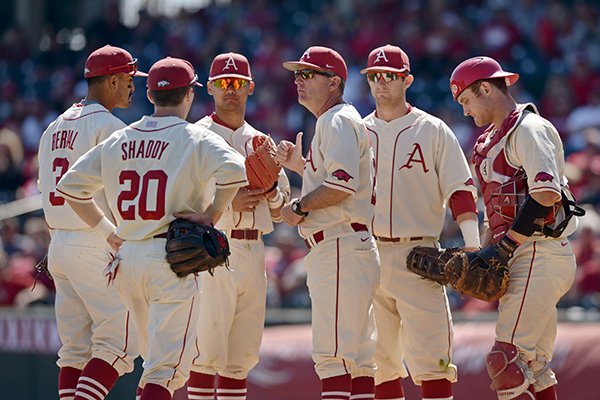 (
Ben Goff
)
Arkansas coach Dave Van Horn talks with players during the eighth inning of a game against Missouri on Sunday, April 3, 2016, at Baum Stadium in Fayetteville.
FAYETTEVILLE -- An Arkansas baseball team desperate to turn its season around will have to start doing so against a relentless schedule.

Luke Bonfield - Florida Preview
Watch Video

Zach Jackson - Florida Preview
Watch Video

Cullen Gassaway - Florida Preview
Watch Video
The Razorbacks, out of all the national polls and in a tailspin that rivals their 2-10 stretch in March 2015, face No. 2 Florida (30-5, 8-4 SEC) in the opener of a three-game series tonight at 8 at Baum Stadium.
ARKANSAS BASEBALL
vs. FLORIDA
WHEN 8 p.m.
WHERE Baum Stadium, Fayetteville
RECORDS Florida 30-5, 8-4 SEC; Arkansas 21-12, 4-8 SEC
RANKINGS Florida is No. 2 in the USA Today Coaches poll
RADIO Razorback Sports Network. Not all games will be carried by affiliates. Check local listings.
TV ESPNU
SERIES Arkansas leads 28-27 overall, 13-8 in Fayetteville
LAST MEETING Florida won 10-0 at SEC Tournament on May 22, 2015
PITCHING MATCHUP Florida LHP A.J. Puk (1-2, 3.38); Arkansas RHP Dominic Taccolini (3-1, 5.31 ERA)
SHORT HOPS
The teams split two games last season, both at the SEC Tournament. Arkansas won 7-6 on Bobby Wernes' two-run homer in the ninth inning to cap an 11-pitch at-bat in a game that ended after 1 a.m. The Gators won 10-0 two days later as A.J. Puk threw a three-hitter in a seven inning run-rule game. … Florida is No. 5 in SEC hitting (.299 average), No. 2 in pitching (2.95 ERA) and No. 1 in fielding (.984). Arkansas is No. 10 in SEC hitting (.287), No. 14 in pitching (4.55) and No. 4 in fielding (.978). … Florida is coming off an 8-2 victory over Florida State on Tuesday to sweep their annual three-game series in Gainesville, Jacksonville and Tallahassee. … The Gators have played four consecutive error-free games.
UPCOMING SCHEDULE
TODAY Florida, 8 p.m.*
FRIDAY Florida, 6:35 p.m.*
SATURDAY Florida, 2:05 p.m.*
SUNDAY Off
MONDAY Off
TUESDAY Creighton, 6 p.m.
WEDNESDAY Off
*SEC game
"They are everything they're advertised as," Arkansas Coach Dave Van Horn said. "We're going to have to play flawless baseball to beat them."
Arkansas (21-12, 4-8 SEC) has lost five consecutive SEC games and has not had a starting pitcher last more than five innings since Keaton McKinney shut out Auburn for six innings in a 14-7 victory March 26. The Razorbacks haven't taken a lead in an SEC game since Michael Bernal's sixth-inning RBI single in a 7-6 victory over Missouri in that series opener April 1.
The Tigers held leads of 6-0 and 4-0 the next two games, and Ole Miss jumped out 7-0, 4-0 and 4-0 leads, all in the first four innings, during its three-game sweep of the Razorbacks last weekend.
"We know we've got to start winning some games in league play, and if we can get up on them early, that'll help out a lot," Arkansas first baseman Cullen Gassaway said.
"I think we're ready for this challenge with Florida, probably the best team in the SEC and maybe the country," outfielder Luke Bonfield said. "No one thinks we can win this series, so we're kind of the underdogs, and we like that feeling."
Van Horn said he would return to the pitching rotation Arkansas used during the first two SEC weekends, with right-handers Dominic Taccolini (3-1, 5.31 ERA) and McKinney (1-1, 6.25) working tonight and Friday, respectively. Saturday's starter will be determined later.
James Teague and Zach Jackson started the first two games last week as Taccolini and McKinney worked out of the pen.
"Really what we did last week didn't work," Van Horn said. "Dominic has a lot of experience, and we're just hoping that him taking a weekend off and just throwing out of the bullpen will give him a chance to get everything figured out and give us some quality innings."
Taccolini's return to the rotation will set up a pitching rematch from the last time the Hogs played Florida, in a 10-0 run-rule loss on the fourth day of the SEC Tournament last year. Florida left-hander A.J. Puk (1-2, 3.38) held the Razorbacks to three singles in seven shutout innings of that game.
Puk, a 6-7, 230-pounder, sat out the Gators' series loss to Mississippi State last weekend to help alleviate back spasms.
"I remember seeing an electric fastball, up to 99 [mph], pretty good off speed, iffy command," Bonfield said of Puk's repertoire.
"I know they're going to come in here with a rotation with a bunch of first-rounders," said Jackson, who was teammates on USA Baseball last summer with Florida's Puk, right-hander Logan Shore, catcher JJ Schwarz and outfielder Buddy Reed.
Shore (6-0, 2.66) is expected to start Friday's game.
The Gators are No. 1 in the latest RPI rankings, while Arkansas is No. 112. Florida, which ranks No. 4 in the nation with a fielding percentage of .984, won its first six games, lost 5-3 to Miami, Fla., then rattled off 17 consecutive victories. The Gators' only series losses have come against Kentucky and Mississippi State.
"I told the team you can either run from it or embrace it," Van Horn said. "This is what we need with where our RPI is and where we're at. We have to beat good teams. If we do that, our RPI will get to where it needs to be. If we don't, we'll kind of get what we deserve."
Sports on 04/14/2016
Discussion
Have a comment on this story? Join the discussion or start a new one on the Forums.