Razorback Roundtable:
What to expect when Arkansas opens preseason camp
Published: Wednesday, August 3, 2016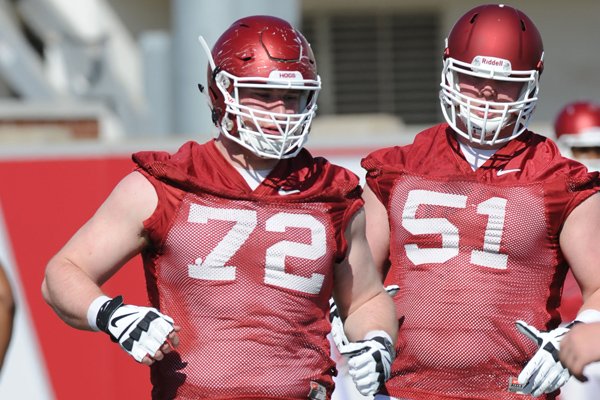 (
Andy Shupe
)
Arkansas offensive linemen Frank Ragnow and Hjalte Froholdt take part in a drill Tuesday, March 29, 2016, during practice at the university's practice field on campus in Fayetteville.
Four questions for four writers, previewing Arkansas' fall camp, which begins Thursday.
1. Which position group are you most interested in watching during fall camp?
Tom Murphy (beat writer) — The natural answer is offensive line because of the significant turnover and lack of experience on the left side. However, I'll switch gears and say running back. No doubt the Razorbacks will rotate and ride the hot hand here, but a couple of guys have to emerge as potential every down, 1,000-yard candidates. I'm fascinated to see who can become the next great tailback in the Bielema-Enos offense.
Bob Holt (beat writer) — Has to be the offensive line. It's such an important group — especially with new starters at quarterback and tailback — to be breaking in three new starters. I'm especially interested to see how young guys like left tackle Colton Jackson and left guard Hjalte Froholdt have progressed since spring practice. Also want to see how newcomers such as Jake Raulerson (the transfer from Texas) and junior college transfer Paul Ramirez fit in. If Raulerson is a good fit at center, does Frank Ragnow move to guard? And is someone going to assert himself at right guard, which was a revolving door in the spring? Brian Williams was limited in the spring by injuries, so I'll be interested to see how the summer treated him and if he's ready to be the starter at right guard.
Clay Henry (columnist) — I'd rate it a dead heat between offensive line and running backs. First, both have new assistant coaches. Second, both have some rebuilding to do. There are going to be three new starters in the offensive line and one of the returnees is playing a new position. Granted, Frank Ragnow has played center in the SEC, but he hasn't played it with Austin Allen at quarterback. Offensive line coach Kurt Anderson thinks he has the answers, but they still must do it in an SEC game. At running back, Devwah Whaley and T.J. Hammonds are learning as true freshmen. While both possess immense talent and are smart, both have yet to do it at the college level. I think Rawleigh Williams and Kody Walker are good enough to carry the bulk of the load, especially early. I like the talent at O-line and running back, but it's the place I'll focus early in camp.
Jimmy Carter (online reporter) — The offensive line is the biggest question mark on the team, hands down, entering camp. Frank Ragnow and Dan Skipper are the only returning starters on a group with uncertainty and inexperience everywhere else. Right guard is up in the air with as many as eight candidates for the job. And while the coaching staff has repeatedly given votes of confidence to left tackle Colton Jackson and left guard Hjalte Froholdt, the duo had their share of struggles in the spring and there are JUCOs, graduate transfers and others who could challenge for those spots this fall. Expect a lot of different personnel groupings and tinkering in fall camp.
2. Does Arkansas use more 3 receiver looks this year or will a second tight end step up? Which tight end is most likely to emerge behind Sprinkle?
Murphy — I think there will be plenty of 3-wide looks, even if all of the young tight ends emerge as strong complements for star Jeremy Sprinkle. The receiving corps is just that good, and they all need touches beyond the big four of Hatcher, Morgan, Reed and Cornelius. My guess is Will Gragg has the best chance to round into shape for early playing time. His blocking has to pick up, as does Cheyenne O'Grady's. Austin Cantrell has got to be more of a pass-catch threat to keep defenses honest. Sounds like tight ends coach Barry Lunney Jr. thinks Jack Kraus could slip into the mix, and Anthony Antwine knows the ropes and can get physical.
Holt — Considering the talent and depth at wide receiver and lack of experience behind Sprinkle at tight end, it would make sense for offensive coordinator Dan Enos to have more 3-receiver sets. But if one of the younger tight ends shows he's capable of playing in run and pass situations — the he can be a good blocker and receiver — then I think we'll see a lot of 2 tight end-sets as has been the norm for the Razorbacks. Will Gragg seems like the best candidate for that, to me, given that he's got the potential to do both well. But he has to show he's ready to go do that in games.
Henry — I think there will be more sets with three wide outs. Why wouldn't Dan Enos use all of those guys? Makes sense. But I think there will be times that Sprinkle has a running buddy from the same meeting room on the field. It could be Austin Cantrell in jumbo running sets. It could be C.J. O'Grady in passing situations. And, it might be Will Gragg. But the two that I think will get a good amount of time from the tight end group will be Jack Kraus and Anthony Antwine.
Carter — It seems likely that there will be more three-receiver sets given the relative depth at the position and the uncertainty at tight end. Drew Morgan, Dominique Reed, Jared Cornelius and Keon Hatcher are all proven playmakers, while a batch of younger receivers have the potential to contribute. The picture at tight end is muddled, to say the least. Jack Kraus is coming off an injury. Anthony Antwine has some experience. Cheyenne O'Grady, Will Gragg, Jamario Bell and Austin Cantrell were all highly touted recruits who are now redshirt freshmen who have yet to carve out playing time for themselves. O'Grady is perhaps the most gifted of the bunch, but Gragg has a lot of tools, too. The coaching staff has to hope at least one of the four steps up this fall.
3. Which newcomer are you most interested to watch on offense?
Murphy — I've got to go with Devwah Whaley. A tailback who has a ready-for-college frame and comes with his credentials could be a fast and effective fit in the Hogs' offensive scheme. If he can pick up all the pass protection demands, he'll get a strong opportunity.
Holt — Freshman tailback Devwah Whaley. He turned down Alabama and Georgia and a bunch of other top programs to sign with Arkansas and comes in with a ton of hype, so I want to see if he's as good as advertised. Given that Kody Walker and Rawleigh Williams are coming back from surgeries, Whaley may be asked to play a major role with the offense. It will be interesting to see how much contact he — and the other tailbacks — take in fall camp considering the risk of injuries going into the season. And how quickly can Whaley pick up Arkansas' pass protections for the tailback? Can't have him in there if Austin Allen is going to get splattered.
Henry — I'm not sure I can list just one. For sure, Devwah Whaley is a running back who will get on the field. I feel like Whaley will blossom in the same way that Alex Collins did three years ago. I remember the first wow moment when he made a cut on a sweep in an August scrimmage. You know he was the real deal. Can Whaley do that? I think he can. There are several candidates for playing time in the offensive line including Texas transfer Jake Raulerson. Paul Ramirez is another that could jump onto the field. He's a highly regarded junior college transfer.
Carter — Devwah Whaley is the obvious, easy answer, but he's still the one I'm going with. Big, fast and strong, he's the complete package for a running back. Recruiting gurus from Texas gush about his abilities. There's plenty of playing time to be had at running back and the coaching staff would no doubt love a Whaley-Rawleigh Williams one-two punch in the backfield with Kody Walker pitching in here and there. Bonus answer: Cole Kelley isn't going to play this year, but I'm still interested to see the guy whose new teammates call him the "The Franchise" and whose position coach said was the best passer in high school in the nation.
4. Which newcomer are you most interested to watch on defense?
Murphy — Have you looked at the sizes of this linebacker group? Finally Arkansas has landed a big class of backers who are college-sized to begin with and can be a foundation for the next few years. From that group, I'll go with mike linebacker De'Jon Harris, who is expected to earn some time behind Brooks Ellis and could provide flexibility for the defensive staff to experiment with combinations.
Holt — We already saw freshman defensive lineman McTelvin Agim in spring practice, so I'm not going to count him as a "newcomer" for this question. So in that case, I'll say linebacker De'Jon Harris. He played a bunch of positions in high school — including quarterback — but Arkansas needs quality depth at linebacker, so I'm interested to see if Harris is ready to contribute as a true freshman.
Henry — Clearly, McTelvin Agim is ahead of the others since he's been on campus since January. But I think there are others that are going to make an impact. I'm interested to see how quickly Austin Capps picks up things in the defensive line. He's a huge talent and physically more mature than most freshman. He can lift a truck -- or maybe two! Some of the new linebackers and secondary guys are going to help, too. Several will play on special teams.
Carter — McTelvin Agim is the obvious answer here, so to avoid taking the easy route two questions in a row, I'll go with linebacker De'Jon Harris, a player the Razorbacks had to hold off Alabama for in January. Scoota is said to be a hitter, compact, fast and instinctual. With Arkansas' dearth of depth at linebacker, it wouldn't be the most shocking scenario in the world if Harris wound up earning playing time as a freshman — if he's as good as advertised. That's what I want to try to judge in fall camp.
Discussion
Have a comment on this story? Join the discussion or start a new one on the Forums.