Commentary:
Arkansas has defensive talent on the field and the sidelines
By: Nate Olson
Published: Friday, August 26, 2016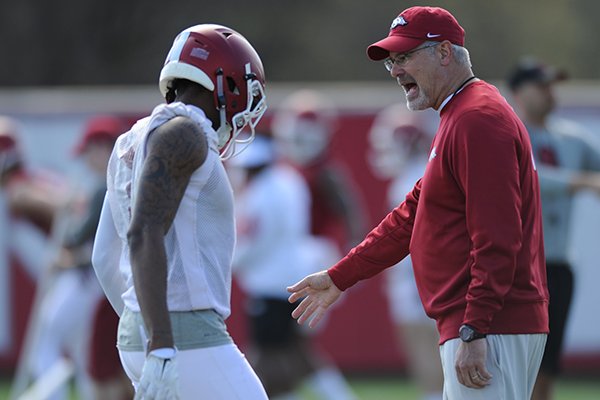 (
Andy Shupe
)
Arkansas assistant coach Paul Rhoads speaks with his players Thursday, March 31, 2016, during practice at the university's practice field on campus in Fayetteville.
Somehow it took nearly 18 minutes for someone to ask Bret Bielema about the defense.
The unit was maligned last season and was one of the worst passing defenses in the nation. But Bielema's eyes lit up in anticipation of bragging on his veteran squad.
"When you get nine of 11 starters back, that should help," Bielema said at the Little Rock Touchdown Club. "They are going to be better, and they are very coachable. Robb Smith, going into his third year as defensive coordinator, he would tell you, too, that he was getting to know our team that first year, and now he has seen the development of what guys can do well and what they can't. Just getting guys in the right position is big."
Bielema cites senior defensive lineman Jeremiah Ledbetter as an example. Ledbetter is a former linebacker, who is now a down lineman and Bielema compares his potential impact to Darius Philon from the 2014 season.
Many, including yours truly, figured Smith - a defensive whiz - could plug players into voids left by Philon (now with the San Diego Chargers), lineman Trey Flowers (New England Patriots) and linebacker Martrell Spaight (Washington Redskins). That never happened in 2015 and maybe those expectations were unrealistic. Smith excelled so well his first year - holding LSU, Ole Miss, Missouri and Texas to four touchdowns in the final four games - that it appeared the Hogs defense was going to be dominant no matter who was filling the roles.
He caught lightning in a bottle the first year, but he didn't have the talent or the experience available to avoid a sophomore slump. If this year's defense doesn't pan out, Smith will hear it, but another flop doesn't appear likely.
With an inexperienced offensive line and other holes, most pundits agree the defense will have to carry the Hogs early. I don't know if Bielema agrees with that sentiment, but he certainly is more confident in the defense than a year ago.
It is clear that he has seen major improvement from spring drills through fall camp.
Another reason for Bielema's optimism is the addition of defensive backs coach Paul Rhoads. He is one of three coaches with coordinator experience on the staff, along with Bielema and Smith. Arkansas has also added longtime defensive coordinator Wally Burnham to the staff to help advance-scout opposing offenses.
Rhoads, the fiery motivator who was a head coach at Iowa State, has brought a rejuvenated attitude to a secondary group which was beleaguered after ranking near the bottom in the nation in pass defense.
"The affect Paul Rhoads has had has been astronomical," Bielema said. "The relationship with Robb and the defensive coaches was instant. He walks in the room, and he is a low-ego guy, and he doesn't care about who is getting credit or whatnot, he just wants results.
"Our players gravitated instantly to him. Naturally, at first, there is always apprehension, but our [defensive backs] live in that room, and it doesn't matter who they are or where they are from, what they act like, what they talk like he has had effect on them right now."
There couldn't have been a better hire in college football last year. To land a coach who has spent most of his career as a defensive coordinator and head coach in major conferences was a major coup. Bielema said Rhoads had given up the idea of coaching until he came to Fayetteville over the winter to watch his son compete in an indoor track meet for Iowa State.
Rhoads and Arkansas athletics director Jeff Long were friends from when Long was the AD at Pittsburgh and Rhoads the defensive coordinator, so Long gave him a tour of the facility. Long introduced Rhoads to Bielema, and a few weeks later when the job came open, Rhoads reached out to Bielema.
The two had known of each other since the 1990s when Rhoads was an assistant at Iowa State and Bielema was one at Iowa. Bielema told the Touchdown Club crowd he was in Hawaii for a Nike event and nearly "dropped his Mai Tai" when he heard from Rhoads.
"Being a head coach, he is great about putting things in my box here and there," Bielema said. "He will say, 'We did this before, and it worked.' He is a pretty good Joe and a great asset."
Bielema says Rhoads is happy to live in Northwest Arkansas riding his motorcycle and anticipates the Bikes Blues and Barbecue festival this fall. Rhoads is no doubt relieved to be rid of the pressure of a head coach, for now, and coaching a position where he began his career as a rookie. An enthusiastic, care-free Rhoads should translate into an improved secondary.
There are several areas that will be key in separating Arkansas from a 7-win and a 9- or 10-win team. One of those will be the defense. Thanks to another year of development and the addition of Rhoads, Bielema has little doubt it could be one of the strengths for 2016.
Discussion
Have a comment on this story? Join the discussion or start a new one on the Forums.