Injured Macon bounces back with help from England
Published: Tuesday, December 6, 2016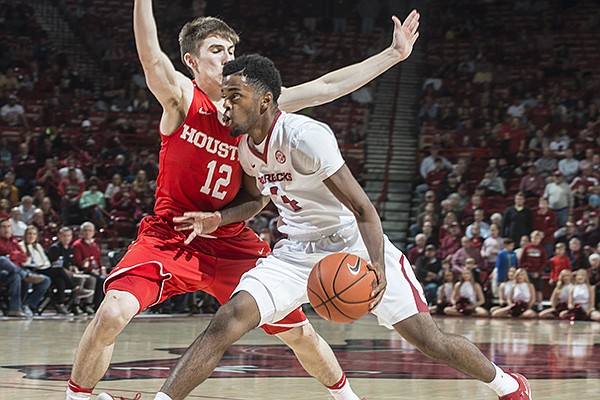 (
Anthony Reyes
)
Arkansas' Daryl Macon drives past Houston's Wes Vanbeck during a game Tuesday, Dec. 6, 2016, in Fayetteville.
FAYETTEVILLE — It didn't show up in the official box score on Tuesday night, but longtime Arkansas basketball trainer Dave England was awarded an assist.
Junior guard Daryl Macon gave England the nod after England helped get his injured calf ready for him to play against Houston.
Macon and senior guard and fellow Little Rock native Dusty Hannahs both had 17 points in leading the Razorbacks over the Cougars 84-72 before 6,678 fans at Bud Walton Arena.
"I feel great," said Macon, who was injured in Saturday's 99-62 win over Austin Peay. "Shoutout to Dave England. I feel great."
Macon was 3 of 4 from 3-point range, Hannahs 2 of 5 and freshman C.J. Jones knocked down a trey as well on a night when Arkansas was 6 of 14 from 3-point range.
Houston, which came into the game leading the nation in 3-point shooting, was 8 of 22 in the contest.
They were both keys in getting Arkansas a 14-point first-half lead - which they lost - and then helping the Razorbacks on a 14-3 run to pull away in the last six minutes.
Both pointed to the defensive end as the key.
"It was our defense," Macon said. "We started to communicate, started to tell our teammates what was coming through. That is something that we weren't doing in the first half.
The communication the second half…is where we made that 14-3 run. We didn't look back after that."
Hannahs agreed with that sentiment.
"The defense was what got us stops," Hannahs said. "The whole first half they were really killing us getting to the rim and we stopped that and those quick hitters they were getting and made them work for shots and that ultimately was why we ran away with it."
Hannahs, who had missed 10 3-pointers in a row at one point the season, now appears to have come out of his slump while coming off the bench the last two games.
"I just go out there and hoop," Hannahs said. "I don't really put much importance into it. I like to start. I like to play, too. I am going to do whatever it takes to help this team win.
"These buckets are coming whether they are off the bench or starting. That is how I look at it."
"I just tried to stop thinking about it even though it was impossible to stop thinking about it because I was watching so many misses," Hannahs said. "That kind of keeps you up at night. I was relaxed that game, was relaxed this game and I think it is smooth sailing from here on hopefully."
Macon relishes playing alongside Hannahs.
"Dusty is an awesome player," Macon said. "I don't think you guys know how good of a player and a teammate he is. I know he has been up all night because of these misses. I know and his attitude toward the misses makes him an awesome player.
"It makes him come in the gym the next day and shoot 300 threes. If he goes back the next game and miss again he is going to come back and shoot double that. So Dusty is an awesome player and teammate."
It was a two-point game at 63-61 when Arkansas (7-1) begin to roar away from Houston (6-2).
Macon said he could sense it was coming.
"The way we play is wear and tear and you can tell when the run is coming," Macon said. "You can look at your opponent and tell that he is tired or he feels like giving up.
"We saw it in their eyes that they thought about giving up. That is when the run came."
Hannahs noted that his team had one goal late in the game.
"Just attack," Hannahs said. "Ultimately you are just thinking 'let's win.' When I am attacking and Daryl's attacking, that is what on our mind - winning and attacking. Not being tentative because that is when we get in our binds as a team when we get tentative.
"We just keep our foot on the pedal to the metal. I don't know what I was going to say, it went away. We just try to keep aggressive."
Discussion
Have a comment on this story? Join the discussion or start a new one on the Forums.