Johnny Gibson filled void on Arkansas' offensive line
Published: Wednesday, December 14, 2016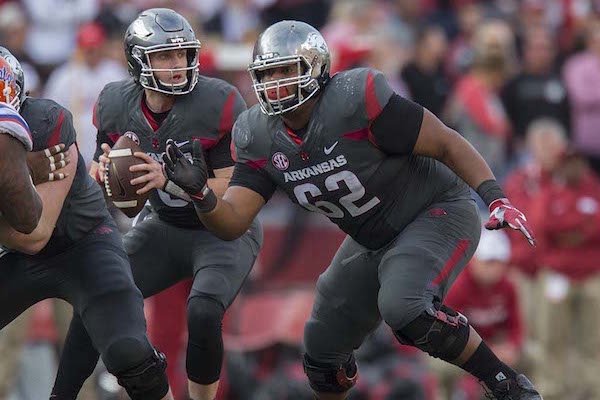 (
Jason Ivester
)
Arkansas sophomore Johnny Gibson (62) blocks against Florida during his first career start Saturday, Nov. 5.
FAYETTEVILLE — One of the feel good stories of Arkansas' 2016 football season was ascension of sophomore Johnny Gibson from walk-on to starting left guard.
Gibson (6-4, 338 pounds) took over the spot during Arkansas' bye week in October after he asked coach Bret Bielema for more playing time. He found himself making his first career start the next week against Florida.
"When I did get my chance I was like, 'You've got it now, don't give it up,'" Gibson said. "That is all I could think about. No matter what it is, just go out there and do your best and I know that if I do my best that I can play with anybody.
"There's a thing around here that we always say about being locked in. I don't think I was always locked in. It was really on me, but after I saw that I could actually do it, everything just started clicking and I could see that I was as good as some other people."
For Gibson, being locked in meant being prepared physically and mentally.
"I tried to just take it to another gear and stop settling everywhere else is life," Gibson said. "I needed to just grab everything and go and that is what I had to work on."
Gibson played in only three games as a freshman and was seldom-used prior to the Florida game. Arkansas offensive line coach Kurt Anderson said the only person that was keeping Gibson on the bench was Gibson.
"I think he has been practicing with a tougher attitude, definitely with more consistency since we made the change and I think that is because the only thing that was standing in Johnny's way was Johnny," Anderson said.
"Johnny has been great. He is going to continue to get better. There are still mistakes and stuff that continues to happen from time to time, but I think he has handled the season.
"Now that he has seen what his true potential can be, I think it has motivated him that much more to be on the path that he is on instead of going back and I am very proud of him for doing that."
Gibson's chance came after Arkansas' offense failed to produce in a 56-3 loss at Auburn. The Razorbacks had two weeks after that game to prepare for Florida, which the Razorbacks beat, 31-10.
"There was one day after the Auburn game and we had a practice and he (Bielema) said, 'If you feel like you can go out there and help the team, come talk to me,'" Gibson said. "I didn't ask to go start. I just asked, 'Can I get a shot.'
"All I asked for was a shot, they game me a shot and I had a good week of practice that week and I took that shot."
Gibson said he had to change his mindset to become a starter. He was tired of waiting to be given a chance.
"I was waiting and wasn't doing anything," Gibson said. "Coach Anderson always told us to prepare like we would be the starter and honestly I don't think I was doing that."
Anderson was convinced first, but it took a little longer for Bielema and offensive coordinator Dan Enos to get on-board with the idea.
"I wanted to show Coach Enos that I could get it done," Gibson said. "…Every day in practice I ask more questions of Coach Anderson. I took everything I did more more personally."
Gibson is regarded as a great athlete for a man of his size. He starred as a football player, basketball player and as a first baseman in baseball at Dumas High School in the Arkansas delta.
"Growing up in Dumas, the only way to get out of Dumas, per se, was to stand out, so I played as many sports as I could," Gibson said. "I didn't want to be the slow, fat kid. I had the size, but I didn't want to be the slow, big kid."
Gibson was an honorable mention all-state basketball player as a senior and can dunk a basketball. But he admits that he was weak when he arrived to work with Arkansas strength and conditioning coach Ben Herbert.
"I have gotten a lot stronger," Gibson said. "I remember and going in with Coach Herb and doing the baseline tests and I could barely do the dumb bells using 70s.
"Our program back home was not the greatest so I had to come up here and get acclimated to what we do here and every since I got acclimated, I started to do every thing and growing."
Because of Bielema's affinity for walk-ons that stand-out in practice, it would seem likely that Gibson may shed his walk-on status in the near future.
"That is not my decision," Gibson said. "All I can do is go out there and play and get ready for the upcoming game.
"We have talked - not a real serious conversation, but we have had a couple where he said just go out there and perform, and just keep doing what I am doing. We'll see how it goes."
Discussion
Have a comment on this story? Join the discussion or start a new one on the Forums.