Macon's tunnel vision leads Arkansas over Texas
Published: Saturday, December 17, 2016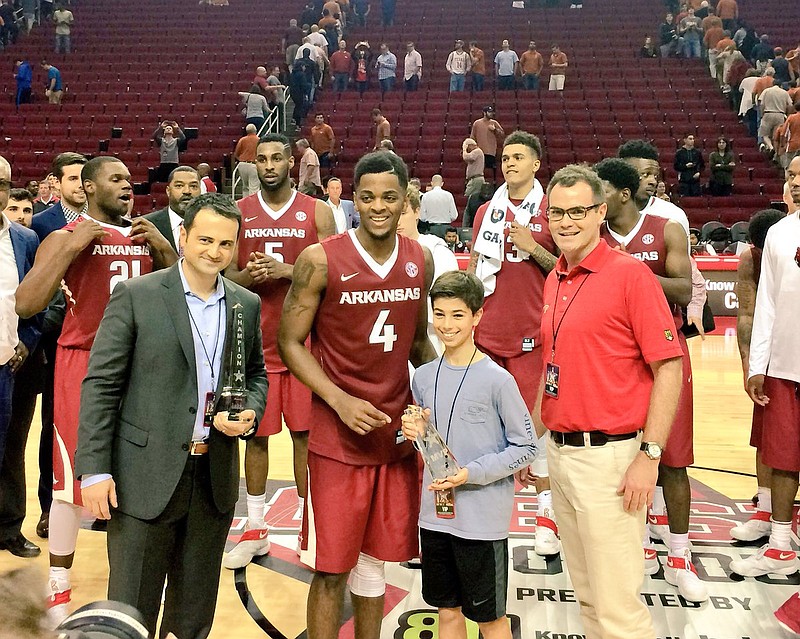 FAYETTEVILLE — Arkansas junior guard Daryl Macon admits he was a bit nervous Saturday before taking the court at the Toyota Center, home of the NBA's Houston Rockets.
But you sure couldn't tell it as he scored a career-high 23 points and made all 14 free throw attempts as the Razorbacks downed Texas 77-74 in the Lone Star Shootout.
"Man, it was amazing and I was nervous," Macon said. "This is a beautiful arena and for me I have come a long way and this was a dream come true for me.
"This is something that I have worked for day in and day out. This is nothing but a dream come true and I still can't believe that this is happening."
Macon was named the MVP of the finale of a doubleheader that saw Arizona edge Texas A&M 67-63 in the opener. Arkansas (9-1) made 29-of-31 free throws in the nightcap.
"That is something that we work on every day in practice," Macon said. "We just wanted to lock in and we did as you can see that everybody did well from the free throw line and not just me tonight."
Macon entered the game shooting 84.6 percent (22 of 26) from the free throw line and has made 90 percent of his attempts after the Texas game.
"I have tunnel vision at the free throw line," Macon said. "I don't hear anything, no fans yelling, I don't hear coach and it's just, 'I have to hit this free throw,'" Macon said. "Free throws are most important thing in the game."
Texas had the ball with 12 seconds and an opportunity for a 3-pointer to tie it, but Arkansas's defense forced an air ball to gain its sixth straight win.
"That last possession, we knew they were going to try and take a three and there was no possible way they were going to try and get a layup," Macon said. "We just tried to keep the ball out of (Tevin) Mack's hands and Jaylen Barford did a great job of that.
"Manny (Watkins) did a great job of on-ball pressure and we were just locked in as a team on that possession."
Arkansas won despite shooting just 35.5 percent (22 of 62) from the field and 25 percent (4 of 16) from 3-point range.
Macon was just 4 of 12 from the field.
"One thing that coach expresses all the time when we are not shooting well is attack, attack and attack the rim," Macon said. "That is what we did. You can tell that by how we got to the free throw line."
Arkansas rallied from a 35-30 halftime deficit to take an 11-point lead and then made enough plays - and free throws - down the stretch to fend off Texas.
"We had to get stops to make our run because Texas made their run early and we knew our offense was coming," Macon said, "and we had to just stay calm, listen to the coaches and stick to the game plan."
Discussion
Have a comment on this story? Join the discussion or start a new one on the Forums.