Analysis: Hogs need young TEs to step up even with Patton addition
Published: Sunday, December 18, 2016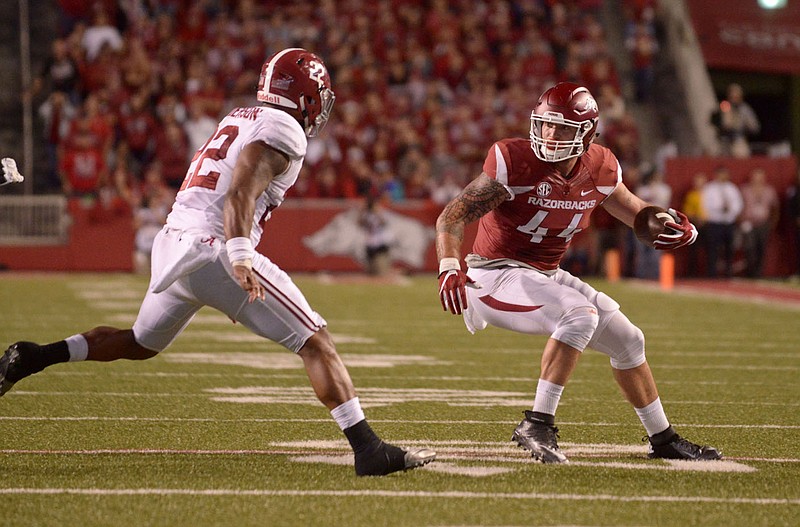 NWA Democrat-Gazette/BEN GOFF @NWABENGOFF Austin Cantrell, Arkansas fullback, evades Ryan Anderson, Alabama linebacker, in the second quarter on Saturday Oct. 8, 2016 during the game at Razorback Stadium in Fayetteville.
FAYETTEVILLE — Arkansas signed the nation's top junior college tight end, per ESPN.com, in Arizona Western's Jeremy Patton. The 6-foot-6, 248-pounder is the only player at his position the Razorbacks plan to add in the 2017 recruiting class.
There is good reason. There is a plethora of tight ends already on campus who have had varying degrees of success to this point in their young college careers.
That list includes current sophomore Jack Kraus (6-5, 252), redshirt freshmen Austin Cantrell (6-4, 269), Cheyenne O'Grady (6-4, 251), Will Gragg (6-4, 254) and Jamario Bell (6-5, 252) and true freshman Grayson Gunter (6-6, 232).
"I think that (adding one) is our plan right now," Lunney said. "We have got a lot of other needs and we kind of zeroed in and decided we were going to go another route and I think that will be good for us."
The group already on campus has combined for just 14 catches and 167 yards with Cantrell accounting for 12 of those catches, 113 of the yards and the only two touchdowns.
"Obviously we made the decision this past year that (Cantrell) was the guy who was most ready to help us and certainly I think he has confirmed that to us," Lunney said. "He hasn't been perfect but he has played some good football at times absolutely."
Compare those numbers with graduating senior Jeremy Sprinkle, who had 33 catches for 330 yards and four touchdowns this season and 71 catches for 921 yards and 11 touchdowns in his career entering the Belk Bowl.
"Obviously with Jeremy leaving it is going to open up a big void for some guys to come in and replace a lot of snaps so we will see how that goes," Lunney said. "We have a slew of them and a lot of opportunity for reps to go around. Between now and spring it will all come out in the wash just like it did this year. This time last year was the talk in the spring and it all came out in the wash and it will do the same."
The fact that the group is getting the 15 extra bowl practice, which includes a great deal of developmental work, is great for Lunney.
"This is awesome work for them," Lunney said. "For all of the young players. It's about everybody getting better as a coach, as a player. If you can take advantage of these extra 10, 15, whatever practices it is, and it's like a whole spring practice in one. That's the old coaching adage, but it's true and it's been good.
"As a unit, we have a lot of things we have to be better at. If they will approach it the right way, I think it will help them with their standing in the future."
Gragg, who chose Arkansas over some 60 other offers, has yet to make a dent on the field in his career while Bell has seemingly gone through two redshirt years.
Gragg has been limited during bowl work.
"He's got a little something going on that I think will be cleared up real fast," Lunney said. "Just a small medical deal. But these practices will be really important for him as they will all the other young players that we have at the position."
Bell, who moved to tight end after working as a defensive end his first year on campus, certainly looks the part.
"He is very gifted physically," Lunney said. "He looks like a defensive end, a tight end, whatever. He looks good at wherever you slot him. He has been with me for some time now and I think he really likes the position. His hands are great.
"But we have talked about this before and this was like his true freshman year at the position. Even though he is second-year player for us, he spent the previous year with somebody else so it is like starting all over again for him. Practices like these are real critical for him. He has shown flashes, but we have just got to keep spending a lot of time with him and try to develop him and he has got to meet us halfway with that."
Discussion
Have a comment on this story? Join the discussion or start a new one on the Forums.