Anderson feels sense of urgency
Published: Thursday, December 22, 2016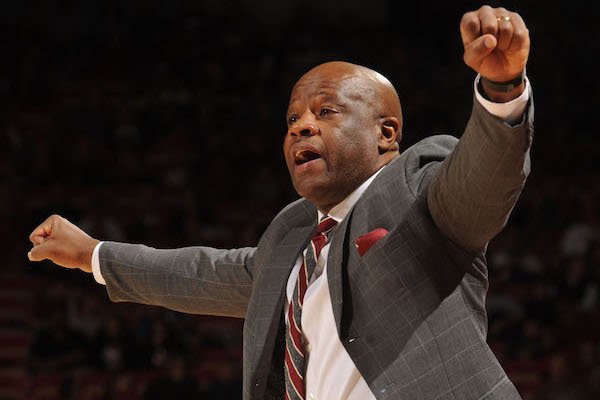 (
Andy Shupe
)
Arkansas coach Mike Anderson gestures against North Dakota State Tuesday, Dec. 20, 2016, during the second half of play in Bud Walton Arena.
Mike Anderson made his annual visit to the Downtown Tip-Off Club at the Wyndham Riverfront Hotel in North Little Rock, but it was a 4-year-old girl who stole the show Wednesday afternoon.
Emma Wasson was born with a congenital heart defect and rare disorder known as Turner Syndrome, which affects development in females.
At the start of Wednesday's luncheon, a video made by Emma's parents Kenny and Jerilyn was shown of the child singing the Arkansas fight song and calling the Hogs. The video brought applause from the crowd and Anderson was delighted as he reached the podium.
"You know when I come here, one of the sounds I love to hear is the Hog call," the Arkansas men's basketball coach said. "To hear and look at Emma, to see what she did up there, I got teary-eyed."
Anderson was in North Little Rock on Wednesday to help promote Arkansas' game tonight at Verizon Arena in North Little Rock against Sam Houston State. He said he enjoys having the Razorbacks play in central Arkansas and added it's a way for fans who can't make it to Fayetteville to see the team play.
"I love playing here," Anderson said. "It gives us an opportunity to do what other teams wish they could do, go out and take their team to the fans in the state.
"When they show up here, it's a different energy here because people are excited to see the Razorbacks. You've got players from this area, from around the state, they look forward to coming here. It's the biggest city in your state."
When speaking to the Tip-Off Club crowd, Anderson said Verizon Arena is energized with Razorbacks fans. He hopes that his team can put on a good performance for the fans today.
"I promise you, we will bring energy," Anderson said. "We will match your energy and take it to a maximum level. I look forward to playing."
The Razorbacks (10-1) are 3-2 at Verizon Arena under Anderson and 8-9 overall, but lost to Mercer 69-66 in overtime last December. Anderson said he wants to head into SEC play Dec. 29 against Florida on a winning note.
"Every game is a big game. This is a big game for us," Anderson said. "It's special for the guys who are from this area. But we want to continue to play good basketball because once we finish this game here, we jump into conference play. The intensity, everything, goes up another 100 notches. I want that sense of urgency to take place right now."
While he's focused on this year's Arkansas team, Anderson noticed El Dorado senior forward Daniel Gafford, who has signed with the Razorbacks, at Wednesday's luncheon. Gafford committed to Arkansas a sophomore, similar to Bobby Portis from Little Rock Hall, Anderson noted. This season, Gafford, who was named the Tip-Off Club's boys player of the week Wednesday, is averaging 18.8 points, 19.4 rebounds and 8.6 blocks per game for the Wildcats.
"I want to see those same numbers on the Hill," Anderson told Gafford. "He's averaging almost a triple-double. I don't care what level that is. That tells you something about that young man. He's giving you everything he's got."
Along with Gafford, Conway senior guard Jacie Higgins was named the Tip-Off Club's girls player of the week. Higgins is averaging 13.8 points, 4.2 assists and 3.0 steals per game for the Wampus Cats this season.
Sports on 12/22/2016
Discussion
Have a comment on this story? Join the discussion or start a new one on the Forums.