Devwah Whaley loves partnering with Rawleigh Williams
Published: Saturday, December 24, 2016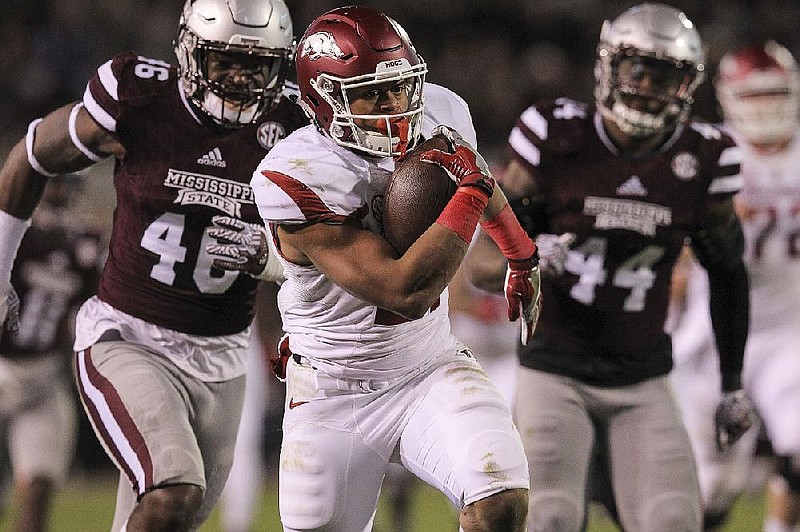 (
Benjamin Krain
)
Arkansas Democrat-Gazette/BENJAMIN KRAIN --11/19/16-- Arkansas's Devwah Whaley (21) runs past Mississippi State defenders Chris Redmon (48) and Leo Lewis (44) during the second quarter of the Razorbacks game in Starkville, MS.
FAYETTEVILLE — After some recent NFL draft decisions, it looks like the SEC is going to be loaded with top tandems of running backs again next season.
Georgia's Nick Chubb and Sony Michel have both decided against applying for the NFL Draft. Auburn's Kamyrn Pettway and Kerryon Johnson, Kentucky's Stanley Williams and Benny Snell, Missouri's Damarea Crockett and Ish Witter, Texas A&M's Trayveon Williams and Keith Ford and Tennessee's Alvin Kamara and John Kelly are all returning.
Alabama has a trio of standout tailbacks coming back and more on the way while LSU's electric Darrius Guice will surely find a running partner as well with teammate Leonard Fournette off the the NFL.
But Arkansas' duo of sophomore Rawleigh Williams - the SEC's leading rusher this season with 1,326 yards and 12 touchdowns - and freshman Devwah Whaley (601 yards and three touchdowns) takes a back seat to no one.
"I think we have been a great 1-2 punch this season and we want to go finish it off right in the Belk Bowl against Virginia Tech," Whaley said of Thursday's 4:30 p.m game in Charlotte, N.C. "I have learned so much from Rawleigh and the coaches as the year goes along and I think we are both going to be even better next season."
Williams - who suffered a season-ending neck injury as a freshman - has carried the ball 233 times so far this season while Whaley has toted it another 105 times with both averaging 5.7 yards per rush.
"It's kind of surreal to me," Whaley said. "I really wasn't expecting to have the year that I had. Rawleigh has helped a lot and just to accomplish the the things he accomplished this year after what happened last year it's a blessing.
"It's amazing. I look up to him as a big brother and I am proud of him."
Of those returning, only Kentucky's duo out-rushed the Arkansas pair - 2,192 to 1,927 yards.
It will certainly help next season that Arkansas junior center Frank Ragnow - named to at least one All-American team - announced this week that he will return for his senior season.
"It's a relief," Whaley said. "It's an awesome feeling to know that he's coming back and know he's going to be up front blocking for me again. It's going to be great. 
"…He is a great football player and the fact that he is coming back to lead the line is very important. ˇThere is a big brotherhood between the running backs and the offensive line. We work together."
Arkansas suffered a tough 28-24 loss at Missouri in the regular-season finale after leading 24-7 at one point.
Whaley, who also had five catches for 113 yards while Williams had 14 receptions for 227 yards, was unable to play after halftime because of a leg injury.
"Recovered pretty fast and feel even healthier than before, so ready for next week," Whaley said. "Got stepped on. Deep bruise in my knee, leg area. Got a lot of treatment on it, rehab on it and everything is fine."
He'll remember his freshman season as one where he learned that playing time is not just about running the football.
"I feel like it went pretty well," Whaley said. "Each and every week I felt like I got better and better all around. Not just running the ball, but all around."
It obviously will be the first postseason event in his college career.
"It's going to be a great experience," Whaley said. "Every kid has dreamed of it and worked hard for it. It's going to be pretty awesome."
In addition to Williams and Whaley, freshman T.J. Hammonds added 14 carries for 86 yards in limited action.
"T.J. is a great athlete," Whaley said. "I think he could play pretty much anywhere. From slot receiver or running back. He has the talent to be both."
The Razorbacks will also be adding in a pair of backs in Florida prep star Maleek Williams (6-foot-2, 235 pounds) - who is set to enroll in January - and Tennessee speedster Chase Hayden (5-11, 175).
"It could be a special group with the other two coming in and with us back for next year," Whaley said. " I think we could be a pretty special group next year."
Discussion
Have a comment on this story? Join the discussion or start a new one on the Forums.