Joe's 3-point barrage sets up showdown with Gafford
Published: Thursday, December 29, 2016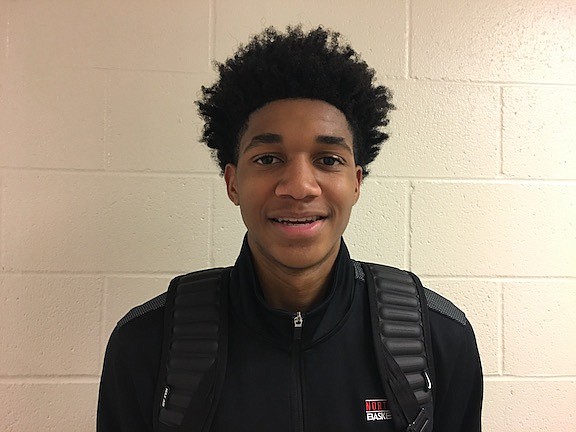 FORT SMITH — Once Arkansas 2018 commit and Fort Smith Northside star Isaiah Joe got going on Wednesday night, it was all over for Charleston and set up a date with a fellow future Razorback.
Joe (6-4, 180) scored 22 of his 32 points in the second half to help the Grizzlies blow open a five-point game and rout the Tigers 95-63 Wednesday night in the 39th Coca Cola Classic at Stubblefield Arena.
He knocked down 6-of-10 3-pointers and 10-of-17 shots overall after starting out 3-of-8.
"In the first half I was off and there was nothing I could do but keep shooting," Joe said. "I knew they would eventually go down and my teammates kept passing me the ball because they have a lot of confidence in me."
As well they should since Joe has now downed 19 of his last 29 3-pointers, many off assists from Northside point guard Tevin Brewer. Brewer added 26 points in Wednesday's game.
"You know Isaiah is going to get it going, especially when he gets open in that corner, which he really seems to love," Fort Smith Northside head coach Eric Burnett said. "Tevin does a good job of getting him the ball and they work really well together."
The win handed Fort Smith Northside (7-4) its fifth straight win and moved it into a 6 p.m. semifinal against El Dorado (10-1) and Razorback 2017 signee Daniel Gafford.
Gafford, an Arkansas Hawks AAU teammate of Joe's, had 22 points, 21 rebounds and 10 blocks Thursday as his team beat Bryant 80-78 in double overtime.
"He is definitely going to be a handful," Joe said. "I have a lot of respect for him as both a player and a person. Hopefully we just can contain him."
Joe has grown two inches in the last few months.
"I am continuing to work on my defense and my ball handling because a lot of people just think I am a spot up shooter," Joe said. "I have grown a couple of inches and I want to get stronger as well."
Joe is part of a four-player class that Arkansas has committed for 2018 along with Little Rock Parkview forward Ethan Henderson (6-9, 190), Jonesboro guard Desi Sills (6-1, 170) and Thomasville, Ga., center Reggie Perry (6-10, 225).
"I think it will be a big honor playing together," Joe said. "We will already have a lot of chemistry from playing together and it will be real smooth. I think it will impact a lot of people.
"The coaches are really good people and I enjoy being around them. I think it will be a real fun time."
He's had a chance to attend a couple of Arkansas games this season.
"I have been to two of their games and I like the way they are playing," Joe said. "I like Coach Anderson and their coaching staff and they know how to win, keep their players healthy and are just good people."
Discussion
Have a comment on this story? Join the discussion or start a new one on the Forums.