Commentary:
It's OK to compare Whaley to Collins
By: Nate Olson
Published: Wednesday, February 10, 2016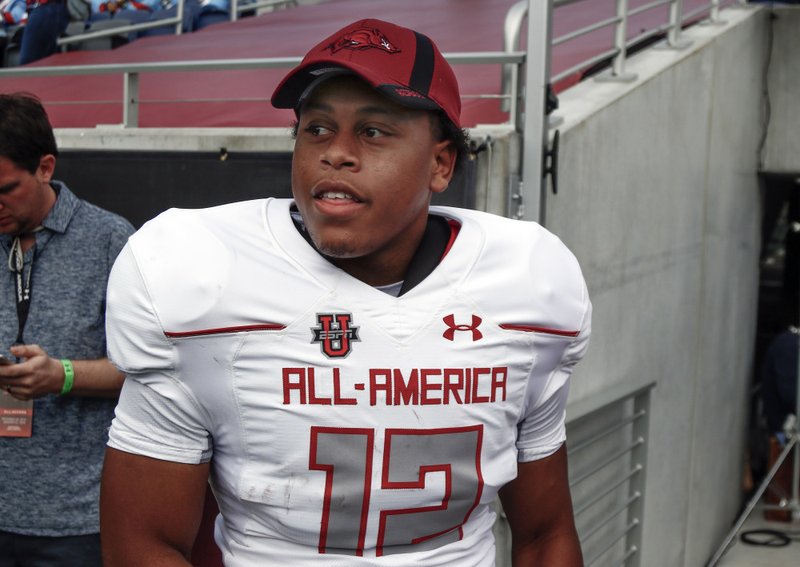 Beaumont (Texas) Central star Devwah Whaley.
Forget high.
The expectations for Devah Whaley are off the charts. And they need to be.
Arkansas coach Bret Bielema said at the signing day press conference last week that he expects Whaley to dominate immediately.
"I've recruited a lot of good running backs," Bielema said. "In my opinion, he's as good as any I've recruited.
"I've had three freshmen come in and be 1,000-yard rushers. There is nothing that tells me anything different about this young man."
For some reason, high praise of a freshman spooks some Arkansas fans. One reader took me to task for a recent column where I indirectly compared Whaley to Alex Collins, who rushed for more than 1,000 yards in each of his three years with the Razorbacks because that wasn't fair to either player.
Bielema has made the comparison, too. It's less of a comparison and more of a bar for Whaley to shoot for.
Collins raised the standard for Arkansas backs, particularly this year when he was one of the more dominant runners in the country down the stretch. Without injured backfield mate Jonathan Williams, Collins became the featured weapon and gained more and more carries as others in the backfield dropped like flies.
He never missed a beat.
Bielema points to Collins as an example for Whaley. If Collins can run for more than 3,000 yards in three years, Whaley should be able to, too. Collins entered Arkansas with the same hype and delivered immediately, and then kept improving.
Normally, coaches are reluctant to attach specific numbers, often reverting to coach speak. "He should challenge for playing time," "He will have a chance to be the starter when we open the season," "He has a chance to be very good," etc. etc.
Of course, Bielema doesn't follow the traditional script most times, which is very refreshing.
Bielema is specific in his goals for Whaley because he has to be. If Collins decided to return for his senior season, Bielema most likely wouldn't be as specific with the number. He may mention the two backs could be used similar to how Collins and Williams were used when they played together.
Of course, he may say he expects both players to rush for 1,000. You never know with Bielema.
The way it stands, Bielema needs Whaley to be the Hogs' featured back next season. Even as a freshman, he is the most talented, healthy back the Hogs have.
Sophomore Rawleigh Williams showed he was a big-time talent in 2015, but it is yet to be seen how he may respond after a season-ending neck injury. It is too early to count on him to carry much of the burden.
So that leaves Whaley, sixth-year senior battering ram Kody Walker and a handful of other seldom-used players.
As I wrote last month, Walker is a key cog in the backfield because of his leadership. He can help mold Whaley and Williams, as they attempt to break out. He is capable of racking up yards, too, but is most effective in carving out tough yards and running clock. He's not going to bust many big runs.
The quicker Whaley realizes his role the better. That was probably part of the pitch that caused him to pledge Arkansas.
Most high school stars want to go to a program where they can play immediately. There may not be a better situation for an incoming running back in the country than Arkansas. A run-oriented offense, huge offensive line and a complement of proven receivers that are looking for a capable game manager to get them the ball.
Arkansas' offense can again be stacked with a few holes needed to be filled, including running back.
On paper, Whaley seems up for the challenge. He is ranked as high as the No. 5 running back recruit in the country. The 6-foot, 210-pound Whaley rushed for 1,701 yards as a high school senior.
He had numerous offers from major programs such as Georgia, Alabama, Notre Dame and Stanford.
Whaley is about the same size as Collins was as a high school senior with a bit higher national ranking and more scholarship offers. Both were big-time high school running backs at the highest level of prep competition.
It's hard not to compare, but Bielema isn't asking Whaley to be Collins. He just wants him to put up similar numbers.
If he does that, the Hogs will have a chance to be even better next year, and in three years Bielema will be looking for someone to fills Whaley's big shoes as he awaits the NFL Draft.

Discussion
Have a comment on this story? Join the discussion or start a new one on the Forums.