Diamond Hogs picked third in SEC West
Published: Thursday, February 18, 2016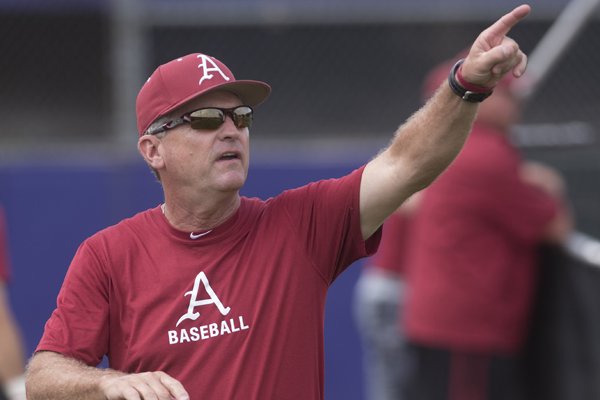 (
J.T. Wampler
)
Head coach Dave Van Horn at practice Sunday, June 14, 2015. Arkansas practiced at East Bellevue High School near Omaha.
Arkansas is picked to finish third in the SEC West by the conference's coaches, the league announced Thursday.
The Razorbacks didn't receive any first-place votes and are picked behind Texas A&M and LSU.
The league also released the coaches' preseason all-SEC teams, which feature three Arkansas players.
Zach Jackson was a first-team selection as a relief pitcher, while Rick Nomura and Clark Eagan were second-team selections at second base and utility/designated hitter, respectively.
Florida is predicted to finish first in the SEC East and received 13 votes to win the conference title. Vanderbilt received the other vote. Coaches weren't allowed to vote for their own team.
The Gators also had six players selected as first-team all-SEC, more than any other team.
Arkansas hosts Florida April 14-16.
SEC West (first-place votes) - total votes
Texas A&M (8) - 85
LSU (5) - 79
Arkansas - 65
Mississippi State (1) - 49
Ole Miss - 46
Auburn - 33
Alabama - 28
SEC East (first-place votes) - total votes
Florida (13) - 91
Vanderbilt (1) - 78
South Carolina - 54
Kentucky - 53
Missouri - 47
Georgia - 32
Tennessee - 30
Discussion
Have a comment on this story? Join the discussion or start a new one on the Forums.