Senior Bowl Update:
Tretola drops touchdown pass
Published: Thursday, January 28, 2016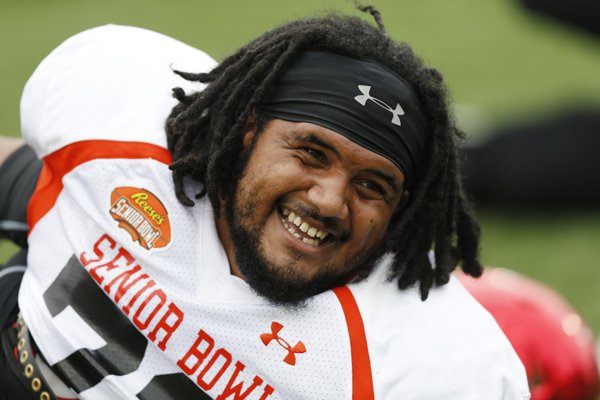 Arkansas offensive guard Sebastian Tretola smiles during stretching at the NCAA college football practice for the Senior Bowl, Wednesday, Jan. 27, 2016, at Ladd–Peebles Stadium, in Mobile, Ala. (AP Photo/Brynn Anderson)
Sebastian Tretola's touchdown-scoring days might officially be behind him.
The former Arkansas offensive lineman who gained national fame for throwing a touchdown pass against UAB in 2014 had his number called during Thursday's Senior Bowl practice, but couldn't convert.
He shared the story about trying to catch a pass on a fake field goal on Sports Talk with Bo Mattingly.
"I messed up the reputation," Tretola said. "I went out for a route. I caught it, bobbled it and I couldn't corral it in. Oh man, it drove me insane. I almost had it, though."
While he dropped the potential touchdown pass, Tretola said he is still capable of finding the end zone through the air.
"That's what I tried to tell them," Tretola said. "I've got the cannon on me. You gotta let me get out there and sling it around."
One of the biggest story lines coming out of Mobile, Alabama, about the former Razorbacks at the Senior Bowl is Tretola's weight.
Despite being listed at 334 pounds during the season at Arkansas, he checked in at 317 pounds Tuesday.
However, he admitted that he had only lost about eight pounds since the season ended because he played at 325. The extra weight was added to help the "intimidation factor."
From the time he first got to Fayetteville to now, Tretola has lost 60 pounds, or as he puts it, the equivalent of losing a small child. He hasn't been this light since his time at Nevada, which he said has helped him tremendously.
"Being that heavy and trying to move around was a struggle," Tretola said. "I mean just normal moving. If I walked too long, my feet would start hurting."
ESPN's Mel Kiper Jr. rates Tretola as the third-best offensive guard available in April's NFL Draft, but the all-SEC lineman hopes to move up draft boards with a solid showing at the Senior Bowl.
"These three practices might as well have been three games," Tretola said. "We're flying around. Every rep, you're trying to show your ability and how good you are. That's the whole time, throughout the whole two-hour practice."
Williams Says He's '100 percent'
While he is only participating in non-contact drills at the Senior Bowl, Jonathan Williams says the broken bone in his foot is completely healed.
"I actually went to the doctor a couple of weeks ago and got an x-ray on it and everything looked 100 percent," Williams said on Sports Talk with Bo Mattingly Thursday. "Structurally-wise, I'm 100 percent, just still getting used to running on it and cutting on it again."
Williams had the option to redshirt in 2015 and return for another season at Arkansas, but instead, he has entered the 2016 NFL Draft.
"It was a tough decision because the University of Arkansas has been so good to me," Williams said. "I just felt that it was my time to go. I'm a graduate and physically I feel like I'm ready for the NFL."
Draft Analyst Impressed by Allen
Brandon Allen seems to have overcome his shortcomings in the measurement department with a few solid days of practice.
In fact, NFL.com draft analyst Lance Zierlein said he rated Allen ahead of Mississippi State's Dak Prescott while discussing the Senior Bowl on "SEC: Smothered and Covered," a podcast hosted by Bleacher Report's Barrett Sallee.
"I think he's got some arm talent," Zierlein said. "Placement and accuracy, generally, are pretty good with him. I think what we saw for one year, I don't think it's a fluke. I think something may have clicked."
Here is a video of Allen completing a pass to Minnesota's K.J. Maye in traffic.
The Senior Bowl is scheduled to kickoff at 1:30 p.m. Saturday. It will be televised on the NFL Network.
Discussion
Have a comment on this story? Join the discussion or start a new one on the Forums.