Garland seeks Nike Peach Jam title:
Little Rock Parkview's Khalil Garland has top 3
Published: Wednesday, July 6, 2016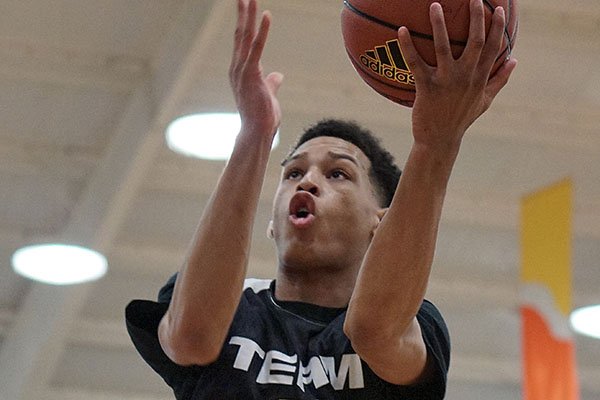 (
Mitchell PE Masilun
)
Khalil Garland of Team Penny goes for a layup during their game Saturday during the Real Deal in the Rock at P.A.R.K. in Little Rock on Saturday, April 2, 2016.
FAYETTEVILLE — Arkansas target Khalil Garland and his Team Penny AAU squad have every intention of winning the 2016 Nike Peach Jam, which began Wednesday afternoon in North Augusta, S.C.
Team Penny (14-2) has finished in the final four of the event two of the last three years and closed the Nike EYBL circuit on a roll.
"I think we really have a chance, especially when you consider we come into this riding a 12-game winning streak," said Garland, a class of 2017 recruit from Little Rock Parkview. "We have been playing really well."
The team is ranked No. 1 in the D1circuit.com Power EYBL rankings and features two top 20 players nationally, according to ESPN.com, in Frisco, Texas, power forward P.J. Washington (6-foot-7, 232 lbs.) and Huntsville, Ala., shooting guard John Petty (6-foot-4, 185 lbs.).
Garland (6-foot-6, 190 lbs.) is ranked No. 61 nationally by ESPN and he joins 2018 Memphis East point guard Alex Lomax and 2019 forward Chandler Lawson as top 100 players in their respective classes.
Team Penny opens pool play Wednesday at 4:30 p.m. against Phoenix Family, which features power forward Marvin Bagley, ESPN's top-rated 2018 prospect.
"There's a lot of talent on our team and we have all been playing really well together," Garland said.
Garland, who was named the MVP while leading Little Rock Parkview to the Class 6A state title last season, was able to take a couple of recruiting visits in June.
He visited Arkansas and Alabama, and had to postpone a trip to LSU, but has plans to see both Oregon and LSU in August after he finishes AAU action.
"I had a great time at Arkansas and have stayed in contact with the coaches and will be getting back up there," Garland said. "They are definitely in my top three right now – Arkansas, LSU and UALR."
Alabama had its chance to impress Garland, who was originally committed to Memphis. He decommitted from the Tigers when embattled head coach Josh Pastner left for Georgia Tech earlier this year.
"It is a real nice place and they have a coach who has been in the NBA in Avery Johnson," Garland said of Alabama. "It seems like it might be a good place to play."
Discussion
Have a comment on this story? Join the discussion or start a new one on the Forums.