Darious Hall envisions Arkansas Big 3
Published: Wednesday, July 6, 2016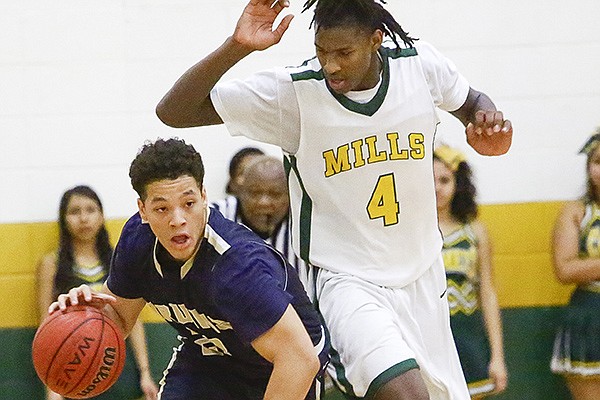 ( Alaina Deshazo )
Pulaski Academy's Rico Lindsey dribbles the ball against Mills defender Darious Hall during a game Tuesday, Jan. 26, 2016, in Little Rock.
FAYETTEVILLE — As Arkansas commit Darious Hall sat in his Spartanburg, S.C., hotel room Wednesday getting ready for the Adidas Gauntlet Finale to begin Thursday, he was contemplating what might be a future Big 3.
The Razorbacks already have 2017 commitments from El Dorado center Daniel Gafford (6-foot-11, 220 lbs.) and Little Rock Mills forward Hall (6-foot-7, 210), and are hot on the trial of Little Rock Parkview guard Khalil Garland (6-foot-6, 190 lbs.).
"I'm trying to think of the right way to put this," Hall said. "But if can get him to Fayetteville, too, well, we are just going to be able to punish some people.
"Khalil has a lot of length and is a great scorer. We could do some great things for Arkansas together. That would be cool to do it for our home state.
"I know the (Razorback) coaches are out here working hard and we have a great future."
While Hall may be the lowest-rated of that trio, he might also be having the best AAU spring and summer of the three.
Hall has averaged 15.9 points, 8.8 rebounds and an assist per game for Team Magic Elite, which start pool play Thursday with a 9:30 a.m. CST game against Florida Sons.
"I have had a lot of success taking it to the rim and also on my shot of the dribble," Hall said. "I'm still working on my 3-point shooting, but I think that I have improved a lot this spring and summer."
Hall joins another Razorback 2017 target, Lindell Wigginton, as top 20 scorers in the Adidas Gauntlet series. Wigginton (6-foot-3) of Elite and Oak Hill Academy is averaging 16.6 points, 3 rebounds and 4.5 assists per game.
"There is a lot of great competition and I think that has helped me get better," Hall said.
Team Magic Elite, coached by Eric "Cowboy" Robinson, will also play in tournaments in St. Louis, Memphis and Las Vegas before the month is over.
"It's all about just finishing strong," Hall said. "I'll get some rest after it is over with, but I am also going to get right back in the gym."
• • •
The Arkansas Hawks will be playing in the Adidas Gauntlet 16-and-under division after putting up a 20-3 record during AAU spring and summer action.
The Hawks feature three players the Razorbacks have offered in 6-foot-9 junior Reggie Perry of Thomasville, Ga., 6-foot-8 junior Ethan Henderson of Little Rock Parkview and 5-foot-10 sophomore point guard and Arkansas commit Justice Hill of Little Rock Christian.
The Hawks play Thursday at 4:20 p.m. CST against the winner of Thursday's earlier game between Wiz Kids and Basketball University.
Discussion
Have a comment on this story? Join the discussion or start a new one on the Forums.