Vegas doesn't like Arkansas' chances at title
Published: Wednesday, July 6, 2016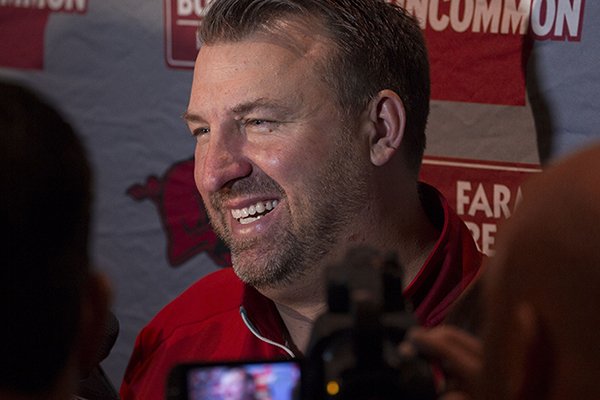 (
Benjamin Krain
)
Arkansas coach Bret Bielema speaks to reporters on Monday, Dec. 28, 2015, at the Peabody Hotel in Memphis, Tenn.
FAYETTEVILLE — Arkansas is tied for the fifth-best chance to win the SEC West football title this year, according to odds released Wednesday by Bovada.
The betting site gives the Razorbacks 14-to-1 odds to win the division. That is tied with Texas A&M and behind Alabama (4-to-5), LSU (9-to-4), Auburn (7-to-1) and Ole Miss (12-to-1).
Mississippi State (20-to-1) has the lowest odds of winning the division, according to Bovada.
Tennessee (4-to-5) is the favorite to win the SEC East, ahead of Georgia (2-to-1) and Florida (9-to-2). Alabama is the favorite to win the league championship (7-to-4).
Official league projections will be announced next week during SEC Football Media Days in Hoover, Ala.
Discussion
Have a comment on this story? Join the discussion or start a new one on the Forums.