Bielema: Satellite camps responsible for 3 commits
Published: Wednesday, July 13, 2016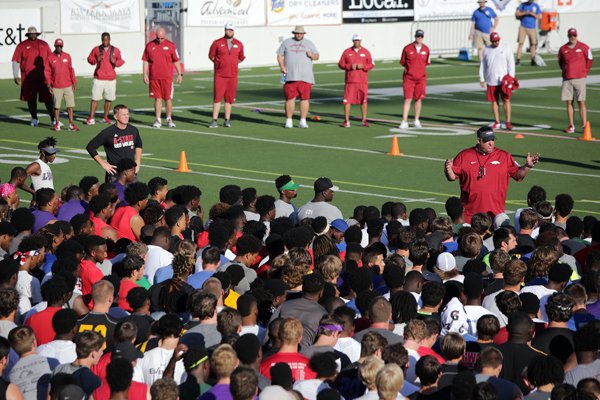 (
Mitchell PE Masilun
)
Arkansas coach Bret Bielema, right, talks to players as Arkansas State coach Blake Anderson, left, looks on during the All Arkansas satellite camp Sunday, June 5, 2016, at War Memorial Stadium in Little Rock.
While he certainly isn't comfortable with everything involved with the college football satellite camp explosion, Arkansas head coach Bret Bielema does admit that it has been beneficial to his program so far.
"It brings exposure to our program, which is great," Bielema said Wednesday at SEC Football Media Days in Hoover, Ala. "I believe right now personally in our program that we have three commitments that would not have happened if we didn't have satellite camps.
"I can't comment on that specifically until we sign them on signing date, but I know that has happened specifically in our program."
Two of those three commits – out of Arkansas' current 16 pledges in the 2017 class - are Katy, Texas, defensive end Ryder Anderson (6-foot-6, 230 lbs.) and Decatur, Ga., Cedar Grove defensive back Korey Hernandez (5-foot-11, 175 lbs.).
The Razorbacks saw Anderson at a camp in Houston, invited him to visit campus soon afterward and he committed to Arkansas on June 7.
"Yeah, it was a great camp and there were a lot of coaches there and I performed really well during the drills and the one-on-ones," Anderson said.
"A lot of schools took notice, but Arkansas showed the most interest and invited me to see the campus. It was also great because that is the first time I met Coach B."
While Michigan and head coach Jim Harbaugh chose to do 39 different satellite camps, Arkansas did the All-Arkansas one at War Memorial Stadium in addition to five in Florida, Atlanta and Houston.
"We didn't do an overabundance," Bielema said. "I believe we did five out of our state and I attended every one of them.
"I thought it was great that not only was the NCAA there, but the SEC was there as well and so there was a lot of supervision.
"You take for instance the one in Atlanta – the minority coaches association in Atlanta got together and put on probably the best one I saw. The attention to detail, the way they thought every thing out, they had an announcement going over the public speaker system on what you can and can not do there as a head coach."
The Atlanta camp had Bielema, Ohio State head coach Urban Meyer and many other college coaches.
"Twenty feet away from me was Urban," Bielema said. "There were coaches there from all different types of leagues.
"The one element that I wish we could eliminate and I think that needs to be eliminated is hosting them at high schools. To me that is a little tricky.
"There is a middleman involved there that has a direct passage to a high school athlete and the facilities – just because of common sense – they are just not that good.
"I was at a high school and a big rain storm came in and there was no opportunity for us to continue drills because it got rained out. There was no turf or infield to go to and the only ones that were being penalized were the student athletes that had already paid money to get there."
Bielema wants to see some modifications, but is on board with having satellite camps again next summer.
"There are some things that we can modify and tweak within it," Bielema said. "I think it is a good thing. It is kind of a colossal pain in the back end. It takes a lot of time when we are normally at home and that is another conversation that I had to have with my wife to tell her why I wasn't in the house.
"But that is what we do and how we do it. For the most part I think we can do it again, but I think as with most things I think we can modify it a little bit."
Discussion
Have a comment on this story? Join the discussion or start a new one on the Forums.