Arkansas Pledge McClellion Raves About Visit
Published: July 23, 2016 at 5:56 p.m. - Updated: July 23, 2016 at 6:11 p.m.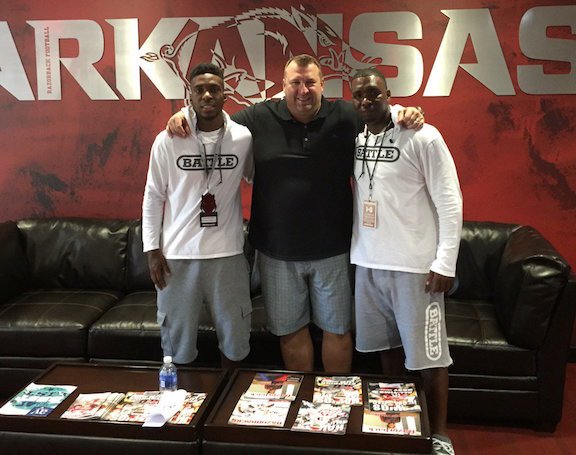 FAYETTEVILLE — Delray Beach, Fla., American Heritage cornerback Jarques McClellion committed to Arkansas sight unseen, but loved what his eyes beholded the past few days.
McClellion (6-1, 180), who had 45 tackles, 8 interceptions and six pass break ups last season 10-3 team, and his dad arrived Thursday night and he was overwhelmed with what he found on his unofficial visit.
"I am so happy with my decision, especially now that I have been here to Fayetteville and experienced everything that Arkansas to offer," McClellion said. "Such great people, great coaches, great facilities and just a great place to live.
"I come from the Miami South Beach area and it's a fast life and I have never really been comfortable with that. I am really more about Tallahassee with the woods and more of a quiet place and life.
"So for me, Arkansas is just perfect. It's not too fast, not too slow, just right. I am so excited about finishing up high school and then being here for the next few years."
McClellion also got to see Arkansas' practice and playing facilities, its 100-yard weight room, and the Fred W. Smith Football Center, which opened in 2013.
"All of Arkansas' facilities are just top-notch, the best that I have been around," McClellion said. "I couldn't be happier to be a Razorback."
McClellion chose Arkansas over Michigan State, Nebraska, West Virgnia, California, Kentucky and Louisville and 11 other offers on June 27.
"That decision was mostly about the love that I felt from the coaches and how they sold me on the complete experience," McClellion said. "It's not just about football, it's about getting an education and becoming a better man and contributing to society in a way that makes it better."
McClellion found proof of that right away on his trip when he got so see the Jerry Jones and Family Student-Athlete Success Center – something the Jones family donated $10.65 million to establish a place that would address personal, academic and nutritional growth.
"Jerry Jones, the owner of the Dallas Cowboys, used to play at Arkansas and he has given so much money back to make sure that the athletes that come here can succeed off the field as well as one," McClellion said. "The academic center was just so great. It shows just how much they care about academics at Arkansas."
That's big for McClellion, who stresses he is just not about football.
"I have met the personal goals that I set for myself going into my senior," McClellion said. "I wanted to find a place that fit my needs and where I felt comfortable, I wanted to get a qualifying test score and I wanted to have my school picked out before I started my senior season.
"I have done all that and now I can just concentrating on my team goals and trying to help win a state championship."
He also was happy with what he heard from current Arkansas linebacker Josh Williams, who is originally from Florida as well
"He is from the same part of Florida that I am so we kind of bonded on my trip," McClellion said. "He was very real with me on what to expect and how you get out what you put in and Arkansas' coaches give you everything you need to succeed and you just have to want it and work for it."
He plans to be back several times during the season.
"I'm going to take my official visit in January, but I plan to come back three or four times for games during the year," McClellion said. "I want to come see the Alabama, Ole Miss, LSU and Florida games."
Discussion
Have a comment on this story? Join the discussion or start a new one on the Forums.