Building the all-Razorback pro baseball team
Published: Sunday, July 24, 2016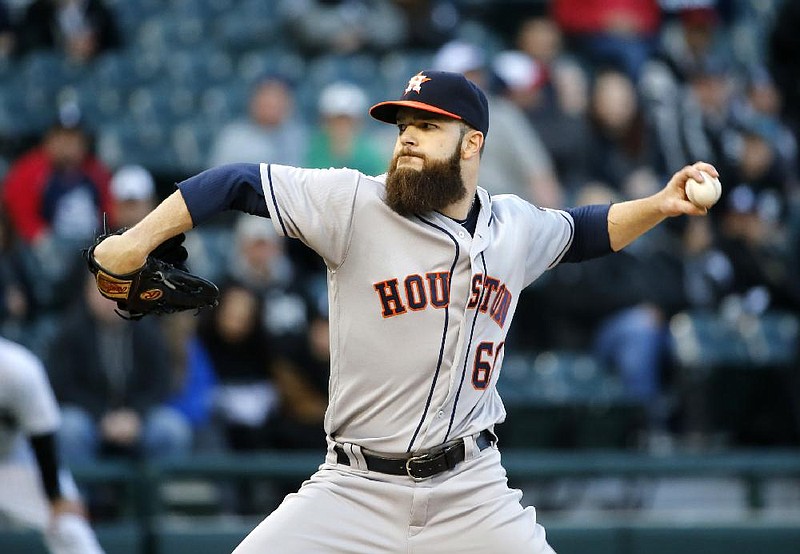 Houston Astros starting pitcher Dallas Keuchel delivers during the first inning of a baseball game against the Chicago White Sox Tuesday, May 17, 2016, in Chicago. (AP Photo/Charles Rex Arbogast)
There's been some movement since April when I wrote about former Arkansas baseball players doing well in the high minors. So much so that we could almost field a lineup of former Razorbacks in the major leagues.
Almost, but not quite.
By the way, I don't want any stinkin' designated hitters on this team. Our guys field, hit and pitch.
Logan Forsythe, 2B (Tampa Bay)
Forsythe is an easy choice as our leadoff hitter, considering he's been doing it all year for the Rays. Forsythe (.279, 8 HRs, 24 RBI) is compiling another solid season after hitting .281 with 17 home runs and 68 RBI last year with Tampa Bay.
Matt Reynolds, 3B (New York Mets)
Reynolds is back in Triple-A after making his major-league debut earlier this season with the Mets. Like Forsythe, Reynolds can play other positions, which is an asset for anyone trying to stick in the big leagues.
Andrew Benintendi, CF (Boston)
Can a player who began the year in Single-A Advance end the season in the major leagues?
He can if his name is Andrew Benintendi, a former College Player of the Year at Arkansas.
Benintendi is on the fast track to the big leagues after spending less than two years in the minors. Once he arrives in Boston, Benintendi will be patrolling the outfield at Fenway Park for a long time.
Brett Eibner, RF (Kansas City)
I heard the whispers Eibner was going to be converted to a pitcher after he started 0-for-20 with Northwest Arkansas in 2013. But Eibner kept telling us he could hit, if only he could stay healthy.
Eibner's confidence in himself has paid off with breakout season and a spot on the Royals' roster. He made quite an impression in Kansas City with a home run and a game-winning single to cap a seven-run, ninth-inning rally in his first week with the team. Eibner is platooning now in the Royals' outfield, but he'll challenge for a starting role in 2017.
Andy Wilkins, 1B (Milwaukee)
Wilkins is back in the big leagues for the first time since 2014, when he played in 17 games with the Chicago White Sox. The power-hitting first baseman needs to hit for a better average (.238 at Triple-A this season) if he hopes to remain on a major-league roster.
James McCann, C (Detroit)
The Tigers still have hope McCann (.200 avg., 5 HRs, 41 RBI) will be their starting catcher for several years, but it's hard to put a player in the lineup when he is solidly on the Mendoza line. McCann, 26, has struggled mightily at the plate after he hit .264 last season and was named the Tigers' Rookie of the Year.
More consistency at the plate is all that's missing from McCann, a leader and standout defensive catcher.
Craig Gentry, LF (Los Angeles Angels)
Eibner and Benintendi will have to cover a lot of ground here with Gentry currently on the disabled list. But Gentry makes our All-Arkansas team because of an eight-year career in the majors that includes a .261 batting average and being successful in 77 of 90 attempts at stealing bases.
Not bad for a guy who attended high school at Fort Smith Christian.
Tim Smalling, SS (Colorado)
Don't forget, Smalling spent two years at Arkansas before he transferred to Virginia Tech to be closer to his home in North Carolina. Smalling is hitting .242 at Triple-A Albuquerque, home of the Isotopes. Smalling, 28, is not a top prospect, but he fills a position of need here.
Dallas Keuchel, SP (Houston)
With a Cy Young award winner on the mound, I am confident our All-Arkansas team could win at least once in a four-game series, especially against the Braves.
Maybe twice.
Drew Smyly, SP (Tampa Bay)
Smyly has remained healthy after missing much of last season with an injury to his left shoulder. That's the good news.
The bad news is Smyly (2-11, 5.64 ERA) could lead the majors in losses this year. The second half of the season is critical for Smyly, who was 6-0 with Detroit in 2013.
Mike Bolsinger, SP (Los Angeles Dodgers)
I remember Bolsinger as an easy-going guy who smiled and joked a lot when he was with the Razorbacks. He'd be smiling a lot more if he wasn't back in Triple-A after starting 36 games for the Dodgers and Arizona the last three years.
Blake Parker, RP (Seattle)
Parker is a dominate closer at Triple-A Tacoma, where he has 15 saves in 33 appearances and made the Pacific League All-Star team. Parker, 30, has done everything he can to earn another shot in the big leagues after being released by the Chicago Cubs last year.
Hopefully, he'll be rewarded with another promotion by the end of the season.
Discussion
Have a comment on this story? Join the discussion or start a new one on the Forums.