UA trustees approve $160M Razorback Stadium expansion
Published: Thursday, June 16, 2016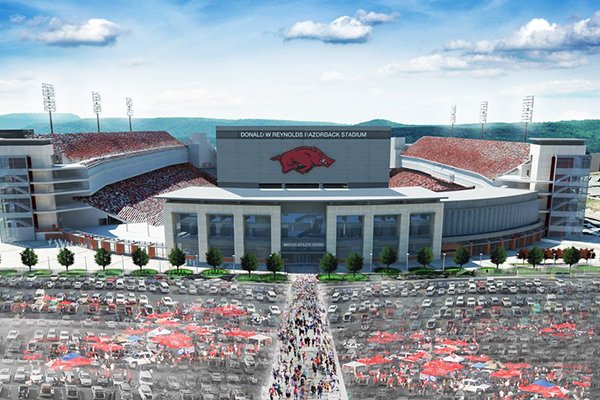 An artist's rendering shows what a proposed expansion to Donald W. Reynolds Razorback Stadium in Fayetteville might look like. The UA athletics department estimates the project would add about 4,800 seats and cost $160 million. (Photo by Razorback Athletics)
A $160 million expansion of Donald W. Reynolds Razorback Stadium received approval Thursday from the University of Arkansas System Board of Trustees.
The project, which focuses on adding premium suites as well as additional seating, passed by an 8-2 vote.
Trustee C.C. "Cliff" Gibson joined fellow board member and former U.S. Sen. David Pryor in dissenting after Pryor criticized the expenditure as benefiting wealthier Razorback fans while not doing enough to reduce costs for students.
"This proposal is not about students; it's not about scholarship; it's not about keeping kids in school," Pryor said in a speech before the board.
The proposal will be paid for in part by a $120 million bond package, Athletic Director Jeff Long said.
He said the vote Thursday signaled that the trustees would accept the borrowing plan, the specifics of which would still need to be approved at a later date.
The annual payments on the 20-year bond were estimated to be between $9 and $10 million a year. Revenue from added ticket sales will be about $5 million, Long said, and additional donations from supporters will go toward paying off the debt.
Before casting his vote, Gibson questioned whether thought had been given to what other expenses could be funded with the annual bond payments, to which several trustees pointed out that Athletic Department revenues typically stay within the department.
Casting a no vote is a "vote of no confidence in our chancellor, our president and our athletic director," Trustee John Goodson said, pointing out that all three support the expansion.
Long said construction will be complete by the 2018 football season.
He defended adding the premium-priced seating, saying it will help reduce prices on general seating tickets for students and other fans.
Check back for updates and read Friday's Arkansas Democrat-Gazette for full details.
*CORRECTION: A previous version of this story incorrectly said that the bond package had been approved. The error has been corrected.
Discussion
Have a comment on this story? Join the discussion or start a new one on the Forums.