Hogs show out for NFL scouts
By:
Tom Murphy

Published: Thursday, March 17, 2016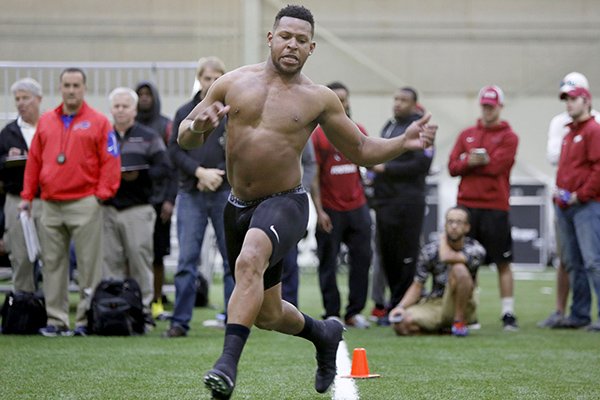 (
David Gottschalk
)
Former Arkansas running back Jonathan Williams goes through a workout Wednesday, March 16, 2016, at the Walker Indoor Pavilion in Fayetteville.
FAYETTEVILLE -- Hunter Henry was ecstatic with his performance on Arkansas' pro day Wednesday, while Jonathan Williams was happy to be close to full speed after missing last season with a foot injury.
The Razorbacks welcomed scouts from all 32 NFL teams for the workout inside the Walker Pavilion, with 11 former Arkansas players and Springdale Har Ber graduate Hunter Kissinger, a linebacker at Louisiana-Monroe, going through the paces.
Arkansas Coach Bret Bielema, his entire staff, large handfuls of current and former players, family members of the participants, UA officials, agents and members of the media pushed attendance to around 200.
"I don't think anybody under-performed," Bielema said. "A guy like J-Will [Williams] was able to run here today ... and I think he turned some heads today, especially in the shuttle work."
Henry, projected by most analysts as the top tight end for next month's NFL Draft, headlined the group, along with Williams, who rushed for 1,190 yards and 12 touchdowns in 2014, and Alex Collins, who ran for 1,577 yards and a school-record 20 touchdowns last season.
Quarterback Brandon Allen, who had a school-record 32 touchdown passes in 2015, threw passes to the those three, as well as Davyon McKinney and former Razorback Cobi Hamilton, from a script prepared by his quarterback coach Ken Mastrole.
Safety Rohan Gaines, defensive linemen DeMarcus Hodge and Mitchell Loewen and offensive linemen Denver Kirkland, Mitch Smothers and Sebastian Tretola also did some work.
Henry and Williams had not run the 40 at the NFL Scouting Combine last month, so scouts were getting their first look at the pair in that speed test. Williams was timed at 4.55 seconds, while Henry logged a 4.66.
"I believe I am the No. 1 guy [at tight end], but coming out here and proving it with the numbers and different things like that, I just wanted to make sure and just put a stamp on it that I am the No. 1 guy," Henry said.
Henry also lifted 225 pounds in the bench press 21 times after being credited with only 13 at the combine.
"I knew I could do it," he said. "Being able to do that in front of everybody was awesome."
Henry was docked some of his reps at the combine for lifting his hips off the bench, but he was harnessed to the bench Wednesday.
Williams participated in the 40, the shuttle drill and the three-cone drill.
"I ran somewhere in the high 4.5 range," Williams said. "I thought I would run faster, but it just felt good to be out there competing again.
"I feel pretty good. I still have a couple things I need to work on just because I've been out of it for a year. But that's also a good thing. I haven't had any hits in a year. I think that will help."
Williams said he didn't run at the combine because he had not been medically cleared.
Collins did not run the 40 at the Walker Pavilion, choosing not to try to improve his 4.59 from the combine, but added 4 inches to his vertical jump to hit 32 inches.
"I wanted to come out here do good, run some good routes, catch the ball and improve my vertical," Collins said. "I did that. Improved my vertical 4 inches and I didn't drop the ball, so I feel like I impressed with the way I performed."
Allen said he's heard from scouts that his background in Arkansas' offense will help.
"Coming from a pro-style offense is really beneficial," Allen said. "I think a lot of scouts think that'll translate well in the NFL.
"I think the teams saw every throw they wanted to see, so a lot of credit to the script we put together. I actually had a workout scheduled for after, but we didn't even do it because they saw all the throws they wanted to see in the script. I got positive feedback from the way I threw the ball and it's a lot of credit to the guys that were running routes for me, helping me out."
Allen and Tretola, who participated in the scouting combine along with Henry, Kirkland, Collins and Williams, did only position drills Wednesday.
Hodge did 30 reps on the bench press and said he liked all of his numbers.
"I think I opened a lot of eyes today," Hodge said. "I showed them how athletic I really am. I can bend and move my hips and change direction pretty good. I think I really helped my situation better than what it was."
Loewen, who suffered a broken foot this season, also had 30 reps on the bench press, as did Smothers.
Bielema said he wished he had left Loewen, who jumped around to both sides as a Razorback, at one position and that he has an NFL makeup.
"He's always been very, very impressive," Bielema said. "NFL players are very rare. They've genetically just got some things that nobody else has, and I think he's one of those types of bodies."
McKinney, sidelined by a torn Achilles tendon in 2015, had perhaps the most eye-opening performance with a leap of 10-10 1/2 in the standing broad jump and a 4.43 in the 40. He worked out at receiver and cornerback.
"I want everyone to know that I am 100 percent," McKinney said.
Sports on 03/17/2016
Discussion
Have a comment on this story? Join the discussion or start a new one on the Forums.