ARKANSAS SPRING FOOTBALL:
Rawleigh's return: RB takes field after grave neck injury
By:
Tom Murphy
Published: Wednesday, March 30, 2016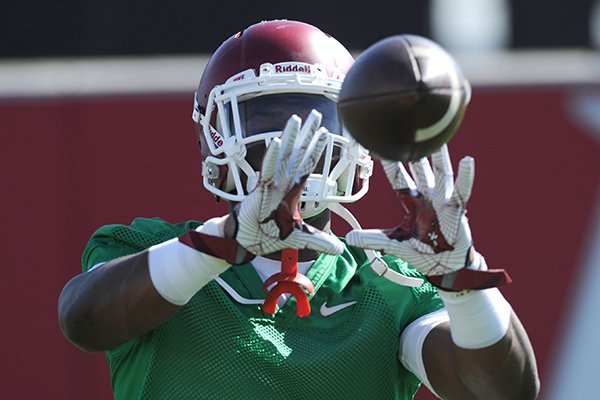 Arkansas running back Rawleigh Williams III catches a pass Tuesday, March 29, 2016, during practice at the university's practice field on campus in Fayetteville.
FAYETTEVILLE -- The biggest success story of the first day of Arkansas' spring practice Tuesday was the return of Rawleigh Williams.
Verbose and candid as always, Williams detailed the play against Auburn that nearly ended his football career last fall, and the tailback talked enthusiastically about what the future holds for him.
Rawleigh Williams III
Position Tailback
Height/weight 5-10, 224
Class Sophomore
High school Bishop Lynch (Dallas) High
Noteworthy Rushed for 254 yards and 1 touchdown in seven games as a true freshman. Averaged 4.5 yards per carry. Ran for 100 yards on 14 carries (7.1 yards per carry) in Arkansas' 24-20 victory at Tennessee last Oct. 3. His touchdown was a 3-yard carry early in the fourth quarter against Texas A&M. Was carted off the field with a neck injury after rushing four times for 18 yards during the Razorbacks' 54-46 four-overtime victory against Auburn on Oct. 24.
Bret Bielema - Spring Practice Preview
Watch Video
"I feel like this year can propel me to do some really good things," said Williams, who was sporting a green (no contact) jersey after the Razorbacks finished their two-hour workout in helmets and shorts on a sunny, breezy afternoon.
Williams has been cleared for full contact by multiple doctors, but Coach Bret Bielema is holding his sophomore out of tackling work this spring.
"I understand it from a coach's perspective, and a parent's, that they don't want to mess up my future," Williams said. "In terms of me, when they said I was cleared, I was ready to go. God is good. I'm healthy, and I can do everything now."
On Oct. 24, doing everything looked tenuous for Williams.
Before the four-overtime craziness of Arkansas' 54-46 victory over Auburn came the scariest play of the Razorbacks' season.
On a toss play around right end late in the third quarter, Auburn linebacker Kris Frost yanked Williams' face mask around hard enough to torque the bones in his neck.
Williams rolled onto his back and could not feel his extremities.
"I got hit, and I just lost all feeling," he said. "When I wasn't controlling my arms, I kind of panicked. I looked up, and I saw my mom and my dad.
"Obviously it was a scary thing. From the time I was on the ground until I got in the ambulance, I couldn't really control anything."
When medical personnel put a blanket on him, Williams felt a "burning" sensation. Later, at the hospital, feeling began to return to his hands and feet again.
"It was a good sign before surgery that I could feel all my body," he said.
The way Williams had it explained to him, the disk between his C3 and C4 bones pushed out and "almost touched my spine," and the doctor had to push it back and screw it down.
Williams had to wear a neck brace for six weeks, making for an uncomfortable winter as the Razorbacks completed their 7-5 regular season. He took off the brace at night but had to sleep in a confined position, his head cradled up by four pillows.
"It wasn't fun," Williams said.
What has been fun is his commitment to get back on the field.
"I look forward to practice, look forward to working out, look forward to school," Williams said. "I mean everything was almost taken away from me. I tell you I don't take anything for granted anymore."
New running backs coach Reggie Mitchell called Williams a "special" player this winter.
"He told me exactly how it happened in the game and how excited he is to come back," Williams said. "He doesn't have any fear of getting injured again."
Williams said the mental hurdle of preparing for his next hit has been helped by the addition of a shield to his facemask, which will make grabbing and yanking any part of the bar difficult.
His teammates note the passion Williams has brought to winter workouts and the first practice.
"I see the fight in his eyes," running back Kody Walker said. "He's back, and he's ready to go."
Quarterback Austin Allen said every Razorback wants to work as hard as Williams.
"He's in the training room every single day. He is quickly becoming a leader on the team just by the way he goes about his business," Allen said.
"It's good to see Rawleigh out here," receiver Keon Hatcher said. "He went through something really serious, so to see him back competing for the starting running back spot means a lot. That thing being so serious, and having the faith and strength to come back from that, it's really awesome."
Sports on 03/30/2016
Discussion
Have a comment on this story? Join the discussion or start a new one on the Forums.