Garth Brooks says Arkansas would make sense for Big 12
Published: Wednesday, May 11, 2016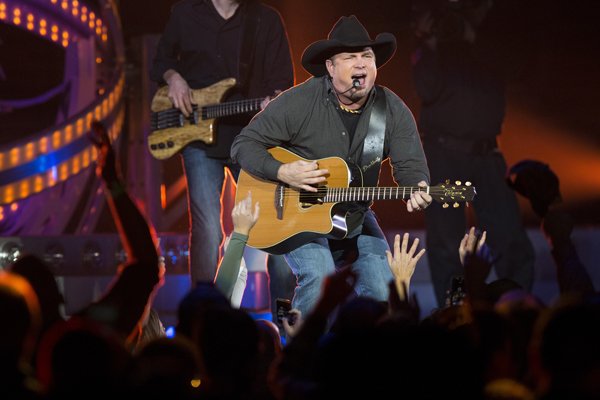 (
Melissa Gerrits
)
Garth Brooks performs a concert Friday, Dec. 11, 2014, at Verizon Arena in North Little Rock.
A country music star said the Big 12 should target Arkansas for expansion.
Two-time Grammy Award winner Garth Brooks said he would like the Razorbacks to join the Big 12 during an interview Wednesday on SiriusXM College Sports Nation.
Brooks, an Oklahoma native and former track athlete at Oklahoma State, said he has hoped the conference would add Arkansas since the last wave of conference realignment threatened to end the Big 12 in 2010. The conference lost Nebraska to the Big Ten, Colorado to the Pac-12 and Texas A&M and Missouri to the SEC.
The Big 12 added TCU and West Virginia for the 2012 football season.
"I was always pulling for Arkansas," Brooks told Chris Childers, host of the show Full Ride on SiriusXM. "I'd love to have seen them come in because they're right next door.
"Some of the greatest football games of old when I was a kid was the University of Oklahoma and Arkansas, so I wanted to see them come in."
Arkansas and Oklahoma have played 14 times, including three times in bowl games. The Razorbacks played Oklahoma State 46 times during the regular season between 1914-80.
Brooks isn't the only person to recently mention Arkansas as a Big 12 candidate on SiriusXM. Former Arkansas player Butch Davis, who co-hosts a show on the satellite network, said he would target the Razorbacks if he were working for the conference.
"The most logical thing in my opinion would have been the University of Arkansas," Davis said last week on Sports Talk with Bo Mattingly. "Think about the enormous interest in bringing back Arkansas-Texas rivalry.
"How about the border wars? How about Oklahoma and Arkansas playing? Or Oklahoma State and Arkansas all being in the same conference? Think about the close proximity for fans and parents to be able to go to (games)."
In 2011, Arkansas athletics director Jeff Long said that the Big 12 approached the Razorbacks for membership. Davis said he understands why Arkansas would not want to entertain the idea.
"The stumbling block is that the SEC just wrote a check for ($31.2 million) for every one of the 14 teams in the SEC," said Davis, referencing the league's revenue sharing plan. "That would be a huge stumbling block for Jeff Long to say we're going to pull out of the SEC and go to the Big 12."
Discussion
Have a comment on this story? Join the discussion or start a new one on the Forums.