Preseason college football top 25 tracker
Published: Tuesday, May 17, 2016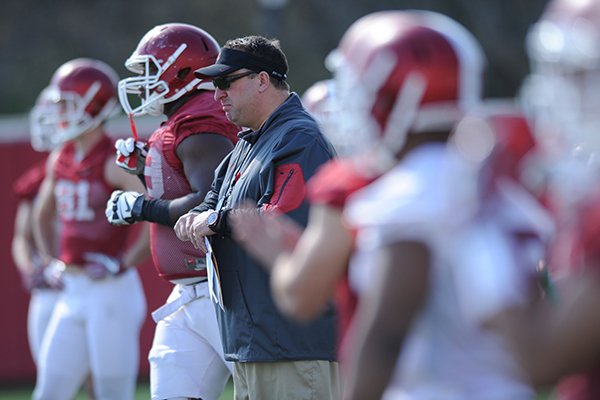 (
Andy Shupe
)
Arkansas coach Bret Bielema directs his players Thursday, March 31, 2016, during practice at the university's practice field on campus in Fayetteville.
Is Arkansas a top 25 team entering the 2016 season?
Opinions are mixed, but most preseason publications say no.
More from WholeHogSports
The Razorbacks are not ranked in preseason top 25 polls recently released by Sports Illustrated, Fox Sports and Athlon Sports. Arkansas is also outside the top 25 in ESPN's Football Power Index.
During an interview on Sports Talk with Bo Mattingly on Monday, Athlon's Braden Gall said the Razorbacks fell just outside the top 25.
Gall: I feel comfortable giving Arkansas an extra win every year—Bret Bielema has earned that. We have them 26th, but could be higher.

— Bo Mattingly (@SportsTalkwBo) May 16, 2016
Fox Sports college football analyst Bruce Feldman wasn't as high on the Hogs, saying they weren't even in his top 32.
The only major media outlet to rank Arkansas at this point is CBS Sports, which has the Razorbacks ranked No. 20.
The Associated Press top 25 and USA Today Coaches' Poll will be released in August.
Discussion
Have a comment on this story? Join the discussion or start a new one on the Forums.