Noland excited to have Pool on-board at Arkansas
Published: Monday, November 7, 2016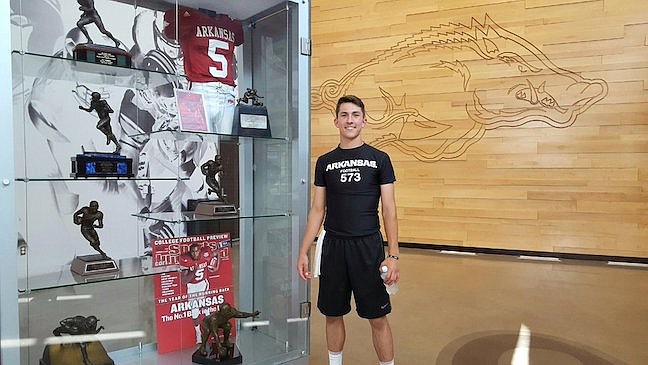 FAYETTEVILLE — Arkansas landed a big-time commit on Monday night when Lucas, Texas, Lovejoy four-star junior linebacker Bumper Pool (6-2, 216 pounds) committed.
It was exciting to the Razorbacks' other 2018 pledge.
Greenwood quarterback Connor Noland (6-1, 180), who committed to the Razorbacks football and baseball programs over the summer, now has a partner to lead the way in recruiting others to the class.
Pool had offers from Arkansas, Alabama, LSU, Texas A&M, Michigan, USC and many others.
"Bumper is not only a great football player, but a great person and I have really enjoyed getting to know him this season at the games," Noland said. "He is just another great building block for us on the field and off."
Noland - whose 10-0 Bulldogs have a bye this weekend as the Class 6A State playoffs get started - has been talking with Pool each weekend at Arkansas home games. Both are four-star recruits, according to ESPN.
"We now have one offensive commit and one defensive for the class of 2018," Noland said. "Bumper and I will start double teaming these guys and reaching out to recruits on both sides of the ball. It doesn't matter if you play offense, defense or special teams because we're all in this together. We want to continue building a monster.
"We're all going to work together to get as many quality guys on board as possible. I'm talking to several four- and five-star guys that aren't even offered yet but have interest. It's a lot of work, but also a ton of fun. It's really cool talking up Razorback football and the university.
"We've talked about building on top of the base that's already at Arkansas. It's been great meeting a lot of the recruits already and it helps when you can spend time with them on a pretty regular basis. With text, Twitter and Instagram it makes it easier to stay connected or to reach out to other players to see if they have interest."
Both players were on-hand to see Arkansas' 31-10 win over No. 11 Florida on Saturday in Fayetteville.
"I thought it was a great bounce back win for them and probably the best game they have played this season," Noland said. "It was great to see it in-person."

Noland has passed for more than 1,000 yards and rushed for 500 more while splitting time as the Greenwood quarterback. He completed 19 of 24 passes for 274 yards and 2 touchdowns in the Bulldogs' 47-10 win over Lake Hamilton last Friday.
"This year has gone great for us and it's been great team effort for us," Noland said. "The bye week gives us a chance to rest up and be ready to make a push to try and win another championship."
Discussion
Have a comment on this story? Join the discussion or start a new one on the Forums.