Louisiana Hogs Affect Program
Published: Saturday, November 12, 2016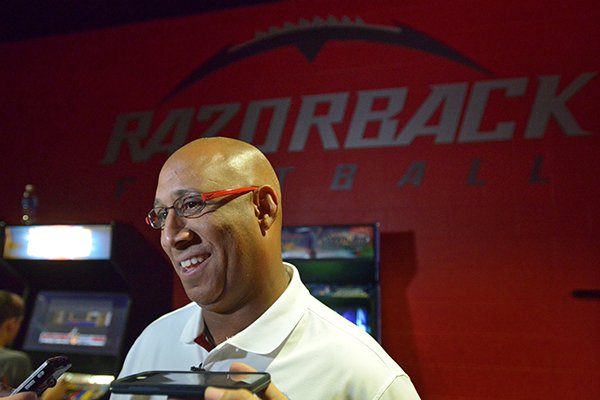 (
Ben Goff
)
Arkansas receivers coach Michael Smith answers questions during the Razorbacks' annual media day on Sunday, Aug. 9, 2015, at Fred W. Smith Center in Fayetteville.
There is very little doubt about which state has been the most fertile for Arkansas lately when it comes to football recruiting.
That would be Louisiana with 10 current Razorbacks on the roster from that state and three more on the way in the 2017 recruiting class.
"I would say that Louisiana in general since coming to Arkansas has been the biggest surprise," Arkansas coach Bret Bielema said.
"I really had never recruited in Louisiana, New Orleans, Baton Rouge, Shreveport, anywhere from A to Z and in between until I came to Arkansas."
But when Bielema hired Louisiana native Michael Smith away from Kansas State, where they had once been on the same staff together, the floodgates opened.
"Michael and I were very close on the Kansas State staff," Bielema said. "As I took this job and realized that I wanted to recruit Louisiana and I needed a wide receiver coach, that's when my eyes really turned to Mike. The prominence that he's had in there … I mean it's just overwhelming."
Arkansas' current Louisiana natives on the roster are wideout Jared Cornelius, safety Santos Ramirez, cornerbacks Henre' Toliver and Nate Dalton, fullback Kendrick Jackson, linebackers Dwayne Eugene, De'Jon "Scoota" Harris and Giovanni LaFrance, defensive lineman Briston Guidry and quarterback Cole Kelly.
The Razorbacks also have three Louisiana pledges in the 2017 class in linebackers Derrick Munson and Josh Paul and wide receiver De'vion Warren.
The fact that Arkansas has beaten LSU two straight years has given Smith some help while recruiting.
"It does," Smith said. "Anytime we play a state or against whoever we play, if you are able to come home with a victory, it puts a little notch in your belt and young recruits feel good about your program.
"That is something that we have been fortunate to have the last couple of years and hopefully we will be able to do that again this weekend."
He admits he has more bounce in his step when recruiting in Louisiana schools after beating the Tigers.
"There's no doubt about it," Smith said. "The thing about it is that it is just a big chip on your shoulder when you are able to compete against schools like LSU and do the things that we have done in the past.
Bielema relishes his program's success in Louisiana.
"For us in recruiting, the state of Louisiana has probably been our most productive state," Bielema said. "We may not have the largest number, but for the players we recruit and the product in return, it's off the charts. And really no academic casualties, no social casualties.
"The kids from Louisiana they are very adherent, at least the ones that we've recruited, into success in the world academically, socially and on the football field."
Smith admits the Razorbacks from Louisiana want those bragging rights.
"The kids that we have here from Louisiana, they are as prideful as the kids down there at LSU," Smith said. "Again, like I said before, that's family and some people who aren't family that consider themselves to be family.
"It is just bragging rights and that's all it is. We are going to go out and for 60 minutes try to wear each other out and after the game call and jaw about it a little bit."
Discussion
Have a comment on this story? Join the discussion or start a new one on the Forums.