Razorback practices feature cowbells this week
Published: Wednesday, November 16, 2016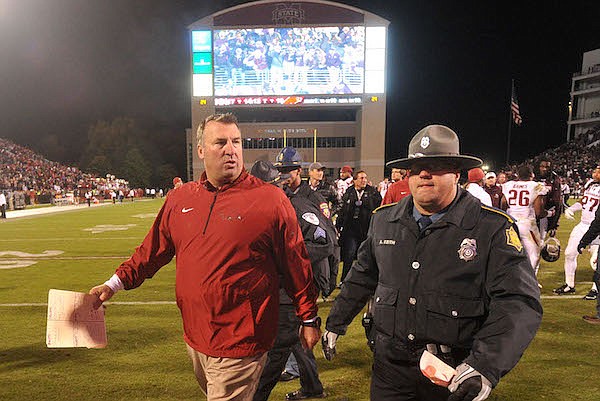 (
Michael Woods
)
Arkansas coach Bret Bielema walks off the field following the Razorbacks 17-10 loss after Saturday nights game against Mississippi State at Davis Wade Stadium in Starkville, Mississippi.
FAYETTEVILLE — There is no road venue where teams in the SEC can walk in and expect to win without putting forth a great effort.
Mississippi State is no different, especially with the raucous atmosphere created by the cowbells the fans are allowed to bring into Davis Wade Stadium.
That's one of the challenges the Razorbacks (6-4, 4-2) will face Saturday night at 6 p.m. when they visit the Bulldogs (4-6, 2-4), which have won four straight in the series.
Arkansas tight ends coach and former Razorback quarterback Barry Lunney has been there three times as a player and coach.
"That is unique, but any time you go on the road in our league, it is a hostile environment whether it is 50,000 or 90,000, it all sounds the same to me to be honest," Lunney said. "It is really loud, especially when you play at night on the road in our league and you better be ready for the crowd to be a factor as far as communication offensively. We are prepared."
Arkansas wide receivers coach Michael Smith said his group wants to silence the crowd.
"We are going to use it as motivation," Smith said. "Hopefully we will go out and play well enough that there won't be any cowbells ringing at the end of the day."
Arkansas offensive lineman Dan Skipper, who noted that the Razorbacks have been playing crowd noise and cowbells in practice this week, remembers his lone time there.
"The cowbells are a little different," Skipper said. "We have had it blaring through the speakers all week so hopefully it is nothing new, but really it is tough to get much louder than those speakers. Those things bump. We can't let it get in our head and we just have to go out and play ball and take the adversity and run with it."
It will be Arkansas offensive line coach Kurt Anderson's first trip to Starkville, but the former Michigan offensive lineman, who was Tom Brady's center for the Wolverines, doesn't see how it could be tougher than a game at Akron.
"We played Akron in the old Rubber Bowl and it was literally right next to the landing strip of an airport so there would be like jets coming down," Anderson said. "So if you want to talk about crowd noise and on top of it you are hearing a 747 land right next to the field. So that is pretty loud noise to deal with."
Anderson is looking forward to a different experience.
"I am excited," Anderson said. "It is going to be fun. It is mixed in there and drowned in with the crowd. Anytime you are in that kind of mode and that kind of focus, you just kind of drown it out. You don't really hear it.
"I was always one of those players that it never really was as loud as it seemed when you are in the middle of the field as opposed to on the sideline where the crowd is right on top of you.
"You get a little separation. Places get loud, but I don't think it is going to be one of those things that if you are focused and you concentrate and have great communication, I think we can't let it affect us and just go about trying to do our jobs."
Arkansas has worked on its focus this week.
"You just put extra emphasis on it," Anderson said. "That is why you practice with the crowd noise and the cowbells and all that stuff to get it out of your system on Tuesday, Wednesday, Thursday and Friday instead of having it happen on a Saturday.
"We need to play a clean football game in order to win. It has got to be a point of emphasis, they have got to be concentrating, understand what our snap counts and take care of all the pre-snap stuff.
"Stuff is going to happen in between the whistles, that's football and that's the refs job, but we can't make it easy for them by jumping off-sides or allowing crowd noise to affect our concentration or our focus."
Discussion
Have a comment on this story? Join the discussion or start a new one on the Forums.