Wagner's height could lead him into one of Skipper's roles
Published: Wednesday, November 16, 2016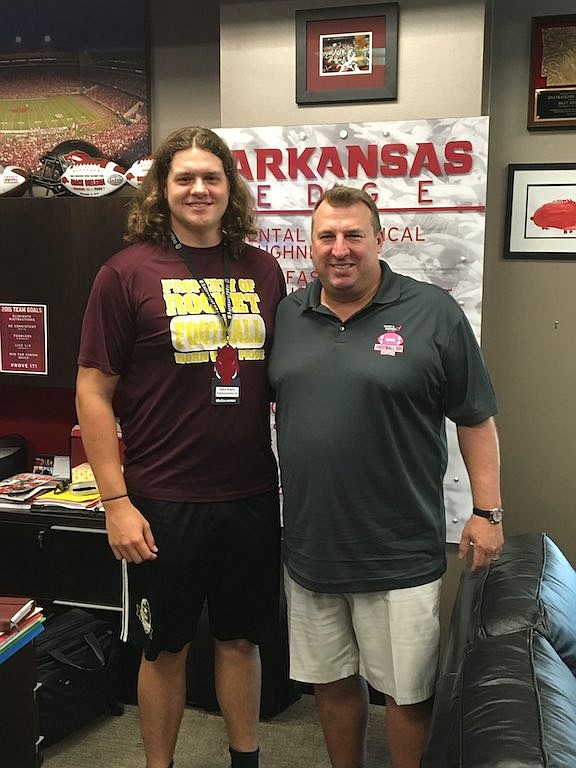 FAYETTEVILLE — Whether he plays any snaps next season on the offensive line or not is certainly debatable, 2017 Arkansas pledge Dalton Wagner of Richmond (Burton), Ill., could take over one role of Dan Skipper.
That would be on the field goal block team because Wagner (6-9, 310 pounds) is near the size of Skipper (6-10, 325), who has swatted away seven field goals in his career as a Razorback.
"I'm hoping," Wagner said. "That would be awesome. I did it for my high school team. I can jump up high, but usually my best deal was roll some over and get it that way. I guess we'll just have to see how it goes.
"This is a whole new level. I guess I'll have to jump up and try to knock something down."
Wagner, who chose Arkansas over Oklahoma and Indiana, is one of three offensive lineman that Arkansas has commitments from in this recruiting class. Nashville's Kirby Adcock (6-5, 300) and Shane Clenin (6-6, 295) of Festus, Mo., have also committed.
Those three players all took their official visits last weekend and got a chance to be around Arkansas offensive line coach Kurt Anderson.
"We got to see that on Friday," Wagner said. "In the meetings he's all serious and right down to it. But every once in awhile he would be funny.
"That's good, you need to earn your ability to have fun. They did that last week. Now this week they will probably have a little less of it (after a 38-10 loss to LSU). The good thing about Coach Anderson is I think he gets everybody to work hard for him."
It's beneficial that the three will enroll early and get to go through spring practice next year.
"I can't wait for us to get in here in January and get this thing rolling," Wagner said.
Richmond-Burton finished 6-4 this season with a 34-13 loss to Rockford Lutheran in the opening round of the playoffs.
"It sucks, but it was a really good season," Wagner said. "I had a good time. I really wouldn't have it any other way with those guys. They are all good guys. It was an awesome season."
Discussion
Have a comment on this story? Join the discussion or start a new one on the Forums.